10 Days Ghorepani Poonhill Trek
Best Season
Feb, Mar, April, May, June, Sep, Oct, Nov & Dec.
Activity Per Day
4-6 hours walking
Transportation
Tourist Bus, Private Car Or Plane Flight (optional)
Overview
An incredible journey to Poonhill is one of the best-organized trips to see the sights of Himalayas of Nepal and green vegetation of Nepal offered by Himalayan Social Journey. A short hike or a trek to Poonhill will soothe your eyes as snowcapped mountain come into your view.The Ghorepani hill trek is a short week trek to Ghorepani Poonhill at the foothills of the Annapurna. Enjoy wandering through a stunning mountain landscape and enchanting villages of the Gurung in thick forests full of birds, deep sub-tropical valleys, set under the Annapurnas, dominated by the picturesque fluted summit of Machapuchare (Fish Tail Top).
From the Poon Hill (3.210 m above the village of Ghorepani), you can enjoy the best view of the huge sunrise of the Annapurna, Dhaulagiri Nilgiri, Hiunchuli or Machhapuchhre, from which you can appreciate the scenery, the beautiful history and nature on some of the world's most scenic roads.
If you want the complete Poonhill trek package with Chitwan Jungle Safari, you can check our 12 Days Poonhill Wildlife Trek program here.
Journey of Ghorepani Poonhill Trek
This incredible Ghorepani Poonhill Trek organized by Himalayan Social Journey begins with the sightseeing tour to UNESCO World Heritage sites in Kathmandu.
Explore the magnificence of Pokhara city and continue the journey by hiking to Poonhill. Take into the beauty of Himalayas in your camera and capture it for a longtime memory. Besides that, indulge the cultural variety that is seen during the trek and experiences the countryside of Nepal. Likewise, a pleasure of seeing the first ray of sunrise will make your day even better. After a short drive from Pokhara to Nayapool, our official trek into the mountains begins. While hiking through the lush green forests, cascading waterfalls, the ethnic settlement is what you will encounter. Some amazing views of the mountains like Annapurna I, Annapurna IV, Machapuchre (Fishtail) are some mountains seen during the hike. After taking into the views then we will descend down to Ghandruk via Tadapani to Nayapul and then to Pokhara.
Highlights of Ghorepani Poonhill Trek
· You can travel for a few days on easy trails
· You 're going to capture the mesmerizing views of the ever-smiling snow-covered peaks
· Walk past the forests of rhododendrons, magnolia, and other wild flora and fauna.
· Visit the Ghandruk ethnic museums.
· You can dress up traditional Gurung costumes, and you can click pictures, too.
· Amazing friendliness and convenient tea-houses
· Beautiful closer views of the Annapurna, Machhapuchhre and Dhaulagiri range
· Stroll through the never-ending stony stairways.
· Cherish a clear overview of the Annapurna, Dhaulagiri, Lamjung Himal, Gangapurna and Manaslu ranges.
Outline Itinerary ( 10 Days )
1

Arrival Day

Your arrival at Tribhuwan International Airport and meet Himalayan Social Journey Guide for your trip and transfer to Hotel. After the orientation program and at evening welcome dinner.

Accomodation: Himalayan Suite Hotel (D)
Meal: Dinner
Activity: Orientation Program

2

Full Day Sightseeing tour of Kathmandu Valley

After breakfast guided sightseeing tour in Kathmandu by private vehicle. You will visit UNESCO listed world heritage sites of Kathmandu valley.

Accomodation: Himalayan Suite Hotel (B)
Meal: Breakfast
Activity: Sightseeing tour

3

Drive to Birethanti via Pokhara

After breakfast, you will be driving to Birethani. Birethani passes through Pokhara but there wont be stoping at Pokhara. You will enjoy scenic route to popular tourist destination and from there you will begin to have the sightings of rural villages of Annapurna region of Nepal. You will spend overnight in the lodge at the Birethani.

Accommodation: Lodge at Birethani
Meal: Breakfast
Activity: Drive to Birethani (5-6 hrs)
Altitude: 1100m

4

Trek to Ulleri (2000m)

After breakfast, we leave Birethanti and hike up to Ulleri. You will pass through lush jungles, cross small streams, pass small villages and walk through the terraced farmland. Overnight at Guest House. (B)

Accommodation: Guest house in Ulleri
Meal: Breakfast
Activity: Trekking (5-6hrs)
Altitude: 2000m

5

Trek to Ghorepani (2800m)

Now we're going to Ghorepani Poon Hill, from the lovely village of Ulleri. We will take stunning view of the Annapurnas, Machapuchhare and Hiunchuli snowy hills. Then we go more gradually to the Nanghethani (2460 m) through the rhododendron trees. We reach Ghorepani, a beautiful village on the ridgeline after a further hour walking.

Accommodation: Guest House in Ghorepani
Meal: Breakfast
Activity: Trekking 5-6hrs
Altitude: 2800m

6

Hike to Poonhill and Trek to Tadapani

Early morning hiking to Poonhill to see Sunrise and Mountain View in a clear day, panoramic view of 10 different peaks and then trek back to the guest house. You will continue your trek to Tadapani. The trail contains doing ups and down along the stone staircase, walking along the newly built roads and passing through the lush jungles.

Accommodation: Guest House in Tadapani
Meal: Breakfast
Activity: Trekking 5-6hrs
Altitude: 2620m

7

Trek to Nayapul

Today, we will leave Tadapani behind and continue our journey to Ghandruk. Ghandruk is a beautiful settlement of Gurung community. Taking in the view of this picturesque village, we continue trekking towards Nayapul. From Nayapul, you will drive back to Pokhara in Private transportation. Overnight at Hotel Dandelion or Hotel Lake Star.

Accommodation: Hotel Dandelion or Hotel Lake Star
Meal: Breakfast
Activity: Trekking 5-6hrs // Driving- 1:30-2hrs

8

Sightseeing Day at Pokhara

After breakfast, you will go for a sightseeing tour in Pokhara or boating in Phewa Lake and hike to World Peace Pagoda. Overnight at Hotel Dandelion or Hotel Lake Star.

Accommodation: Hotel Dandelion or Hotel Lake Star
Meal: Breakfast
Activity: Sightseeing Tour of Pokhara

9

Fly back to Kathmandu

Today, you will flying back to Kathmandu and have easy day after tiring trekking days. You can enjoy spa day and strolling around Thamel. Even do little shopping. Overnight at Himalayan Suite Hotel. (B)

Accommodation: Himalayan Suite Hotel
Meal: Breakfast
Activity: Fly to Kathmandu and rest day

10

Departure Day

You will escorted to the airport after early morning breakfast for your departure to your home country. (B)

Meal: Breakfast
Include
Airport pickup & drop
Accommodation at Himalayan Suite Hotel in Kathmandu, Hotel Dandelion or Hotel Lake Star in Pokhara in twin sharing bed and breakfast basis
Simple accommodation in the lodge with breakfast during the trek in twin-sharing basis
Necessary permit, TIMS, and National Park fees
Necessary rafting equipment (Helmet, life jacket, and Paddle)
Trekking equipment during the trek [Duffle bag if necessary]
Sightseeing tour in Kathmandu and in Pokhara
Welcome dinner with a cultural program in a local restaurant
Transportation by Deluxe tourist Coach Kathmandu – Birethani via Pokhara
Meals, accommodation insurance, and other expenses of the trekking crew (guide and porters) 2 people will have one porter and highly experienced English speaking guide
All Government taxes, VAT, and service charge
One way flight from Pokhara to Kathmandu
Exclude
Lunch and dinner in Kathmandu, Pokhara and during the trekking days (Meal cost about $4 to $7 depending on what and where you eat)
Sightseeing entry fees, NRS 250 (Syambhunath) +400 (Boudhanath) +1000 (Patan Durbar Square), + 1000 (Pashupatinath)
Thirty minute massage at Himalayan Suite Spa
Personal expenses & Your Travel Insurance
Pokhara Mountain Flight (USD 100)
Route Map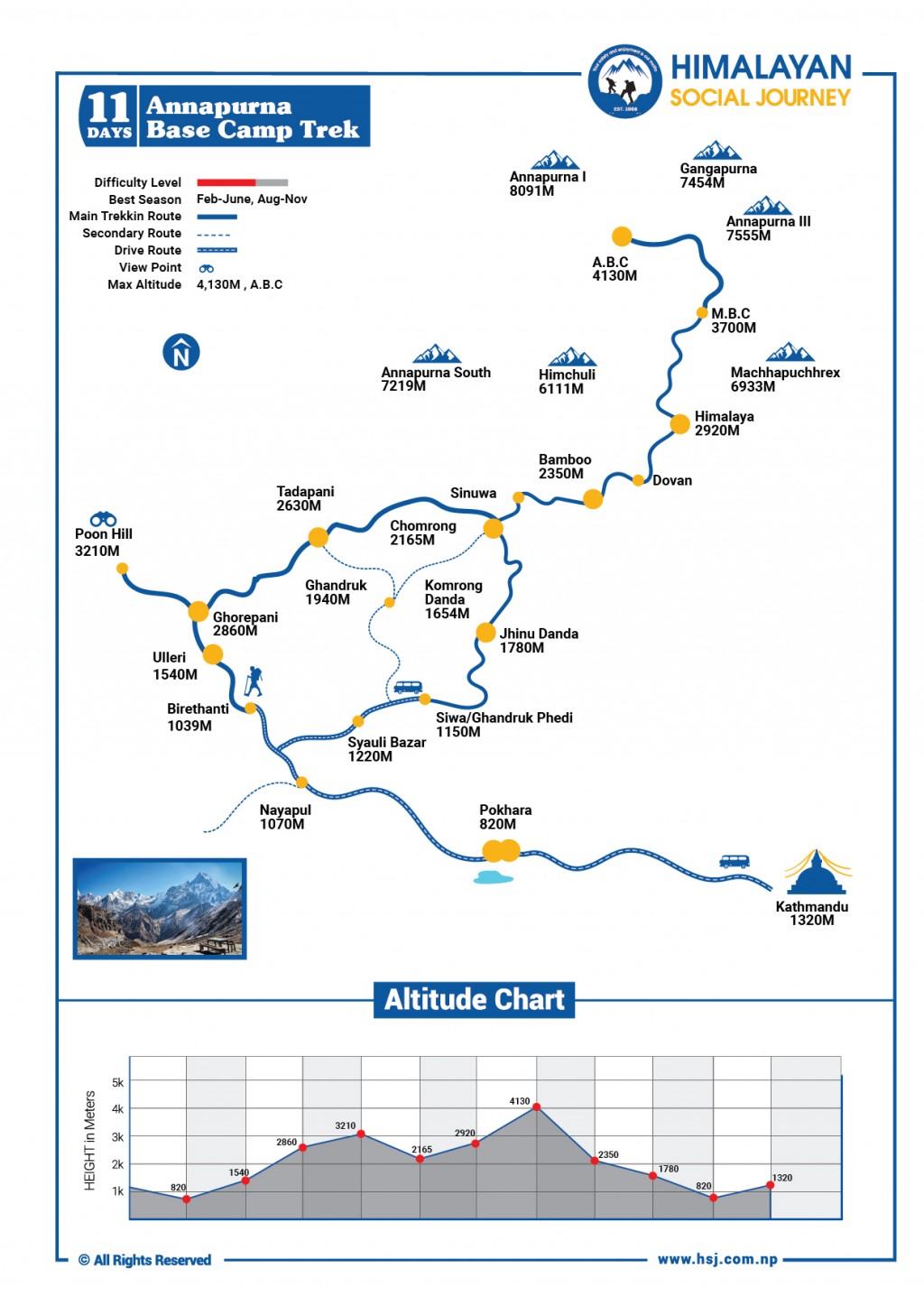 Departures Dates
| Trip Dates | Trip Costs | Actions |
| --- | --- | --- |
Best time for the Ghorepani Poonhill trek
Spring and autumn mark this trek for the best time. The weather is moderate and favorable, and the visibility is clearest during this season.
And on the drier routes you get to walk. During this time of year, you don't have to worry about the rain or leaks.
But even in summer and winter this walk is feasible.
The road can be found slippery and leek-faced during the summer / monsoon. But the walk isn't a major issue with proper plumage and insect repellents.
You can find the hill slippery in winter because of the snow and at high altitudes, feel very cold. But you can easily go to this trek with the warm clothes and a happy heart.
Difficulty during Ghorepani Poon Hill trek
Poon Hill is the shortest and most modest yet exotic hiking route. This trip can be completed successfully in any person with good health.
In this walk, you walk up the stony stairs or downhill for around 5-6 hours per day. The walk may be a little challenging, but not impossible, for beginners.
Stop the rides, tie the walking shoes, and wear the right clothing. Then you're going to the Poon Hill much easy.
However, the trail can be crowded in the peak season. So, when you walk with your mates, you must have a strong stamina and patience.
Food and Lodging in Trek
Ghorepani Poonhill Circuit Trek is a teahouse trek like most of Nepal's treks. In general, tea houses provide a single room with twin beds. In the common room, you can charge your phones at a certain discount. Hot showers usually cost about USD 1 in teahouses.In addition, the meals provided in the teahouses are simple and you'll get the Nepalese "Dal Bhat" meal served in most teahouses. In addition, you can also enjoy a limited variety of World cuisine including pizza , pasta, burgers, etc. You need to book these reservations early, particularly in the offseason, in order to be free from any problems.
Connecting with your loved ones back at home while on trek
Free WiFi and charge is generally available (with some exceptions) you can find free WiFi and charge, most places charge a modest fee (e.g. Rs100-400) to use WiFi or charge; WiFi is available at Thorung Phedi and High Camp for Rs200. WiFi can be unreliable, sluggish or unusable. Be prepared to be out of touch with the world for up to a week at high altitudes.
To improve your connectivity, carry your phone to the Nepal SIM, you'll get more than you'd think (GPRS/EDGE speed). Village electricity could be perfect during your stay. Villages above 4000 m tend to be the latter. Tea houses can have the potential to charge you either from solar sources or from a battery bank.but it is most wise to either have your own or not depend on electronic devices.
Obtaining Trekking Permits
You will need to arrange both the Trekking Information Management System (TIMS) permit and the Annapurna National Park Permit (sometimes also known as the Annapurna Conservation Area Permit). HSJ will arrange for your trekking permits.
As of 2019, the permits will refund a minimum of USD $50: the APC Permit is USD $30 / NPR 3,000 per person, while the TIMS Permit is USD $20 / NPR 2,000 per person.
These will need to be checked at different checkpoints along the trek.
Make sure you also bring a minimum of 4 passport photos for your trekking permit!
Insuring your safety
We suggest taking out an insurance plan for your individual accountability, accidents and illnesses during the service.Regarding the type of activity, you may be asked to show a certificate of insurance for help and support, sanitation and search. This service is private and not free in Nepal, the helicopter will not take off until it is convinced to pay for the insurance.
Luggage per one person
For the trek, we'll have one porter for two people as per group size. The porter will carry 12-15 kg per person luggage during the trek. You need to carry your daypack to keep your personal belongings such as wallet, camera, water bottle, dry snack, headlight, gadgets etc.
Single Supplementary for Solo Travelers
There will be two people accommodated in each room for the duration of the tour. If you prefer private accommodation, you'll find the option for "single supplement" of USD 200. Important: Please note that during the trek there are some lodges which won't have sufficient rooms to provide private accommodation. So, even if you purchase single supplement you will end up sharing a room for some days of the trek.
Travel and Transportation Modes used for Ghorepani Poonhill Trek
There are two ways to get from Kathmandu to Ghorepani.
By Bus: Touring to and from city destinations is done on a private vehicle such as a car, jeep or microbus. Luxury tourist buses, which are only hired by the company for the most part, make the long distance travel. You will may have to take a public bus on some trip, but you do not need to worry about your protection or comfort because you ride with our guides and support staff in a group.
By air: Transportation by plane is available to fly from Pokhara to Kathmandu at the end of the trek.
If you want to experience helicopter ride to Annapurna Base Camp and no trek, then you can have a look at our program https://hsj.com.np/trip/explore-nepal-with-everest-scenic-flight-and-annapurna-base-camp-heli-tour
This Tour with HSJ
Guides and Porters
Our local Nepali team is one of the most experienced, hospitable and respected trekking outfits in Nepal. The team is fully licensed and affiliated with the Trekking Agency's Association of Nepal (TAAN), Nepal Mountaineering Association, Nepal Tourism Board, Govt. of Nepal, Sustainable Tourism Network, Himalayan Rescue Association and Kathmandu Environmental Educational Project. You will be provided with the professional and an experienced English speaking trekking guide with the good knowledge of the place and the trek. The trekking crew is skilled with the experience of over 10 years, well-trained, friendly guide and, courteous and helpful porters, assured of a wonderfully memorable experience.
For the trek, we'll have one porter for two people as per group size. The porter will carry 12-15 kg per person luggage during the trek. You need to carry your day pack to keep your personal belongings such as wallet, camera, water bottle, dry snack, headlight, gadgets, etc. The safety and concerns of our porters is our collective responsibility. We take our responsibilities towards them and their safety concerns strictly. On your part, please carry only things that are of absolute necessities.
Other Programs and services we offer with this trip
• Welcome and Farewell dinner
• Yoga Classes
• Spa services
How do we make sure you get the best experience of this trek?
We are your completely flexible travel partner. Want to follow different route? We have you covered. Have extra time in Nepal? Excellent! We have more add-on tours like Chitwan Jungle Safari, Cable Car ride to Chandragiri hills, Cooking and Yoga classes in Kathmandu and so on. Would like to customize the trip? Well, why not? Give us your ideas and we will prepare complete itinerary for you. Do you want to use different standard of accommodations than provided in the itineraries? Of course! You absolutely can. From your arrival until you departure, your wishes are our command. Feel free to make the request.
Equipment and Packaging list for Ghorepani Poonhill Trek
Clothing
Trekking boots
Short-sleeved Trekking shirts
Trekking pants and jackets
Thermals underwear
Long-sleeved Trekking shirts
Insulating down jackets
Woolen cap
Trekking Gloves
Raincoats
First Aid
Diamox tablets
Sanitary pads / Tampons
Anti-nausea Medicines
Band-aids
Mosquito and insect repellents
Toiletries
Soap
Toilet Paper
Shampoo
Sunscreen
Hand sanitizer
Accessories
Sunglasses
Sleeping bag
Cameras
Batteries
Water Bottle
Solar Chargers
Hot water Thermos
Important Documents
Passport
Travel Permits
Last minute booking
It is best to book in advance but for those who cannot, for whatever reason, make a last minute reservation special arrangement for Himalayan Social Journey. In the case of last minute reservation, 100% tour payment will be approved within 24 hours. We try to operate a trek at any time but we are not liable for the delay in case of last-minute reservation, because of uncontrolled changes such as weather and the availability of accommodation.
Feedbacks
Throughout the years of business, we have always put the customers feedback as our inspiration towards making our company great travel partner. With many ups and downs, and good and not so good feedbacks we have reached where we are now. At the end of the trek, while you are with the crew during farewell dinner, we would appreciate if you give us your valuable feedback, account of good and bad experiences, recommendations and also your honest rating to our trip advisor page.
Important Information
FAQ's