14 Days Luxury Nepal Trip
Best Season
Throughout the year
Activity Per Day
5-6 Hours
Transportation
Tourist Bus, Private Car Or Plane Flight (optional)
Overview
Nepal Trip with Chitwan Jungle Safari and Trishuli River is a 14 days packaged tour prepared by Himalayan Social Journey where you can rejoice the culture, tradition, wilderness of Nepal and at the same time get the exciting thrilling experience through White river rafting in Trishuli River. The trip will take you to the heart of Annapurna with thrilling Rafting and Chitwan Jungle Safari. The trip is the perfect mesh of nature, adventure and culture. This trips will take you to the Himalayas of the Annapurna region to the flatlands of Chitwan.
Through trekking in the hills of Annapurna, relish the pleasure of being in the close proximity of the Himalayas and blend in the culture of Gurung, Magar and Thakali.
Moreover, get your adrenaline rush pumped through your vein by enjoying the adventurous white river rafting in this trip. Overall, this trip is definitely an all-rounder where you can get the thrill of being in the Himalayas, in the wild nature and pleasure of rafting through the wild rapids of water. Lastly, make an awesome memory of travelling the different parts of Nepal in just 14 days with an amazing crew of Himalayan Social Journey. A strongly claimed to be the one and only a special trip which not only satisfies your eyes with the stunning beauty of nature, it also entirely heals you through a spiritual journey like yoga and meditation is 14 Days Nepal Trip with jungle safari, rafting, trekking with Luxury 5 Star accommodation.
As it is the easy type of trip offered to all types of people of different ages, they can enjoy the true nature of the majestic Himalaya Annapurna's foothill. Besides, we have more attractions which are Whitewater Rafting in Trisuli River where you will have the heavenly pleasure and Jungle Safari in Chitwan National Park with various flora and fauna.
In this trip, you'll have experience of all type of accommodation in Nepal from the family house to the luxury 5- star.
Highlight of Luxury Nepal Trip
Share the inspiring knowledge with Nepalese people and Buddhist Monks

Makes a terrific gift to the adventure-seeking person in your life

Accommodation from the family house to luxury 5 star

Entry- Easy level trek in the majestic Himalaya Annapurna's foothill

Experienced local guide bestows knowledge on Nepali culture and traditions

Scenery beauty of Annapurna

Yoga and meditation

Whitewater rafting in Trishuli River

Jungle safari in Chitwan National Park
Journey and what to expect
This trip begins from Kathmandu with a drive to Benighat/Charaudi from where we start rafting. In reality, we are going to encounter the Trishuli River Rafting. We experience the rushes of white water waterway boating for 4-5 hours and go through the night at a riverside seashore resort. The following day, we drive for Chitwan. Presently, we start to encounter Chitwan exercises like Tharu Cultural Show, Canoeing, Bird Watching, Jungle Walk, Jeep Safari and visit Crocodile and elephant rearing focus.
Subsequent to going through two evenings in Chitwan, we drive to Pokhara. Further, we drive to Nayapool and start trekking to Poonhill subsequent to finishing the beautiful mountains beguiling ethnic villages, rhododendron forests loaded with winged animals, freshwater waterways, stone-cleared ways, suspension extensions and profound sub-tropical valleys, all set underneath the lovely Annapurna's. While trekking, you'll get the decent and comfortable emotions at the really flawless and well-overseen family visitor house. Yours climb to Poonhill in the early morning offers eminent dawn and Annapurna Massif. You will also catch some piece of Dhaulagiri on a far off skyline. Ghorepani, Poonhill, Tadapani, Ghandruk are the best places to visit and experience nearby individuals' way of life. You will have your convenience in the well-rumored 5-star lodgings in urban areas. This is one of the most well-known travel bundles of Nepal that incorporates a section level trek in Annapurna with Nepal Tour, boating and Jungle Activities. You will begin and end the excursion in Kathmandu.
Outline Itinerary ( 14 Days )
1

Your arrival to Kathmandu

Your arrival at Tribhuwan International Airport and transfer to hotel, orientation program at 5:00 pm and at evening, welcome dinner . Overnight at Himalayan Suite Hotel. (D)

Accommodation: Himalayan Suite Hotel
Meal: Dinner
Activity: Orientation Program

2

Rafting in Trishuli

You will be driving from Kathmandu to Charaudi where you will be experiencing the thrill of rafting in fast flowing river of Nepal. People who do not want to do rafting, we will organize alternative tour to visit Mankamana temple by cable car. Mankamana is famous temple for the blessing of family what you wish from where you can see magnificent view of Mountains. After your rafting, you will be driven to Birethnati via Pokhara where you will be spending your night.



Accommodation: Moonlight Guest House
Meal: Breakfast
Activity: Rafting in Trishuli River and driving to Birethnati

3

Trek to Ulleri

Your trek will officially begin. You will be trekking to Ulleri from here strolling through the best views a rural typical villages of Nepal have to offer.

Accommodation: Hungry Eye Guest House
Meal: Breakfast
Activity: Trekking 6-7hrs
Altitude: 2000m

4

Trek to Ghorepani

From Ulleri, you will walk through a stunning jungle path that will lead you to Ghorepani. This trek shall be a reminder of how beautiful Nepal is and how majestic nature is. Overnight at Guest House. (B.B)

Accommodation: Sunny Guesthouse
Meal: Breakfast
Activity: Trekking 4-5hrs
Altitude: 2800m

5

Hike to Poonhill

Early morning hiking to Poonhill to see Sunrise and Mountain View, panoramic view of 10 different peaks and exploration day in Ghorepani (B.B)

Accommodation: Sunny Guesthouse
Meal: Breakfast
Activity: Trekking 3hrs
Altitude: 3210m

6

Trek to Tadapani

After spending a day in Ghorepani, the next day we will trek to Tadapani. Tadapani is a small town. Tadhapani means "far waters" literally in Nepali, as the water supply once was a long way from the village. They've found out, don't worry. There are a few paths in Tadhapani which intersect. A trail leads north to Chhomrong via Chuile and Gurjung. A new road to Khopra and the Hidden Lake is also to the north.

Accommodation: Hotel Grandview
Meal: Breakfast
Activity: Trekking 4-5hrs
Altitude: 2700m

7

Trek to Ghandruk

After the early morning breakfast the next day, you will trek down to Ghandruk, a beautiful old Gurung Village. You will be amazed by the livelihood of the people, beauty of village and simplicity and humility of the people. The village has stunning views of the majestic peaks of Mount Annapurna, Mount Machapuchare, Mount Gangapurna, and Mount Hiunchuli and further serves as a gateway to the mountain range of Poon which makes them one of the provincial tourist destinations. Overnight at Guest House (B.B)

Accommodation: Mess Room Guest House
Meal: Breakfast
Activity: Trekking 4-5hrs
Altitude: 1940m

8

Back to Pokhara through Nayapul

Trek to Nayapul via Birethanti and drive back to Pokhara. Overnight at Mount Kailash Resort (B.B)

Accommodation: Mount Kailash Resort or similar
Meal: Breakfast
Activity: Trekking 4-5hrs
Altitude: 1100m

9

Pokhara Sightseeing

Sightseeing in Pokhara and Paragliding (Paragliding is optional). Overnight at Mount Kailash Resort. (BB)

Accommodation: Mount Kailash Resort or Similar
Meal: Breakfast
Activity: Pokhara Sightseeing 4-5 Hours
Altitude: 1400m

10

Arrival in Chitwan

Drive to Chitwan approx 3-4 hours and transfer to Hotel, Welcome drinks, Evening walk, and Tharu cultural show. Overnight at Green Park Resort. (BLD)

Accommodation: Greenpark Resort
Meal: Breakfast, Lunch, and Dinner
Activity: 3-4 Hours driving
Altitude: 415 m

11

Chitwan National Park

Morning breakfast and Elephant Back Safari or jeep drive, Jungle walk, Canoeing trip, Tharu village visit, bird watching. Overnight at Green Park Resort. (BLD)

Accommodation: Green Park Resort
Meal: Breakfast, Lunch and dinner
Activity: Jungle safari 2-3 Hours
Altitude: 415 m

12

Back to Kathmandu

After breakfast drive back to Kathmandu by drive or by flight (flight is optional). After your arrival 30-minute special massage . Overnight at Hotel (B.B)

Accommodation: Gokarna Forest Resort
Meal: Breakfast



13

Kathmandu Sightseeing Tour

After breakfast guided sightseeing tour in Kathmandu by private vehicle. At evening Farewell Dinner. Overnight at Gokarana Forest Resort (B.D)

Accommodation: Gokarna Forest Resort
Meal: Breakfast, Dinner
Activity: Kathmandu Sightseeing tour 4-5 Hours.

14

Your Departure to your home country

After breakfast transfer to the airport for your departure. (B)

Meal: Breakfast
Include
Airport pickup & drop
Accommodation in Kathmandu (Himalayan Suite Hotel), in Chitwan (Green Park Resort) and in Pokhara (Mount Kailash Resort), in twin sharing bed and breakfast basis.
Meals, accommodation insurance, and other expenses of the trekking crew (guide and porters) 2 people will have one porter and highly experienced English speaking guide.
Necessary Rafting equipment. (Helmet, Life jacket, Paddle.)
All activities (Elephant bathing or jeep drive , bird watching, Elephant breeding, canoeing, Jungle safari Tharu village visit, Tharu cultural dance) and meals (BLD) in Chitwan (Hotel Seven Star)
Company T-Shirt
Simple accommodation in the lodge with breakfast during the trek
Necessary permit, TIMS, and national park fees
Necessary equipment during the trek [Sleeping Bag, Duffle Bag and if necessary]
Welcome dinner with cultural programs.
Guided sightseeing tours in Kathmandu and Pokhara by private vehicle
Luxurious transportation Kathmandu - Rafting starting place - Chitwan - Pokhara - Kathmandu and private transportation Pokhara -Nayapul - Pokhara
Accommodation in Kathmandu first one night in Himalayan Suite and last two nights in Gokarna Resort , Chitwan (Hotel Green park Resort ) in twin sharing basis for Luxury upgrade option with breakfast
Half an hour full body massage on the ending day of the trip
All Government Taxes and any other official expenses
Rafting in Trishuli river with meals
Exclude
Personal equipment and clothing
Lunch & dinner in Kathmandu, Pokhara, and trekking days. (Meal costs about US 4$ - 7$ per item depending on the place where you eat)
Your Travel insurances
City sightseeing monuments entry fee in Kathmandu (Entrance fee cost RS200+ 400+1000+1000)
Route Map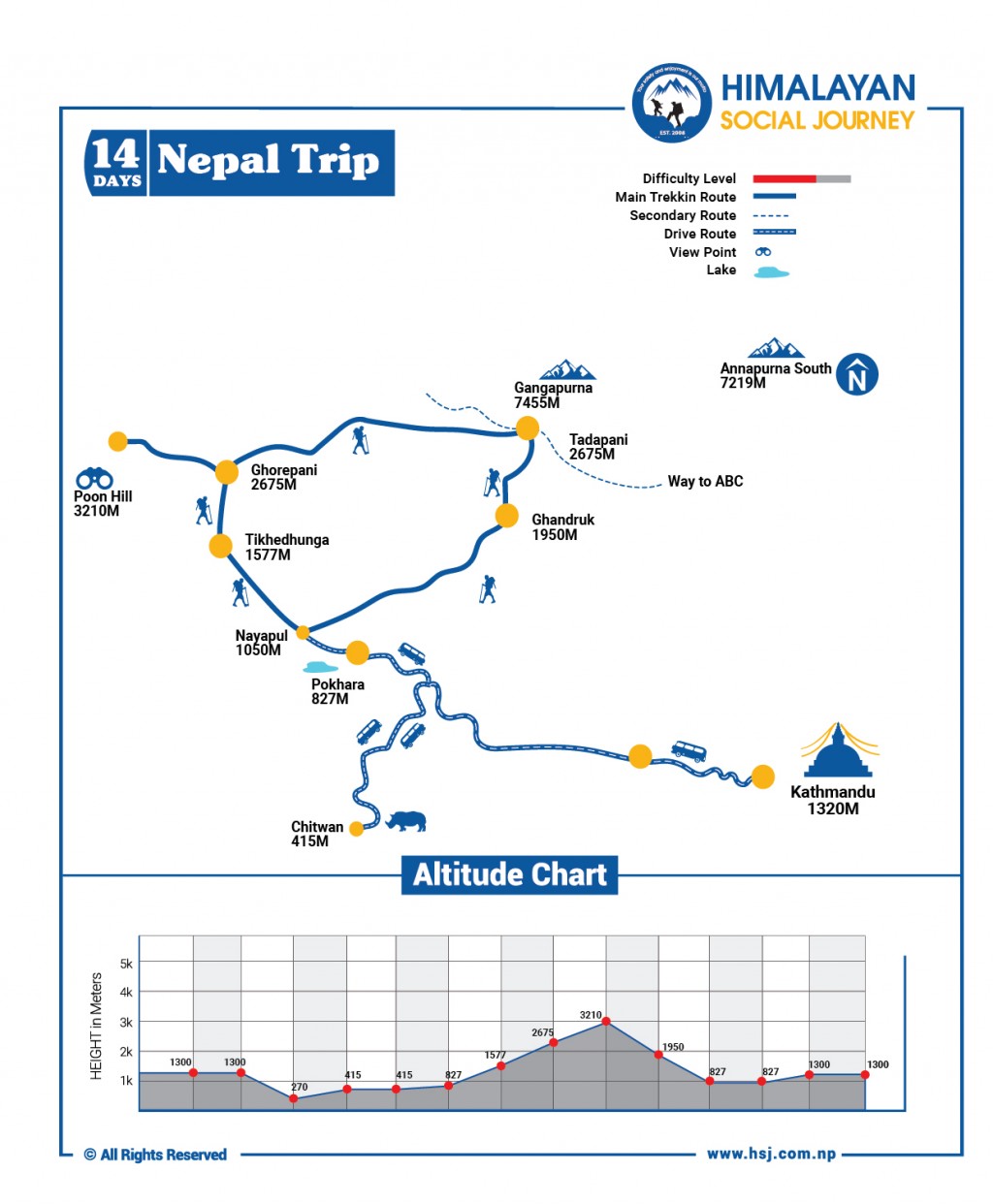 Departures Dates
| Trip Dates | Trip Costs | Actions |
| --- | --- | --- |
| 01 Apr, 2023 - 14 Apr, 2023 | $999 | Book Now |
| 16 May, 2023 - 29 May, 2023 | $999 | Book Now |
| 01 Jun, 2023 - 14 Jun, 2023 | $999 | Book Now |
| 16 Jun, 2023 - 29 Jun, 2023 | $999 | Book Now |
| 01 Jul, 2023 - 14 Jul, 2023 | $999 | Book Now |
| 16 Jul, 2023 - 29 Jul, 2023 | $999 | Book Now |
| 01 Aug, 2023 - 14 Aug, 2023 | $999 | Book Now |
| 16 Aug, 2023 - 29 Aug, 2023 | $999 | Book Now |
| 01 Sep, 2023 - 14 Sep, 2023 | $999 | Book Now |
| 16 Sep, 2023 - 29 Sep, 2023 | $999 | Book Now |
| 01 Oct, 2023 - 14 Oct, 2023 | $999 | Book Now |
| 16 Oct, 2023 - 29 Oct, 2023 | $999 | Book Now |
| 01 Nov, 2023 - 14 Nov, 2023 | $999 | Book Now |
| 16 Nov, 2023 - 29 Nov, 2023 | $999 | Book Now |
| 01 Dec, 2023 - 14 Dec, 2023 | $999 | Book Now |
| 16 Dec, 2023 - 29 Dec, 2023 | $999 | Book Now |
| 01 Jan, 2024 - 14 Jan, 2024 | $999 | Book Now |
| 16 Jan, 2024 - 29 Jan, 2024 | $999 | Book Now |
| 01 Feb, 2024 - 14 Feb, 2024 | $999 | Book Now |
| 16 Feb, 2024 - 01 Mar, 2024 | $999 | Book Now |
Trekking Difficulty
Experience is not necessary. Good health and a minimum of fitness are still required as you walk 4/5 hours a day. Easy grade treks are short in duration and at a lower altitude. Yet walking and going up gentle mountains, well-defined trails and regular stages of 5 to 6 hours over decent passable paths over 3000 m of elevation, about 10 kilometres each day, is typically ideal for one week and many people with an average fitness level. Trekking in this class is also ideal for family groups with smaller or time-limited children. These low-altitude treks often offer colourful horizons in a number of areas.
You may also be interested in our similar package 12 days- Annapurna Poonhill Circuit Trek with Optional Chitwan Jungle Safari.
Best seasons to do this trek
Spring and autumn mark this trek for the best time. The weather is moderate and favorable, and the visibility is clearest during this season.
And on the drier routes, you get to walk. During this time of year, you don't have to worry about the rain or leaks.
But even in summer and winter, this walk is feasible.
The road can be found slippery and leek-faced during the summer/monsoon. But the walk isn't a major issue with proper plumage and insect repellents.
You can find the hill slippery in winter because of the snow and at high altitudes, feel very cold. But you can easily go to this trek with the warm clothes and a happy heart.
Experience of trekking in different seasons have been broken down here in detail.
Permits required for the trek
Both Trekking Information Management System (TIMS) and an Annapurna National Park Permit also known as Annapurna Conservation Area Permits (sometimes also known as the Annapurna Protected Area Permits) would be required for this trip.
The Annapurna Conservation Area is home to the majority of trekking trails, including the world-famous Annapurna Base Camp circuit. Other people are expected to obtain a TIMS card for trekking in the Annapurna region as well as a permit from the Annapurna Conservation Area Project (ACAP).
Annapurna Region Permits and charges :
ACAP offer to give foreigners a rate of three thousand NPR (Approx. US$ 30).
SAARC nationals ACAP permit cost: 200 NPR Entry Charge
TIMS allows: 1,000 NPRs (about $10 dollars).
The costs of these will be taken into account in your trekking fee and your guide will oversee the entire operation (organization and travel through the trek).
These permits put you back about $40-50 for trekkers doing it alone.
You will always have to carry these permits on the trail with you as they are checked at various checkpoints.
Travel and Transportation Modes
There are two options of transportation used through out this trip.
On land: Touring to and from city destinations is done on a private vehicle such as a car, jeep or microbus. Luxury tourist buses, which are only hired by the company for the most part, make the long distance travel. You will may have to take a public bus on some trip, but you do not need to worry about your protection or comfort because you ride with our guides and support staff in a group.
By air: Transportation by plane is available to fly from Kathmandu- Pokhara (flight is optional and cost is USD 110PP- One way) and Pokhara- Chitwan and back to Kathmandu (USD 90- one way) at the end of the trip.
If you want to experience helicopter ride to Annapurna Base Camp and no trek, then you can have a look at our program Annapurna Base Camp Heli Tour with Everest Scenic flight
Accommodations used in this trip
In Kathmandu, Pokhara and Chitwan, you will be spending luxurious night in five star hotels or resorts as mentioned in itineraries however during the trek, teahouses shall be used that are handpicked by our guides based on their quality and services.
The tea houses are not the Shangri-La, they are a nice place to rest at the end of an long day's stroll. They are built of stone and wood.
Rooms are typically twin sharing rooms with ample space to stretch.
Most rooms have a separate shower and toilet — even though we do our best to manage tea houses with hot showers! There will also be a seating space, which will be like a living room with a fireplace or boiler that will warm up to the night.
Fooding and catering
While you will be enjoying varieites of delicasies in Kathmandu, Pokhara and Chitwan during your luxurious stay in 5 star accommodation or eating outside in full fledged cafes, restaurants and diners, you will also have an ample opportunity to get healthy food varieties while on the trek.
The food is served on the Trek according to the menu of the tea house. Pancakes, chapati, bread, french toasts, egg, tea, coffee, butter tea, milk are expected to be served for breakfast. Dinner will include items such as dal bhaat, curries, chapatis, momo, noodle, thupka, dhindo, etc.
It is also very convenient and expected to eat your evening meal in the same tea house in which you stay, and you will usually be told to order your dinner when you sign in.
Availability of Drinking Water
Planning to have at least two liters of water when trekking every day is a smart way to start. Filling up water is quick. Taps in, out or in guesthouses mean that there are plenty of places to fill your bottles and/or your water bladders.This could be where you stay, a lunch stop, or a shared public tap used by locals. Use an efficient sterilization method to make sure your water is safe and not contaminated in anyway.Bottled water is available to buy throughout the trek, but we would advise against this for a number of reasons.You do not need them if you use sterilization method. Environment concerns are there and also buying water is expensive up in the mountains.
Electricity and connectivity
Free WiFi and charge is generally available (with some exceptions) you can find free WiFi and charge, most places charge a modest fee (e.g. Rs100-400) to use WiFi or charge; WiFi can be unreliable, sluggish or unusable.
To improve your connectivity, carry your phone with the Nepal SIM, you'll get more than you'd think (GPRS/EDGE speed). Village electricity could be perfect during your stay. Tea houses can have the electricity to charge your electronics either from solar sources or from a battery bank but it is most wise to either have your own or not depend on electronic devices.
Ensuring Safety
Travel insurance
We suggest taking out an insurance plan for your individual accountability, accidents and illnesses during the service. Regarding the type of activity, you may be asked to show a certificate of insurance for help and support, sanitation and search. This service is private and not free in Nepal, the helicopter will not take off until it is convinced to pay for the insurance.
Personal Safety
Wherever you are your health and security is your responsibilities. In the city area be aware of scammers and touts. Outside the airport, or on the road, taxis are likely to charge more than normal. Pickpockets are active in cities and also in the mountains. Even if you are experienced trekker or have good health and stamina, you don't know mountains of Nepal and hence, it is wise to keep up with your guide and stay close with your group.
Valuable items like gold or diamond chains, rings, bracelets are best not carried to the mountains and also keep your day pack with you safe. Your passport, permits, phone, cameras are supposed to be with you all the time. Keep the money you carry safe and securely.
Dont try to get too close to the animals or go extra lengths for the photos during your jungle safari, rafting and also trekking times. It is expected and is also for your safety that you travel with responsibility and sensibility.
As long as you are respecting local norms and culture and are open minded towards local community, you will be treated well and respected regardless of what gender, religion, and culture you are from.
Physical Fitness and Trekking Difficulties
This is one of Nepal's easiest treks. In comparison with other hiking destinations, the potential for altitude sickness is also very low. You have to walk 6-7 hours a day, which means good health and strong will. It will definitely help you a lot, though, if you have a previous trek or walking experience. In the event of bad weather, the trek may be difficult for you. Expect lots of stairs, ascends and descends and prepare accordingly.
Persons with a medical condition before the trip is considered must seek medical advice / agreement.
This Tour with HSJ
Guides and Porters
Our local Nepali team is one of the most experienced, hospitable and respected trekking outfits in Nepal. The team is fully licensed and affiliated with the Trekking Agency's Association of Nepal (TAAN), Nepal Mountaineering Association, Nepal Tourism Board, Govt. of Nepal, Sustainable Tourism Network, Himalayan Rescue Association and Kathmandu Environmental Educational Project. You will be provided with the professional and an experienced English speaking trekking guide with the good knowledge of the place and the trek. The trekking crew is skilled with the experience of over 10 years, well-trained, friendly guide and, courteous and helpful porters, assured of a wonderfully memorable experience.
For the trek, we'll have one porter for two people as per group size. The porter will carry 12-15 kg per person luggage during the trek. You need to carry your day pack to keep your personal belongings such as wallet, camera, water bottle, dry snack, headlight, gadgets, etc. The safety and concerns of our porters is our collective responsibility. We take our responsibilities towards them and their safety concerns strictly. On your part, please carry only things that are of absolute necessities.
Other Programs and complimentary services with this trip
Welcome and Farewell dinner
Yoga Classes
Spa services
How do we make sure you get the best experience of this trek?
We are your completely flexible travel partner. Want to follow different routes? We have you covered. Have extra time in Nepal? Excellent! We have more add-on tours like Chitwan Jungle Safari, Cable Car ride to Chandragiri hills, Cooking and Yoga classes in Kathmandu, and so on. Would like to customize the trip? Well, why not? Give us your ideas and we will prepare a complete itinerary for you. Do you want to use different standards of accommodations than provided in the itineraries? Of course! You absolutely can. From your arrival until you depart, your wishes are our command. Feel free to make the request.
Booking
We accept 20 percent of deposit or at least USD 100 for your booking payments and other necessary documents and the rest of the due amount of total trip cost may be submitted later but must be before two weeks of the departure date. You can also make the payment upon arrival to Kathmandu. During the reservations, documents like a copy of your passport should be sent via email along with insurance policies for travel, arrival, and departure flight. Do not forget to bring 4 pp sized photos with you. Payment shall be rendered directly from our website by bank transfer, western union, and electronic payment. The remaining travel costs can be paid by cash or credit card upon arrival in Nepal or by bank transfers. In addition, we make all the confirmation of the payments via email.
Last-minute booking
It is best to book in advance but for those who cannot, for whatever reason, make a last-minute reservation special arrangement for Himalayan Social Journey. In the case of last-minute reservation, 100% tour payment will be approved within 24 hours. We try to operate a trek at any time but we are not liable for the delay in case of last-minute reservation, because of uncontrolled changes such as weather and the availability of accommodation.
Feedbacks
Throughout the years of business, we have always put the customer's feedback as our inspiration towards making our company a great travel partner. With many ups and downs, and good and not so good feedbacks we have reached where we are now. At the end of the trek, while you are with the crew during farewell dinner, we would appreciate it if you give us your valuable feedback, an account of good and bad experiences, recommendations, and also your honest rating to our trip advisor page.