Annapurna Base Camp Trek-7 Days
Best Season
Feb, Mar, April, May, June, Sep, Oct, Nov and Dec.
Activity Per Day
4-6 Hrs Walking
Transportation
Tourist Bus, Private Car Or Plane Flight (optional)
Overview
Don't let the lack of time become the excuse to not let you have extraordinary journey to the Annapurna Base Camp. This 7 days Annapurna Base Camp Trek is created for you so you will never have to worry about missing the enthralling adventure to the one of the best trekking destination there is. We have your back, you just make up your mind.
The Annapurna base camp trek of 7 days is a diversity trek that leads through rural Nepali ethnic villages, lush forests and shrubs, to one of Nepalese's most popular trekking destinations. And a nice view of the Shrine of the mountain. It's not very hard and also fast. It's excellent for people who have no more time but want to admire the beauty of Nepal's mountains and hills.
Highlights of the Trek
· Spend a lovely day at Pokhara, Tourists' Favourite hub in Nepal
· Travel to the Ghandruk, explore gurung village and mingle with the locals
· Find the Temple of Gurung, learn about their cultures and vist Buddhist monasteries
· Trek to Annapurna Base Camp at the altitude of 4130m
· Relax and enjoy hot water spring of Jhinu Danda
· Watch in the awe, Nature's splendour, take in the view of Hiunchuli Khangsar
· Campture breath-taking views of mighty Kang, Gangapurna, Mahhapuchhare, Annapurna III.
7 Days Journey to the Annapurna Base Camp Trek
The traditional Gurung village of Kimche is a two-hour drive from Pokhara. The people of the village will greet you warmly and happily interact with you during your overnight stay there. As we ascend higher the scenery changes from lush forest and grass pastures to rocky passes and steep cliff faces. When we reach our destination at Annapurna base camp you'll see enormous mountains from Hiunchuli, past Annapurnaa South to Annapurna I. and Khangsar Kang, Gangpurna, Annapurna III and Machhapuchhre. We follow the trail to Siwa/Ghandruk phedi and drive back to Pokhara where our trekking journey ends.
Outline Itinerary ( 7 Days )
1

Fly from Kathmandu-Pokhara (30 Min Flight), Drive to Kimche (2:30Hrs) and Trek to Ghandruk (3 Hrs)

From Kathmandu, Pokhara is 30-40min flight away. After breakfast in Pokhara, drive to Nayapul and ride through the small town, Syauli Bazar, and Kimche in the early morning hours of the day. We continue our first day of the trek to meet all the surroundings and we will have a panoramic breathtaking view over the mountains.

Through Ghandruk, we will have the opportunity to see the stunning views of the mountains of Fishtail and Annapurna South and Hiunchuli. The Ghandruk village is rich in the Buddhist temple and rich in local traditions. Ghandruk is rich in the rural lifestyle.

Accomodation: Meshroom Guest House

Meal: Breakfast

Transportation: On plane: 30-40 mins

By Bus: 2:30 hrs from Pokhara to Kimche

Trekking: 3Hrs, from Kimche to Ghandruk.

Maximum Altitude: 1784m

2

Trek to Chhomrong

After early morning hearty breakfast, you will be trekking to your 2nd day destination. That is to Chommrong.Along the way we'll see the wonderful views of Annapurna West, Fishtail Peak, and hour after hiking to Ghandruk and the steep descent to the Kimron River and up to Chhomrong. For overnight rest, we come to Chhomrong. It's a wonderful location on the lap of the majestic massif of Annapurna.

Accomodation: Chommrong Cottage

Meal: Breakfast

Trekking: 5Hrs

Maximum Altitude: 2170m

3

Trek to Doban

Trekking forward from the Chommrong, our next destination is a beautiful village of Doban. We enter the green forest through the stone steps of Homrong Hola and then uphill to the village of Doban, through the thick bamboo and rhododendron trees.

Accomodation: Hotel Himalayan

Meal: Breakfast

Trekking: 7 Hrs

Maximum Altitude: 2920m

4

Trek to Annapurna Base Camp

On Day 4, we arrive to our ultimate destination. At the altitude of 4130m, we shall have walked 6-7 hours to reach the Annapurna Base Camp. To reach here we pursue an itinerary through the narrow gorge Modi Khola glacier valley, which takes us to Annapurna's base camp, at the foot of Machhapuchhre. The Annapurna glaciers are not far away. The Base Camp in Machhapuchhre gives us amazing views of the nearby mountains. From Hiunchuli, past Annapurna South to Annapurna I (8097m/26,566 ft) and Khangsar Kang, Gangapurna, Annapurna III and Machhapuchhare we have an impressive 360 grade view.

Accomodation: Annapurna Sanctuary Lodge

Meal: Breakfast

Trekking: 7 Hrs

Maximum Altitude: 4130m

5

Trek to Bamboo

At the back of the world we will continue our walking out of the Annapurna Shrine and start with our move out of the Modi River gorge. We watch a stunning sunrise with the Himalaya. We eventually hit our serene Bamboo stoppoint.

Accomodation: Bamboo Guest House

Meal: Breakfast

Trekking: 6 Hrs

Maximum Altitude: 4130m

6

Trek to Jhinu Danda

Through the tranquil forests of rhododendrons, bamboos, and oak, we proceed down to Kimrong Khola and then ascend toward Chomrong town, before falling into Jhinu Danda, a low, quiet town. This village has near hot springs along the river that allow us to soak our tired muscle.

Accomodation: Hot Spring Cottage

Meal: Breakfast

Trekking: 6 Hrs

Maximum Altitude: 4130m

7

Trek to Ghandruk Phedi, drive to Pokhara and fly to Kathmandu

We walk along the plain dust road on the right for 3 to 4 hours to Siwa / Ghandruk Phedi after leaving Jhinu Danda hot spring. We drive to Birethanti, Nayapul and a 2/2hr drive take us to the tourist hub in Pokhara. Which is considered one of the best and most relaxing spaces after the trekking. We take flight back to Kathmandu the same day where our package officially ends.

Meal: Breakfast

Trekking: 4 Hours

Maximum Altitude: 1150m

Transportation: Private Vehicle from Phedi-Pokhara (3 Hours)

Flight from Pokhara-Kathmandu (30min)
Include
Two way flight Kathmandu-Pokhara-Kathmandu
All necessary trekking permits and TIMS
Accommodations on Twin Sharing bed and breakfast basis.
All Land transportation as per the itinerary- Tourist Bus and Private Vehicle
All the accommodation and meal expenses of the trekking crew.
Duffel bag and sleeping bag in necessary
Fluently English speaking guide and a porter for two people
All Government taxes, VAT, and service charge
Exclude
Personal equipment and clothing
Lunch & dinner in Kathmandu, Pokhara, and trekking days. (Meal costs about $4 - $7 dollar per item depending on the place where you eat)
Travel insurance (Highly recommended)
Extra accommodation in Kathmandu
Airport and hotel pick up and drop service
Thirty minute massage at Himalayan Suite Spa
Route Map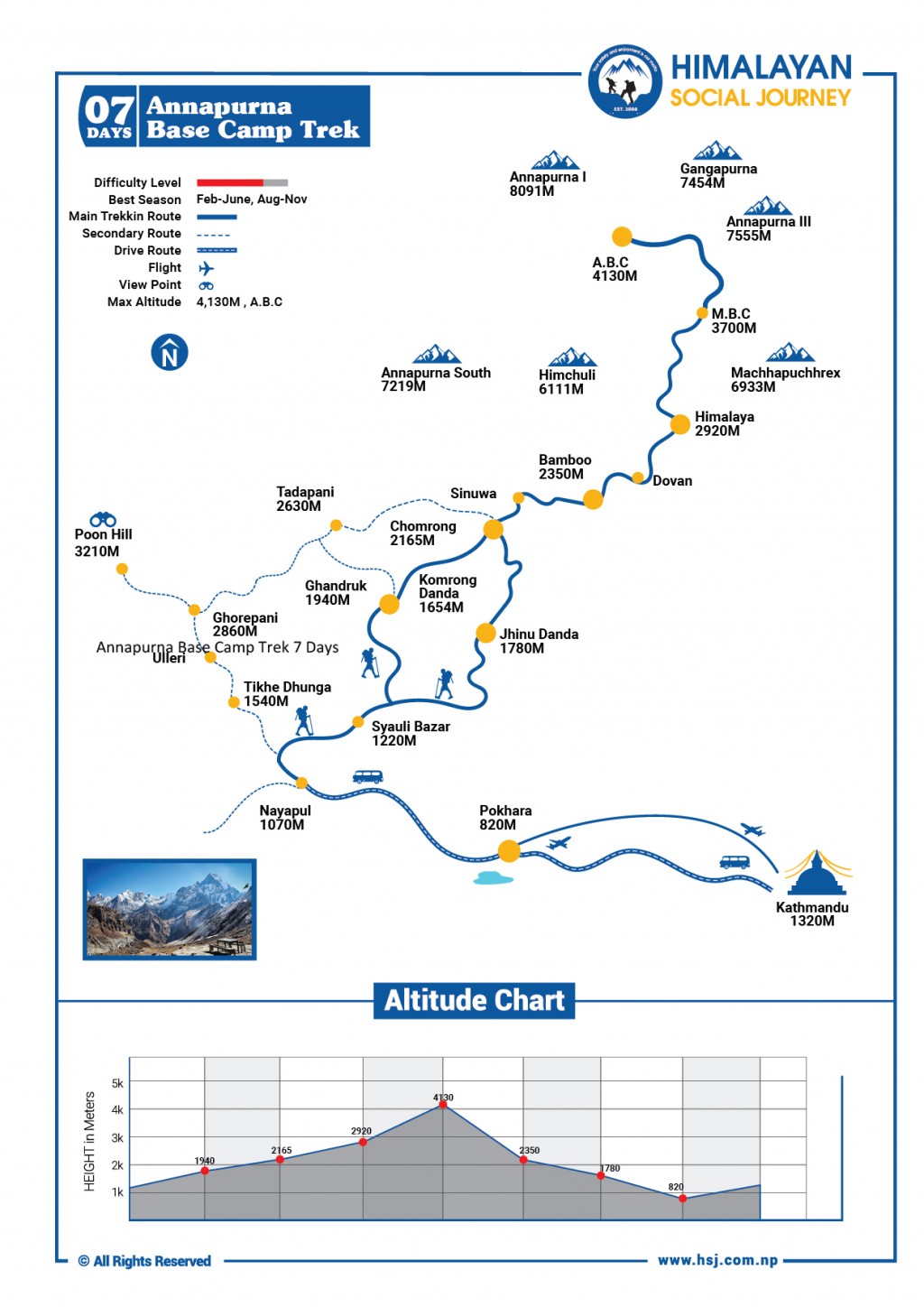 Departures Dates
| Trip Dates | Trip Costs | Actions |
| --- | --- | --- |
| 23 Sep, 2021 - 02 Oct, 2021 | $590 | Book Now |
| 13 Oct, 2021 - 22 Oct, 2021 | $590 | Book Now |
| 23 Oct, 2021 - 01 Nov, 2021 | $590 | Book Now |
| 13 Nov, 2021 - 22 Nov, 2021 | $590 | Book Now |
| 23 Nov, 2021 - 02 Dec, 2021 | $590 | Book Now |
| 13 Dec, 2021 - 22 Dec, 2021 | $590 | Book Now |
| 23 Dec, 2021 - 01 Jan, 2022 | $590 | Book Now |
| 13 Jan, 2022 - 22 Jan, 2022 | $590 | Book Now |
| 23 Jan, 2022 - 01 Feb, 2022 | $590 | Book Now |
| 13 Feb, 2022 - 22 Feb, 2022 | $590 | Book Now |
| 23 Feb, 2022 - 04 Mar, 2022 | $590 | Book Now |
| 13 Mar, 2022 - 22 Mar, 2022 | $590 | Book Now |
| 23 Mar, 2022 - 01 Apr, 2022 | $590 | Book Now |
| 13 Apr, 2022 - 22 Apr, 2022 | $590 | Book Now |
| 23 Apr, 2022 - 02 May, 2022 | $590 | Book Now |
| 13 May, 2022 - 22 May, 2022 | $590 | Book Now |
| 23 May, 2022 - 01 Jun, 2022 | $590 | Book Now |
| 13 Jun, 2022 - 22 Jun, 2022 | $590 | Book Now |
| 23 Jun, 2022 - 02 Jul, 2022 | $590 | Book Now |
| 13 Jul, 2022 - 22 Jul, 2022 | $590 | Book Now |
| 23 Jul, 2022 - 01 Aug, 2022 | $590 | Book Now |
| 13 Aug, 2022 - 22 Aug, 2022 | $590 | Book Now |
| 23 Aug, 2022 - 01 Sep, 2022 | $590 | Book Now |
| 13 Sep, 2022 - 22 Sep, 2022 | $590 | Book Now |
| 23 Sep, 2022 - 02 Oct, 2022 | $590 | Book Now |
| 13 Oct, 2022 - 22 Oct, 2022 | $590 | Book Now |
| 23 Oct, 2022 - 01 Nov, 2022 | $590 | Book Now |
| 13 Nov, 2022 - 22 Nov, 2022 | $590 | Book Now |
| 23 Nov, 2022 - 02 Dec, 2022 | $590 | Book Now |
| 13 Dec, 2022 - 22 Dec, 2022 | $590 | Book Now |
| 23 Dec, 2022 - 01 Jan, 2023 | $590 | Book Now |
Trekking Difficulty
7 days Annapurna Base Camp trekking is a difficult grade and a customized trek itinerary of 16 days. The hiking is generally 6 to 7 hrs a day, with regular breaks to take in the stunning mountain views. Trek routes involve long climbs, steep descents and a straightforward roads following a good trial. No technical experience and skills are necessary. Novice trekkers are not recommended to join. The fitter we are, the more enjoyable experience we will have during the trekking. It is very important to make sure you are as healthy as possible before starting trek.
Travel and Transportation Modes
There are two ways to get from Kathmandu to Annapurna Base Camp.
By Bus: Touring to and from city destinations is done on a private vehicle such as a car, jeep or microbus. Luxury tourist buses, which are only hired by the company for the most part, make the long distance travel. You will may have to take a public bus on some trip, but you do not need to worry about your protection or comfort because you ride with our guides and support staff in a group.

By air: Transportation by plane is available to fly from Kathmandu- Pokhara (flight is optional and cost is USD 110PP- One way) and back at the end of the trip. If you want to experience helicopter ride to Annapurna Base Camp and no trek, then you can have a look at our program https://hsj.com.np/trip/explore-nepal-with-everest-scenic-flight-and-annapurna-base-camp-heli-tour

This Tour with HS

Guides and Porters
Our local Nepali team is one of the most experienced, hospitable and respected trekking outfits in Nepal. The team is fully licensed and affiliated with the Trekking Agency's Association of Nepal (TAAN), Nepal Mountaineering Association, Nepal Tourism Board, Govt. of Nepal, Sustainable Tourism Network, Himalayan Rescue Association and Kathmandu Environmental Educational Project. You will be provided with the professional and an experienced English speaking trekking guide with the good knowledge of the place and the trek. The trekking crew is skilled with the experience of over 10 years, well-trained, friendly guide and, courteous and helpful porters, assured of a wonderfully memorable experience.
For the trek, we'll have one porter for two people as per group size. The porter will carry 12-15 kg per person luggage during the trek. You need to carry your day pack to keep your personal belongings such as wallet, camera, water bottle, dry snack, headlight, gadgets, etc. The safety and concerns of our porters is our collective responsibility. We take our responsibilities towards them and their safety concerns strictly. On your part, please carry only things that are of absolute necessities.
Other Programs and complimentary services with this trip
• Welcome and Farewell dinner
• Yoga Classes
• Spa services
How do we make sure you get the best experience of this trek?
We are your completely flexible travel partner. Want to follow different route? We have you covered. Have extra time in Nepal? Excellent! We have more add-on tours like Chitwan Jungle Safari, Cable Car ride to Chandragiri hills, Cooking and Yoga classes in Kathmandu and so on. Would like to customize the trip? Well, why not? Give us your ideas and we will prepare complete itinerary for you. Do you want to use different standard of accommodations than provided in the itineraries? Of course! You absolutely can. From your arrival until you departure, your wishes are our command. Feel free to make the request.

Equipment and Packaging list for Annapurna Base Camp
Clothing
• Trekking boots
• Short-sleeved
• Trekking shirts
• Trekking pants and jackets
• Thermals underwear
• Long-sleeved Trekking shirts
• Insulating down jackets
• Woolen cap
• Trekking Gloves
• Raincoats
First Aid
• Diamox tablets
• Sanitary pads / Tampons
• Anti-nausea Medicines
• Band-aids
• Mosquito and insect repellents
Toiletries
• Soap
• Toilet Paper
• Shampoo
• Sunscreen
• Hand sanitizer
Accessories
• Sunglasses
• Sleeping bag
• Cameras
• Batteries
• Water Bottle
• Solar Chargers
• Hot water Thermos
Important Documents
• Passport
• Travel Permits

Accommodation and Meals
It is a teahouse trek like most of Nepal's treks. In general, tea houses provide a single room with twin beds. In the common room, you can charge your phones at a certain discount. Hot showers usually cost about USD 1 in teahouses.In addition, the meals provided in the teahouses are simple and you'll get the Nepalese "Dal Bhat" meal served in most teahouses.
Hot water and electricity do not occur in every tea houses. Showering is a luxury and shouldn't usually be done anymore at an altitude of 3,500 m, because warming will be hard when you take a shower again.
The food menu will certainly be restricted by trekking to this extreme region. There is, however, an opportunity to get healthy food varieties. The food is served on the Trek according to the menu of the tea house. Pancakes, chapati, bread, french toasts, egg, tea , coffee, butter tea, milk are expected to be served for breakfast. Dinner will include items such as dal bhaat, curries, chapatis, momo, noodle, thupka, dhindo, etc. and lunch and dinner will include.
Bottled water can still be purchased from the start of the walk to the end. You are, however, asked to carry with you and Sterpin a reusable water bottle. This will help the region to be preserved.

Electricity and connectivity
You will be staying Overnight in the tea houses during your trek. These are small lodges with a common area and a cabin. You can have your food or charge electronics in the community, sometimes use wireless internet and chat with walkers.
You would need to pay additional for all the above items (dusches, hot water , electricity and wifi).To improve your connectivity, carry your phone to the Nepal SIM, you'll get more than you'd think (GPRS/EDGE speed). Village electricity could be perfect during your stay. Villages above 4000 m tend to be the latter. Tea houses can have the potential to charge you either from solar sources or from a battery bank.but it is most wise to either have your own or not depend on electronic devices.

Trekking Permits
You will need to arrange both the Trekking Information Management System (TIMS) permit and the Annapurna National Park Permit (sometimes also known as the Annapurna Conservation Area Permit). HSJ will arrange for your trekking permits.
As of 2019, the permits will refund a minimum of USD $50: the APC Permit is USD $30 / NPR 3,000 per person, while the TIMS Permit is USD $20 / NPR 2,000 per person.
These will need to be checked at different checkpoints along the trek.
Make sure you also bring a minimum of 4 passport photos for your trekking permit!

Travel Insurance
We suggest taking out an insurance plan for your individual accountability, accidents and illnesses during the service.
Regarding the type of activity, you may be asked to show a certificate of insurance for help and support, sanitation and search. This service is private and not free in Nepal, the helicopter will not take off until it is convinced to pay for the insurance.

Extra Expenses
It's difficult to give an exact amount of money that you should bring. Costs will vary according to how much you want to spend for shopping and where and what meals (lunch & dinner) you want to eat. Trekkers find that around $20 (for lunch & dinner) a day is reasonable for the trekking days. You would also have to pay for hot showers, Wi-Fi and charging.

Solo Traveler
There will be two people accommodated in each room for the duration of the tour. If you prefer private accommodation, you'll find the option for "single supplement" of USD 200. Important: Please note that during the trek there are some lodges which won't have sufficient rooms to provide private accommodation. So, even if you purchase single supplement you will end up sharing a room for some days of the trek.
Best Season
The best months of trekking are Spring March, April and May, as the weather is bright and calm in these months and you can see high mountains, with mountains full of snow. Spring and May are the best months. Rhododendron is ideal for the spring season; all the rhododendrons turn into a wonderful garden and you can see them. Autumn is another strong season for Annapurna Base Camp Trek. The perfect months for trekking after monsoon in Nepal are September, October and November. During these months you have a beautiful view of the Himalayas and their people, because you can be part of Nepal's biggest festivals in the fall.
Last minute booking
It is best to book in advance but for those who cannot, for whatever reason, make a last minute reservation special arrangement for Himalayan Social Journey. In the case of last minute reservation, 100% tour payment will be approved within 24 hours. We try to operate a trek at any time but we are not liable for the delay in case of last-minute reservation, because of uncontrolled changes such as weather and the availability of accommodation.
Feedbacks
Throughout the years of business, we have always put the customers feedback as our inspiration towards making our company great travel partner. With many ups and downs, and good and not so good feedbacks we have reached where we are now. At the end of the trek, while you are with the crew during farewell dinner, we would appreciate if you give us your valuable feedback, account of good and bad experiences, recommendations and also your honest rating to our trip advisor page.
Important Information
FAQ's