Gokyo And Everest Base Camp Trek
Best Season
Feb, Mar, April, May, June, Sep, Oct, Nov and Dec.
Activity Per Day
5-6 Hrs Walking
Transportation
Domestic flight (Ktm-Lukla-Ktm) and private transportation in Kathmandu
Overview
Consolidating an enormous piece of the exemplary Everest Base Camp trek course with the moderately unexplored marvels of the Gokyo Lakes locale, this 19-day experience is one that can't be beaten. Settled in a concealed valley of the Khumbu district, Gokyo town is one of the Himalayas' most treasured gem. This trek will take you to the trails between overlooked valleys, winding around peaceful lakes and customary towns. You'll likewise encounter the gems of the Gokyo Lakes: Gokyo Ri, and the Fifth Lake - the quality of which neglects a dazzling scenery of grand Everest! Watch the shimmering ice trail of the Cho La disregard an icy mass before climbing to Kala Patthar, the renowned Black Rock, as you relish the view of Everest, Pumari, Lhotse, Nuptse, and different pinnacles.
Gokyo Lake View Trek is one of the most remunerating trekking trails in Everest region. First, stepping into the incredible trail at the lap of the world itself is an extraordinary experience. Second, seeing entrancing lakes, very significant, Gokyo resembles vanquishing yourself and the regular world for the lifetime. The most elevated mammoths like Loatse, Choyou, and Mt. Everest are conspicuously elating. In addition, one can have enough understanding of Sherpa land and their way of life. Likewise, the trekkers will have a chance to be acquainted with high widely varied vegetation in Sagarmatha National Park.
Optional: For all the helicopter enthusiasts, you now have an option to take a luxurous and adventurous helicopter flight from Kathmandu to Lukla and back from Lukla to Kathmandu by paying extra USD200PP one way . With this, you no longer have to worry about flights being delayed or canceled, which can happen every now and then due to bad weather.
Highlights of Everest Base Camp Trek with Gokyo Lake
Experience the exhilaration of trekking to Everest Base Camp
Trek up to 5545m through spectacular scenery
Trek through the heart of Sherpa country
Informative guides to uncover the history behind mystical sights
Breathtaking views of the Everest region
Get to know the gentle spirit of the Sherpa people
Everest, Lhotse, Nuptse, Changtse, Ama Dablam and scores of other lesser crests seen from a peaked vantage point
Get among the hustle and bustle of market town Namche Bazaar
Suitable for people aged over 14 and below 65
Guided tour of Kathmandu's ancient temples
Lifetime Experience on a thrilling helicopter ride.
Journey
Gokyo Lake View trek as other treks in the Everest region commences from Lukla after a short scenic flight from Kathmandu. The trail then leads you to Phakding and then Namche. Namche Bazaar is well known for the Tibetan market and also popular some mountain views. The hotel Everest View offers you the entire panoramic view of Everest massif. Then the trail divides. One takes you to Everest Base Camp and the other takes you Gokyo Valley. The trail passes through Sagarmatha National Park, a UNESCO World Heritage Site where one can experience alpine flora and fauna including musk deer, Derow, Ghoral, and Himalayan Thar as well as Red-billed Chough, Impheyan Pheasant, Blood Pheasant, and Yellow-billed chough. Besides, Gokyo View Trekking offers a spectacular experience of the culture and civilization of Sherpa people. The most significant highlight of this trekking is Gokyo Valley located at the bank of Gokyo Lake. It is an alluring valley encircled by mountain giants. Gokyo Ri is another notable attraction of Gokyo Valley trekking. Gokyo Ri is a popular vantage point that offers a spectacular view of 8000 thousand such as Cho Oyu, Everest, Lhotse and Makalu which are apparently visible from Gokyo Ri above Gokyo Lake.
Alternatives
The 19 days- Everest Base Camp Trek through Gokyo Lakes' trip is perfect for climbers who wish to take up more challenges and enjoy more steep paths while stepping upon remote Nepalese trails. In any case, on the off chance that you are a novice trekker who is healthy and normal physical wellness then Everest Base Camp Trek - 16 Days might be the right one for you. Also, if there is a chance that you are an accomplished trekker who needs to trek to the Everest Base Camp yet has a constrained measure of time in your grasp then you can join for Everest Panorama Trek- 10 days instead.
Himalayan Social Journey organizes various sort of exciting and adventurous trips to Gokyo Lake considering venturers' wish and time frame. Thus, be a part of Himalayan Social Journey, feel the difference.
You can find our programs for Everest Regions here:
Outline Itinerary ( 19 Days )
1

Arrival Day

Arrival at Tribhuwan International Airport and transfer to hotel. Preparation for the trek and at evening orientation will be at Kathmandu hotel. Overnight at Himalayan Suite Hotel. (D)

Accommodation: Himalayan Suite Hotel
Meal: Dinner
Activity: Orientation Program

2

Full Day Sightseeing Tour of Kathmandu Valley

City sightseeing tour (Kapan Monastery, Patan Durbar Square, Showyambhu, Boudha) and drive back to Hotel. Overnight at Himalayan Suite Hotel. (B)

Accommodation: Himalayan Suite Hotel
Meal: Breakfast
Activity: Kathmandu sightseeing

3

Kathmandu to Lukla by flight or helicopter and trek to Phakding (2600 m).

Today, we will take the dramatic flight to Lukla. Upon reaching Lukla, we will continue our journey to Phakding. Overnight at Guest House . (B)

Accommodation: Guest House
Meal: Breakfast
Activity: Trekking (3-4hrs)
Altitude: 2600m

4

Trek to Namche Bazaar (3535 m).

Today, after warm breakfast, we will continue our journey to Namche Bazaar (3545m). The trial is beautiful, you will cross many suspension bridges over the Dudh Koshi River, pass through dense rhododendron forest and finally reach Namche Bazaar after a long and tiring walk. Overnight at Guest House (B)

Accommodation: Guest House
Meal: Breakfast
Activity: Trekking (5-6 hrs)
Altitude: 3535m

5

Acclimatization day in Namche Bazaar.

Today is acclimatization day. Today, to accommodate the change in altitude you will stay in Namache and explore the little settlements of Sherpa community in Khumjung Valley. Make a hike to Everest view hotel and order yourself a warm coffee and admire the massive views of Mt. Khumbila (5761m), Mt. Thamserku (6623m), Mt. Everest (8848m), Lhotse (8516m) and Ama Dablam (6812m). Overnight at Guest House (B)

Accommodation: Guest House
Meal: Breakfast
Activity: Acclimatization
Altitude: 3535m

6

Trek to Tengboche and visit Tengboche Monastery.

From here we ascend towards Tengboche village which houses the very famous Tengboche monastery which is the biggest monastery of the Everest region. Overnight at Rivendell Guest House (B)

Accommodation: Rivendell Guest House
Meal: Breakfast
Activity: Trekking (5-6 hrs)
Alitude: 3850m

7

Trek to Dingboche.

Our trail descends and passes through lush forests of birch, confer and rhododendron trees. While trekking we can admire good views of Mt. Everest, Lhotse, and Ama Dablam. We continue our walk to the Imja Valley and Lobuche River before ascending to Dingboche (5-6 hours). Overnight at Good Luck Guesthouse (B)

Accommodation: Good Luck Guesthouse
Meal: Breakfast
Activity: Trekking (5-6 hrs)
Alitude: 4350m

8

Trek to Lobuche (4928 m).

We ascend to the steep terminal moraine of the Khumbu Glacier. As the trail drops to the Khumbu Glacier moraine, we find ourselves facing several great peaks including Khumbutse, Lingtren, Pumori and Mahalangur Himal (5-6 hours). Overnight at Sherpa Lodge (B)

Accommodation: Sherpa Lodge
Meal: Breakfast
Activity: Trekking (5-6 hrs)
Alitude: 4940m

9

Trek to Gorakhshep (5140 m) and EBC.

The trek to Everest Base Camp is not very difficult. However, we ascend and descend mostly on a glacier path. The Everest Base Camp is stunningly beautiful. We can enjoy amazing views of Nuptse, Khumbuste and Pumori mountains from the base camp. After soaking in the beauty, we walk back towards Gorak Shep where we spend the night. Overnight at Himalayan Guest House (B).

Accommodation: Himalayan Guest House
Meal: Breakfast
Activity: Trekking (5-6 hrs)
Alitude: 5160m

10

Early morning trek to Kalapathar (5545 m) and back to Lobuche via Gorakhshep.

The day's first light will illuminate your spectacular view of Nuptse, Cholatse and Lhotse. This may be, of the whole journey, you are the most opportune moment to snap amazing pictures of Everest and its neighboring peaks. Afterward, it's back to Gorekshep for breakfast and down to Lobuche. Overnight at Pumori Lodge (B)

Accommodation: Sherpa Lodge
Meal: Breakfast
Activity: Trekking (5-6 hrs)
Alitude: 5545m

11

Trek to Thangnak (4690 m).

From Lobuche, after an early breakfast you will continue your journey to Thangnak (4690m). Thankgnak is close by gokyo. Overnight at Thangnak.

Accommodation: Guest House
Meal: Breakfast
Activity: Trekking (5-6 hrs)
Alitude: 4960m

12

Trek to Gokyo and visit 5th and 6th Lake.

In the early morning, the trail ascends steep up to Gokyo Ri Peak (5,357m) from where the excellent view of Mt. Everest (8,848m) and Mt. Makalu (8,481m) is perceived. The peak is a vantage place which offers the aesthetic view of Cho Oyu, Lhotse, Cholatse, Taboche, moraine, Ngozumba glacier. The Gokyo Ri peak is always compared with Kala Patthar as both summits offer the spectacular vista of Mt. Everest. Overnight at Gokyo. (B)

Accommodation: Guest House
Meal: Breakfast
Activity: Trekking (5-6 hrs)
Alitude: 5357m

13

Trek to Gokyo- Ri. Overnight at lodge. (B)

After having warm breakfast, you will continue your journey towards Gokyo. Overnight at Gokyo. (B)

Accommodation: Guest House
Meal: Breakfast
Activity: Trekking (5-6 hrs)
Alitude: 5357m

14

Trek to Phorste Drengka.

After a morning breakfast, we will continue our journey towards Phortse Drengka. Overnight at Lodge. (B)

Accommodation: Guest House
Meal: Breakfast
Activity: Trekking (5-6 hrs)
Alitude: 3675m

15

Trek to Namche.

Leaving behind Phorste Drengka, we will descend towards, Namche Bazaar. Overnight at Sherpa Land Hotel. (B)

Accommodation: Hotel Sherpaland
Meal: Breakfast
Activity: Trekking (5-6 hrs)
Altitude: 3535m

16

Trek to Phakding

Taking the same route, we hike back to Phakding. Overnight at Shangrila Hotel. (B)

Accommodation: Hotel Sherpaland
Meal: Breakfast
Activity: Trekking (5-6 hrs)
Altitude: 2610m

17

Trek to Lukla.

We descend down from Phakding to lukla. Overnight at Mera Lodge. (B)

Accommodation: Mera lodge
Meal: Breakfast
Activity: Trekking (4-5Hrs)
Altitude: 2860m

18

Lukla Flight to Kathmandu by plane or Helicopter

After early morning breakfast, we will take a flight back to Kathmandu from Lukla). Transfer to hotel. Overnight at Himalayan Suite Hotel. (B)

Accommodation: Himalayan Suite Hotel
Meal: Breakfast
Activity: fly to Kathmandu 30min

19

Drive to Airport for your departure.

You will have your breakfast in the morning and the airport representative will drop you to the airport for your International flight as per your flight schedule. Or if you are staying Nepal for few more days, you can join another trip. (B)

Meal: Breakfast
Include
Airport pick up and drop
Three-star category hotel in Kathmandu (Himalayan Suite Hotel or similar) on twin sharing bed and breakfast basis
Welcome Dinner on Day 1
Meals, accommodation, insurance and other expenses of trekking crew
Accommodation in the lodge with breakfast during the trek days.
Necessary permits
Tims permit
Guided sightseeing tour in Kathmandu in private vehicle (Car/Var/Haice)
Necessary equipment (Sleeping bag, and duffle bag if necessary) during the trek.
Flight fare Kathmandu- Lukla - Kathmandu or Helicopter ride (additional charge)
Flight fare of trekking crew Kathmandu-Lukla-Kathmandu
All government taxes and office expenses
Sagarmatha National Park fee.
Exclude
Lunch, dinner in Kathmandu & during the trekking days. (It costs USD 5$-8$ according to the place and what you eat)
Personal equipment and clothing
Your insurance (highly recommended)
City sightseeing entry fees (NPR 200+ 400+1000 +1000)
Route Map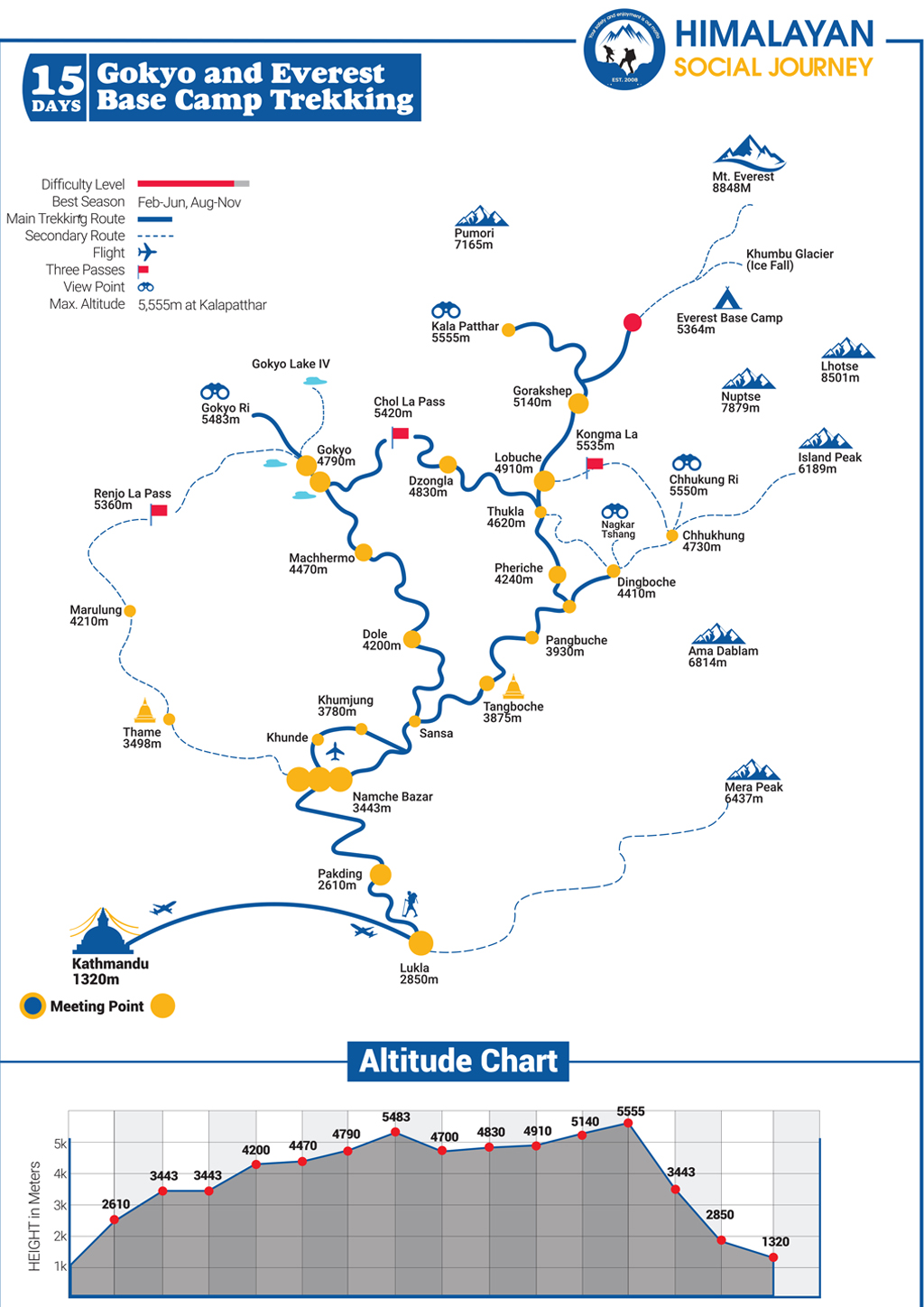 Departures Dates
| Trip Dates | Trip Costs | Actions |
| --- | --- | --- |
| 04 Feb, 2023 - 23 Feb, 2023 | $999 | Book Now |
| 16 Feb, 2023 - 07 Mar, 2023 | $999 | Book Now |
| 04 Apr, 2023 - 23 Apr, 2023 | $999 | Book Now |
| 16 Apr, 2023 - 05 May, 2023 | $999 | Book Now |
| 04 May, 2023 - 23 May, 2023 | $999 | Book Now |
| 16 May, 2023 - 04 Jun, 2023 | $999 | Book Now |
| 04 Jun, 2023 - 23 Jun, 2023 | $999 | Book Now |
| 16 Jun, 2023 - 05 Jul, 2023 | $999 | Book Now |
| 04 Jul, 2023 - 23 Jul, 2023 | $999 | Book Now |
| 16 Jul, 2023 - 04 Aug, 2023 | $999 | Book Now |
| 04 Aug, 2023 - 23 Aug, 2023 | $999 | Book Now |
| 16 Aug, 2023 - 04 Sep, 2023 | $999 | Book Now |
| 04 Sep, 2023 - 23 Sep, 2023 | $999 | Book Now |
| 16 Sep, 2023 - 05 Oct, 2023 | $999 | Book Now |
| 04 Oct, 2023 - 23 Oct, 2023 | $999 | Book Now |
| 16 Oct, 2023 - 04 Nov, 2023 | $999 | Book Now |
| 04 Nov, 2023 - 23 Nov, 2023 | $999 | Book Now |
| 16 Nov, 2023 - 05 Dec, 2023 | $999 | Book Now |
| 04 Dec, 2023 - 23 Dec, 2023 | $999 | Book Now |
Travel and Transportation Modes
There are two ways to get from Kathmandu to Everest Base Camp.
By Bus: Touring to and from city destinations is done on a private vehicle such as a car, jeep or microbus. Luxury tourist buses, which are only hired by the company for the most part, make the long distance travel. You will may have to take a public bus on some trip, but you do not need to worry about your protection or comfort because you ride with our guides and support staff in a group.
By air: The flight from Kathmandu to Lukla and back is included in the price.
If you want to experience helicopter ride to Everest Base Camp and no trek, then you can book for 7 Days Everest Helicopter Tour. Place an enquiry through email at [email protected]
Also check our Day Tour to Everest Base Camp if you dont want to trek and visit Base Camp Directly in just one day.
Everest Heli tour starts from Kathmandu, flying east from Kathmandu towards the beautiful Sherpa village and the gateway to Everest, Lukla. After fueling in Lukla, the flight starts flying towards Everest Base Camp/Kalapathar. The flight goes over the Tengboche, Dingboche, Gorakshep and Khumbu glacier to reach the Base camp of Mount Everest.
This ultimate helicopter ride gives you some of the best mountain views and sceneries. You will be given 30 - 45 minutes at Kongde or Everest View Hotel to take tea/coffee or Breakfast. Kongde has excellent views of Mt. Everest and its range. Further, you will fly back to Lukla for fueling and then to Kathmandu to end your lifetime Experience of Everest tour by helicopter.
This Tour with HSJ
Guides and Porters
Our local Nepali team is one of the most experienced, hospitable and respected trekking outfits in Nepal. The team is fully licensed and affiliated with the Trekking Agency's Association of Nepal (TAAN), Nepal Mountaineering Association, Nepal Tourism Board, Govt. of Nepal, Sustainable Tourism Network, Himalayan Rescue Association and Kathmandu Environmental Educational Project. You will be provided with the professional and an experienced English speaking trekking guide with the good knowledge of the place and the trek. The trekking crew is skilled with the experience of over 10 years, well-trained, friendly guide and, courteous and helpful porters, assured of a wonderfully memorable experience.
For the trek, we'll have one porter for two people as per group size. The porter will carry 12-15 kg per person luggage during the trek. You need to carry your day pack to keep your personal belongings such as wallet, camera, water bottle, dry snack, headlight, gadgets, etc. The safety and concerns of our porters is our collective responsibility. We take our responsibilities towards them and their safety concerns strictly. On your part, please carry only things that are of absolute necessities.
Other Programs and complimentary services with this trip
• Welcome and Farewell dinner
• Yoga Classes
• Spa services
How do we make sure you get the best experience of this trek?
We are your completely flexible travel partner. Want to follow different route? We have you covered. Have extra time in Nepal? Excellent! We have more add-on tours like Chitwan Jungle Safari, Cable Car ride to Chandragiri hills, Cooking and Yoga classes in Kathmandu and so on. Would like to customize the trip? Well, why not? Give us your ideas and we will prepare complete itinerary for you. Do you want to use different standard of accommodations than provided in the itineraries? Of course! You absolutely can. From your arrival until you departure, your wishes are our command. Feel free to make the request.
Equipment and Packaging list for Everest Base Camp
Clothing
Trekking boots
Short-sleeved Trekking shirts
Trekking pants and jackets
Thermals underwear
Long-sleeved Trekking shirts
Insulating down jackets
Woolen cap
Trekking Gloves
Raincoats
First Aid
Diamox tablets
Sanitary pads / Tampons
Anti-nausea Medicines
Band-aids
Mosquito and insect repellents
Toiletries
Soap
Toilet Paper
Shampoo
Sunscreen
Hand sanitizer
Accessories
Sunglasses
Sleeping bag
Cameras
Batteries
Water Bottle
Solar Chargers
Hot water Thermos
Important Documents
Passport
Travel Permits
Trekking Grade
A difficult trek or grade 3 from an altitude from 4000 m to 5550 m. The best of Nepal's trekking is category 3. You need some previous trekking activities and good health. Climbing and descending are quite common walking experiences and you may also need to cross little glaciers. Walking in higher altitudes is more physically demanding than walking in lower altitudes, however, the pace of the trek will vary in compensation. If you are in excellent health with average physical fitness and have strong determination, you will complete this trek successfully. Exercising, particularly jogging and climbing stairs regularly for some weeks prior to your arrival is recommended to enhance your strength and fitness. Past hiking experience would be an asset, but no technical skill is required.
Accommodation and Meals
It is a teahouse trek like most of Nepal's treks. In general, tea houses provide a single room with twin beds. In the common room, you can charge your phones at a certain discount. Hot showers usually cost about USD 1 in teahouses.In addition, the meals provided in the teahouses are simple and you'll get the Nepalese "Dal Bhat" meal served in most teahouses.
The food menu will certainly be restricted by trekking to this extreme region. There is, however, an opportunity to get healthy food varieties. The food is served on the Trek according to the menu of the tea house. Pancakes, chapati, bread, french toasts, egg, tea , coffee, butter tea, milk are expected to be served for breakfast. Dinner will include items such as dal bhaat, curries, chapatis, momo, noodle, thupka, dhindo, etc. and lunch and dinner will include.
Bottled water can still be purchased from the start of the walk to the end. You are, however, asked to carry with you and Sterpin a reusable water bottle. This will help the region to be preserved.
Electricity and connectivity
You will be staying Overnight in the tea houses during your trek. These are small lodges with a common area and a cabin. You can have your food or charge electronics in the community, sometimes use wireless internet and chat with walkers.
Hot water and electricity do not occur in every tea houses. Showering is a luxury and shouldn't usually be done anymore at an altitude of 3,500 m, because warming will be hard when you take a shower again.
You would need to pay additional for all the above items (dusches, hot water , electricity and wifi).To improve your connectivity, carry your phone to the Nepal SIM, you'll get more than you'd think (GPRS/EDGE speed). Village electricity could be perfect during your stay. Villages above 4000 m tend to be the latter. Tea houses can have the potential to charge you either from solar sources or from a battery bank.but it is most wise to either have your own or not depend on electronic devices.
Trekking Permits
You will need to arrange both the Trekking Information Management System (TIMS) permit and the Sagarmatha National Park Permit HSJ will arrange for your trekking permits.
These will need to be checked at different checkpoints along the trek.
Make sure you also bring a minimum of 4 passport photos for your trekking permit!
Travel Insurance
We suggest taking out an insurance plan for your individual accountability, accidents and illnesses during the service.
Regarding the type of activity, you may be asked to show a certificate of insurance for help and support, sanitation and search. This service is private and not free in Nepal, the helicopter will not take off until it is convinced to pay for the insurance.
Extra Expenses
It's difficult to give an exact amount of money that you should bring. Costs will vary according to how much you want to spend for shopping and where and what meals (lunch & dinner) you want to eat. Trekkers find that around $20 (for lunch & dinner) a day is reasonable for the trekking days. You would also have to pay for hot showers, Wi-Fi and charging.
Solo Traveler
There will be two people accommodated in each room for the duration of the tour. If you prefer private accommodation, you'll find the option for "single supplement" of USD 350. Important: Please note that during the trek there are some lodges which won't have sufficient rooms to provide private accommodation. So, even if you purchase single supplement you will end up sharing a room for some days of the trek.
Best Season
The best months of trekking are Spring March, April and May, as the weather is bright and calm in these months and you can see high mountains, with mountains full of snow. Spring and May are the best months. Rhododendron is ideal for the spring season; all the rhododendrons turn into a wonderful garden and you can see them. Autumn is another strong season for Everest Base Camp Trek. The perfect months for trekking after monsoon in Nepal are September, October and November. During these months you have a beautiful view of the Himalayas and their people, because you can be part of Nepal's biggest festivals in the fall.
Last minute booking
It is best to book in advance but for those who cannot, for whatever reason, make a last minute reservation special arrangement for Himalayan Social Journey. In the case of last minute reservation, 100% tour payment will be approved within 24 hours. We try to operate a trek at any time but we are not liable for the delay in case of last-minute reservation, because of uncontrolled changes such as weather and the availability of accommodation.
Feedbacks
Throughout the years of business, we have always put the customers feedback as our inspiration towards making our company great travel partner. With many ups and downs, and good and not so good feedbacks we have reached where we are now. At the end of the trek, while you are with the crew during farewell dinner, we would appreciate if you give us your valuable feedback, account of good and bad experiences, recommendations and also your honest rating to our trip advisor page.
Important Information
FAQ's