ANNAPURNA BASE CAMP WITH POONHILL TREK
The nature lover's ideal destination, Annapurna Base Camp trek takes you to the heavenly blessed land and landscapes where one can have an insight of cultural, ethical, natural and wilderness significance. Moreover, this trek offers us astonishing views of mountain peaks including Annapurna massif, Himchuli, Ganesh Himal, Manaslu, Macchapuchhre and many other beautiful peaks.
A high glaciation basin 40 km north of Pokhara lies in the Annapurna shrine. At over 4,000 meters above sea level, this triangular plateau is surrounded by the Annapurna mountain range, most 7000 meters high. The Sanctuary was not reached by outside citizens until 1956 with just a small valley reaching the peaks of Hiunchuli and Machapuchare where glacier run-offs flow to Modi Khola river. The Annapurna sanctuary gets only 7 hours of sunshine a day in high summer because of high mountains on both sides of the river.
On a 5-7 day trek into the Sanctuary of Annapurna, the rare combination of height and depths establish an unprecedented array of habitats. The slopes to the South are surrounded by dense tropical jungles of bamboo and rhododendron and in the rainy shade of the North are more cold and drier than the Tibetan Plateau nearby.
The Gurung People held the whole sanctuary as a sacred place, one of the many native people to be found in this area. They considered that the Gold and various treasures were laid down by the Nāgas and the serpent gods known in India. The sanctuary was thought to be home to several gods: Hinduism and Buddhism, as well as ancient animist gods. The Gurung people in the region were forbidden to bring eggs or meat to the Annapurna Sanctuary until recently, and women and non-touchables were also forbidden.
The number of trekkers to the shrine has grown significantly in recent years, in part as the shrine is a basis for one of the main routes to the summits of the range of Annapurna. The Annapurna Sanctuary now forms part of the Annapurna Conservation Area Scheme, which sets restrictions on the amount of foreign visitors, firewood harvest and domestic livestock pastures.
Quick Facts about Annapurna Base Camp
Annapurna base camp is in the lap of the 10th highest mountain Mount Annapurna (8,091 m above the sea level).
Annapurna Base Camp is inside the Annapurna conservation area (7,629 sq. km).
Annapurna base camp is situated at the altitude of the 4,130 m from the sea level.
There are tea houses at Annapurna base camp surrounded by snow-capped mountains.
More than 20 thousand trekker treks to the Annapurna base camp every year.
Highlights
Breathtaking view of Birethanti waterfall
Beautiful view of Sunrise from Ghorepani- Poonhill
Magnificent view of Annapurna range from Annapurna Base Camp
Visit charming village of Chhomrong Village
Jhinu Hot Spring
Panoramic view of the Annapurna Range
Sightseeing tour of cultural heritage sites of Kathmandu valley
Explore the lush and wild Chitwan national park (optional)
Show more...
Outline Itinerary ( 16 Days )
Expand all +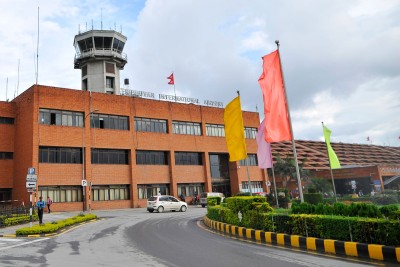 You will arrive in Tribhuvan International Airport and meet your Himalayan Social Journey's Guide. Arrival in Kathmandu airport, transfer to hotel. Overnight at Himalayan suite hotel. (D)
Show more...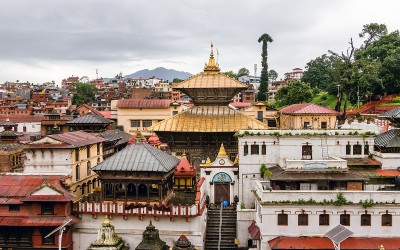 Kathmandu sightseeing (Swoyambunath Stupa, Pashupati Nath Temple, Bouddhanath and Patan Durbar Square). Overnight at Himalayan Suite Hotel. (B)
Show more...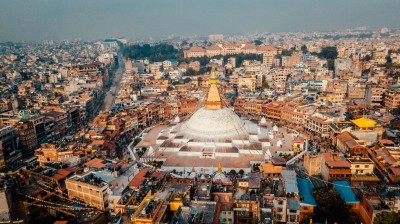 After early breakfast, you will take an early bus to Pokhara. The drive is scenic and about 5-6 hours. Overnight at Hotel Dandelion or Hotel Lake Star in Pokhara. (B)



Show more...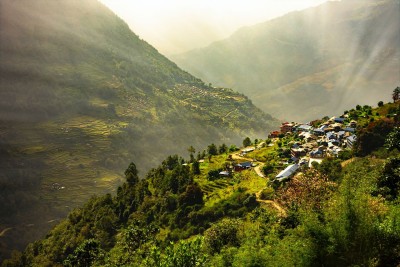 After an early breakfast, you will continue your journey towards Tikhedhunga via Jeep and trek to Ulleri. You will traverse through beautiful settlements of people in Nayapul. Overnight at guest house. (B)
Show more...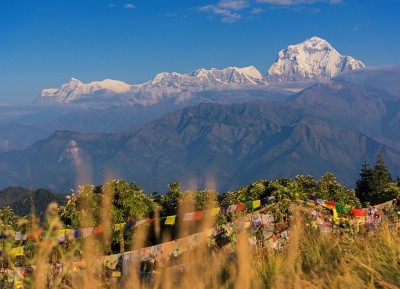 Today, after a warm breakfast, you will head towards Ghorepani. Walking along the terraced fields, meeting people along the way eventually you will reach beautiful village of Ghorepani. Overnight at Ghorepani. (B)
Show more...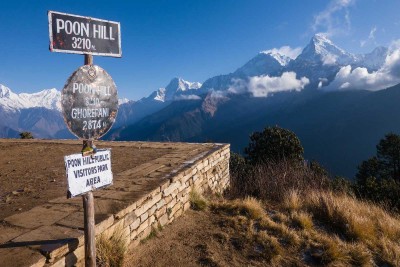 Early morning hiking to Poonhill to see Sunrise and Mountain View on a clear day, panoramic view of 10 different peaks. Trek back to the guest house. After breakfast trek down to Tadapani. Overnight at guest house. (B)
Show more...
Max Altitude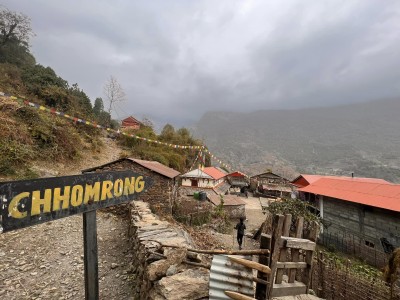 Today, after breakfast you will head towards Chhomrong. Chhomorong is a beautiful village with great view of Annapurna range. Overnight at Chhomrong. (B)
Show more...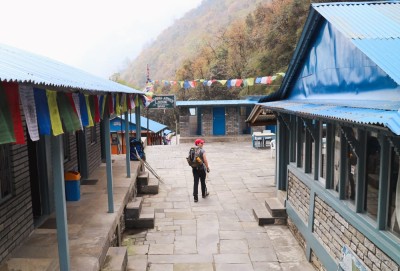 Today, we leave Chhomrong behind and follow trail to Doban. The trail descends on a stone staircase and crosses the chhomrong River. Overnight at Doban. (B)
Show more...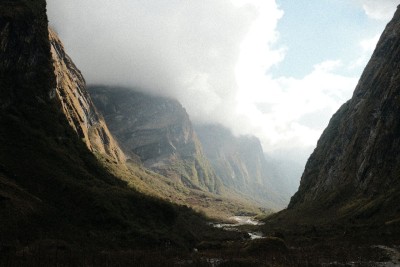 You pass through the muddy trail which traverses high above the river. It takes approximately 3 and half hours to reach Deurali (3230m.) from Dovan. Stay overnight at lodge. (B)
Show more...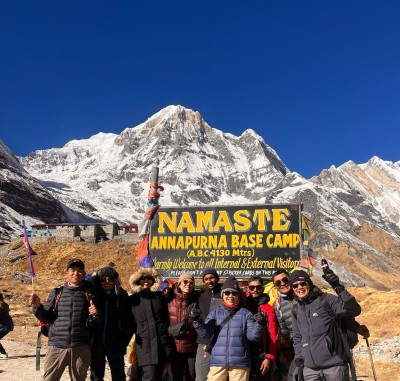 This is the day, you will finally reach the base camp. From here, you can enjoy the magnificent view of Mount Hiunchuli (6441m), Annapurna South (7229m), Annapurna I (7229m), Annapurna III (7555m), Gangapurna (7454m) and Machhapuchhare or Fish tail (6997m). Overnight at Guesthouse. (B)
Show more...
Max Altitude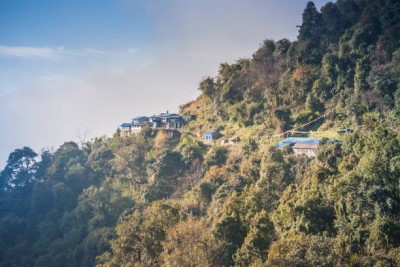 Early in the morning after a warm breakfast, we can see mesmerizing sunrise views and return to Bamboo or Sinuwa from Annapurna Base Camp and do an overnight at the lodge. (B)
Show more...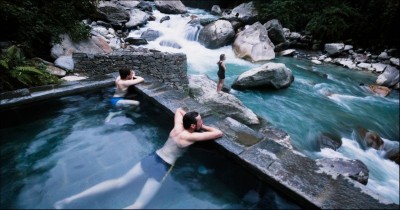 The path is descending up to Bamboo passing through forests with varieties of rhododendron, oaks and bamboo plants. After Bamboo, the trail goes steeply up to the Kuldi Ghar and now the trail is quite flat until we reach Sinuwa. We trek gradually descending to the Chomrong Khola and we go up a stone staircase which you think will never end for almost an hour till we reach Chomrong. The last part of the trail is steeply down to Jhinudanda. From the town, you walk down for 20 minutes to reach Hot Spring at the bank of the Modi Khola. You can unwind yourself at the hot springs & pamper your body with a hot bath. Stay overnight at lodge. (B)
Show more...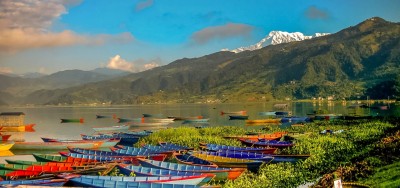 Today after breakfast, we will drive to reach Pokhara. You can enjoy the views of beautiful landscapes along the drive back from Jhinu. Overnight at our hotel inclusive bed and breakfast. (B)
Show more...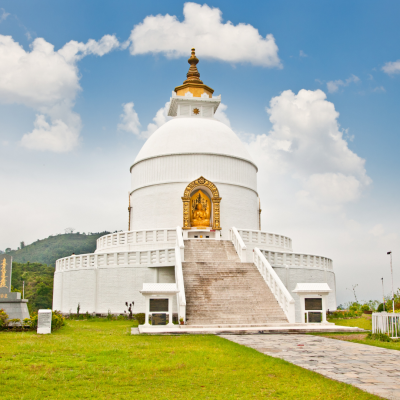 Today, we will spend our full day touring around Pokhara. Visit the different attractions of Pokhara. Overnight at Hotel Dandelion or Hotel Lake Star. (B)
Show more...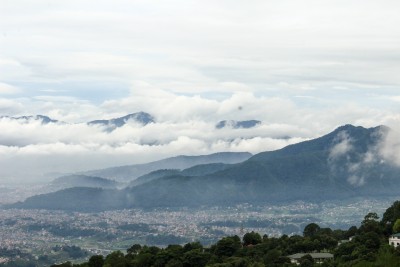 After breakfast drive or fly back to Kathmandu (flight is optional). Evening farewell dinner with cultural program. Overnight at Himalayan Suite Hotel. (B)
Show more...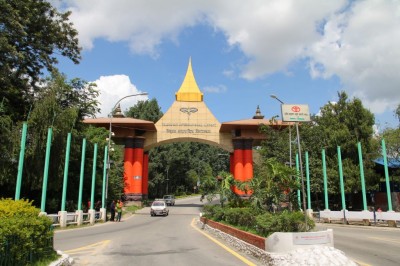 After breakfast transfer to airport for Departure!
Show more...
Include / Exclude
Airport pick up and drop

Accommodation in Kathmandu (Himalayan Suite Hotel) and Pokhara (Hotel Dandelion or Hotel Lake Star) in twin sharing bed and breakfast basis.

Meals, accommodation, insurance, and other expenses of the trekking crew (guide and porters) two people will have one porter and highly experienced English speaking guide

Simple accommodation with breakfast during the trek

Transportation by tourist bus Kathmandu- Pokhara -Kathmandu

Private transportation Pokhara - Tikhedhunga and Jhinu - Pokhara

Trekking Permit & TIMS

Guided sightseeing tour in Kathmandu and Pokhara by private vehicle

Necessary equipment during the trek (Sleeping bag, duffle bag if necessary)

All Government taxes, VAT, and service charge.

Personal equipment and clothing

Airfare Kathmandu- Pokhara -Kathmandu (Optional)

Lunch & dinner in Kathmandu, Pokhara, and trekking days. (Meal costs about $4 - $7 dollar per item depending on the place where you eat)

City sightseeing Monuments entrance fee in Kathmandu (entrance fee Rs 200+400+1000+1000) in each place)

Travel insurance (Highly Recommended)
Departures & Availability
Route Map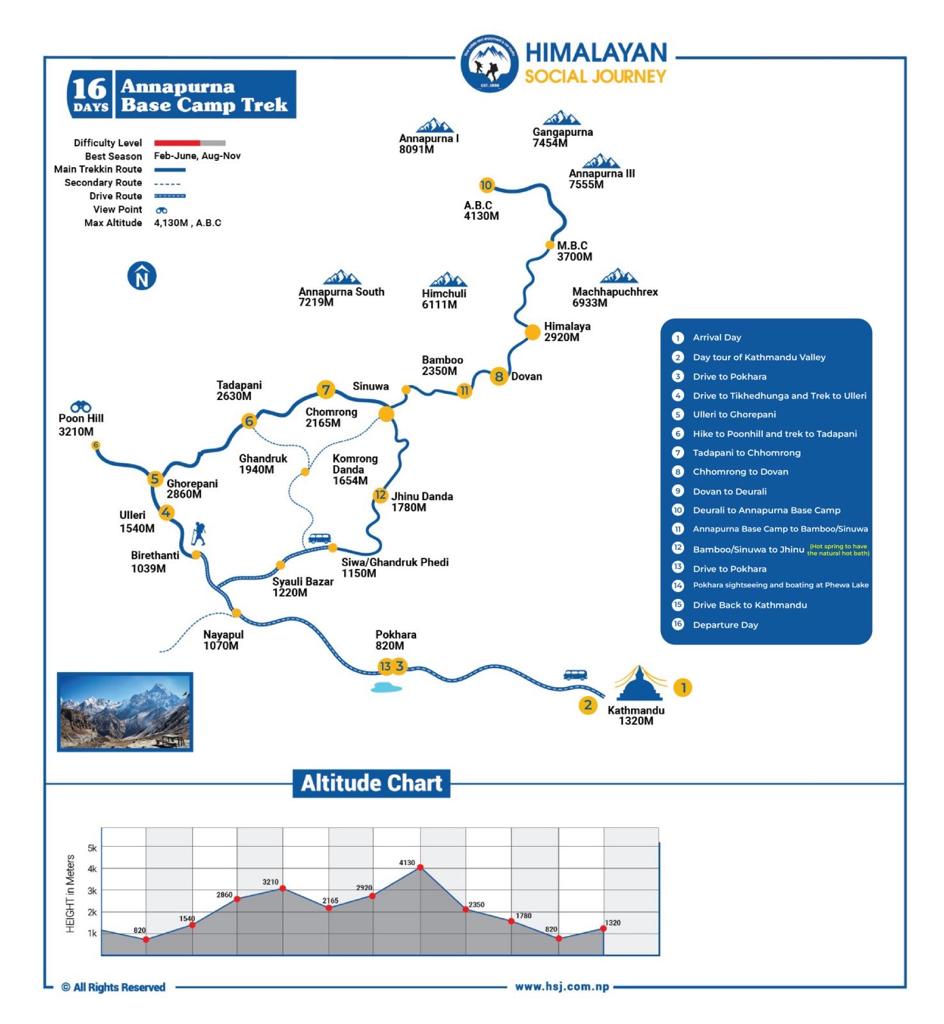 Additional Information
Here's how your ABC trek will commence.
The excursion begins from Kathmandu where you will go through a day investigating it's religious and cultural sites, which are Pashupatinath Temple, Swoyambhunath, Boudhnath Stupa and Patan Durbar Square. They all are recorded on UNESCO's World Heritage List.
We at that point take a vacationer transport to Pokhara. This city of lakes is a trekker's center. Following day, the Annapurna base camp trek in
Festival
Nepal has various cultures. Nepal. There live in harmony numerous ethnic groups and individuals with different religion. This is why Nepal loves various festivals all year round.
Festivals offer you the chance to explore and to indulge the local people's culture and lifestyles.
You will taste the full beauty of local culture. The locals come with their best clothing and jewels. Songs, prayers, drama and dance are celebrated in the festivals.
The color festivals 'Holi' can be seen in the bright and beautiful spring season. The New Year will also be held in Nepal during this season.
During the summer there are colorful and pleasant festivals such as Gai Jatra, Janai Purnima or Teej.
• In commemoration of the loved ones lost in the year, Gai Jatra is celebrated. In current days, parades of the LGBT community in Nepal are still observed.
• Teej's a women's festival. For one day, they dance and quickly. You are also praying for blessings to Lord Shiva. Person women pray for an acceptable match.
The fall is the season of Nepal's biggest and most important festivals. Most Hindus celebrate their most important festivals of the year in the lower part of the Dashain, Tihar.
Tihar is the lights' festival. In colorful lights you can see the whole nation.
In winter, in some of the remote parts of Nepal, you can enjoy a snowy Christmas and New Year.
Tamu Loshar, Gyalpo Losar, Easter and Mageshangrati are also observed by the people of Annapurna. Losar in the local dialect means New Year.
Tamu Loshar is celebrated by the local Gurung community in various areas of Nepal. Big regions such as Jomsom, Mustang, Manang celebrate Gyalpo Losar. Gyalpo Losar. The locals in their traditional clothes can be seen. They visit monasteries and enjoy group sites in their homes.
Travel and Transportation Modes during ABC trek
There are two ways to get from Kathmandu to Annapurna Base Camp.
By Bus: Touring to and from city destinations is done on a private vehicle such as a car, jeep or microbus. Luxury tourist buses, which are only hired by the company for the most part, make the long distance travel. You will may have to take a public bus on some trip, but you do not need to worry about your protection or comfort because you ride with our guides and support staff in a group.
By air: Transportation by plane is available to fly from Kathmandu- Pokhara (flight is optional and cost is USD 110PP- One way) and back at the end of the trip. If you want to experience helicopter ride to Annapurna Base Camp and no trek, then you can have a look at our program https://hsj.com.np/trip/explore-nepal-with-everest-scenic-flight-and-annapurna-base-camp-heli-tour
ABC trekking with HSJ
Guides and Porters
Our local Nepali team is one of the most experienced, hospitable and respected trekking outfits in Nepal. The team is fully licensed and affiliated with the Trekking Agency's Association of Nepal (TAAN), Nepal Mountaineering Association, Nepal Tourism Board, Govt. of Nepal, Sustainable Tourism Network, Himalayan Rescue Association and Kathmandu Environmental Educational Project. You will be provided with the professional and an experienced English speaking trekking guide with the good knowledge of the place and the trek. The trekking crew is skilled with the experience of over 10 years, well-trained, friendly guide and, courteous and helpful porters, assured of a wonderfully memorable experience.
For the trek, we'll have one porter for two people as per group size. The porter will carry 12-15 kg per person luggage during the trek. You need to carry your day pack to keep your personal belongings such as wallet, camera, water bottle, dry snack, headlight, gadgets, etc. The safety and concerns of our porters is our collective responsibility. We take our responsibilities towards them and their safety concerns strictly. On your part, please carry only things that are of absolute necessities.
Other Programs and complimentary services with this trip
• Welcome and Farewell dinner
• Yoga Classes
• Spa services
How do we make sure you get the best experience of this trek?
We are your completely flexible travel partner. Want to follow a different routes? We have you covered. Have extra time in Nepal? Excellent! We have more add-on tours like Chitwan Jungle Safari, Cable Car ride to Chandragiri hills, Cooking and Yoga classes in Kathmandu and so on. Would like to customize the trip? Well, why not? Give us your ideas and we will prepare complete itinerary for you. Do you want to use different standard of accommodations than provided in the itineraries? Of course! You absolutely can. From your arrival until you departure, your wishes are our command. Feel free to make the request.
Equipment and Packaging list for Annapurna Base Camp Trek
Clothing
Trekking boots
Short-sleeved Trekking shirts
Trekking pants and jackets
Thermals underwear
Long-sleeved Trekking shirts
Insulating down jackets
Woolen cap
Trekking Gloves
Raincoats
First Aid
Diamox tablets
Sanitary pads / Tampons
Anti-nausea Medicines
Band-aids
Mosquito and insect repellents
Toiletries
Soap
Toilet Paper
Shampoo
Sunscreen
Hand sanitizer
Accessories
Sunglasses
Sleeping bag
Cameras
Batteries
Water Bottle
Solar Chargers
Hot water Thermos
Important Documents
ABC Trekking Grade
This is one of Nepal's easiest base camp walks. In comparison with other hiking destinations, the potential for altitude sickness is also very low. You have to walk 6-7 hours a day, which means good health and strong will. It will definitely help you a lot, though, if you have a previous trek or walking experience. In the event of bad weather, the trek may be difficult for you.
Accommodation and Meals
It is a teahouse trek like most of Nepal's treks. In general, tea houses provide a single room with twin beds. In the common room, you can charge your phones at a certain discount. Hot showers usually cost about USD 1 in teahouses.In addition, the meals provided in the teahouses are simple and you'll get the Nepalese "Dal Bhat" meal served in most teahouses.
The food menu will certainly be restricted by trekking to this extreme region. There is, however, an opportunity to get healthy food varieties. The food is served on the Trek according to the menu of the tea house. Pancakes, chapati, bread, french toasts, egg, tea , coffee, butter tea, milk are expected to be served for breakfast. Dinner will include items such as dal bhaat, curries, chapatis, momo, noodle, thupka, dhindo, etc. and lunch and dinner will include.
Bottled water can still be purchased from the start of the walk to the end. You are, however, asked to carry with you and Sterpin a reusable water bottle. This will help the region to be preserved.
Electricity and connectivity
You will be staying Overnight in the tea houses during your trek. These are small lodges with a common area and a cabin. You can have your food or charge electronics in the community, sometimes use wireless internet and chat with walkers.
Hot water and electricity do not occur in every tea houses. Showering is a luxury and shouldn't usually be done anymore at an altitude of 3,500 m, because warming will be hard when you take a shower again.
You would need to pay additional for all the above items (dusches, hot water , electricity and wifi).To improve your connectivity, carry your phone to the Nepal SIM, you'll get more than you'd think (GPRS/EDGE speed). Village electricity could be perfect during your stay. Villages above 4000 m tend to be the latter. Tea houses can have the potential to charge you either from solar sources or from a battery bank.but it is most wise to either have your own or not depend on electronic devices.
ABC Trekking Permits
You will need to arrange both the Trekking Information Management System (TIMS) permit and the Annapurna National Park Permit (sometimes also known as the Annapurna Conservation Area Permit). HSJ will arrange for your trekking permits.
As of 2019, the permits will refund a minimum of USD $50: the APC Permit is USD $30 / NPR 3,000 per person, while the TIMS Permit is USD $20 / NPR 2,000 per person.
These will need to be checked at different checkpoints along the trek.
Make sure you also bring a minimum of 4 passport photos for your trekking permit!
Travel Insurance
We suggest taking out an insurance plan for your individual accountability, accidents and illnesses during the service.
Regarding the type of activity, you may be asked to show a certificate of insurance for help and support, sanitation and search. This service is private and not free in Nepal, the helicopter will not take off until it is convinced to pay for the insurance.
Extra Expenses during the Trek
It's difficult to give an exact amount of money that you should bring. Costs will vary according to how much you want to spend for shopping and where and what meals (lunch & dinner) you want to eat. Trekkers find that around $20 (for lunch & dinner) a day is reasonable for the trekking days. You would also have to pay for hot showers, Wi-Fi and charging.
ABC Trek for Solo Traveler
There will be two people accommodated in each room for the duration of the tour. If you prefer private accommodation, you'll find the option for "single supplement" of USD 200. Important: Please note that during the trek there are some lodges which won't have sufficient rooms to provide private accommodation. So, even if you purchase single supplement you will end up sharing a room for some days of the trek.
Best Season for Annapurna Base Camp Trek
The best months of trekking are Spring March, April and May, as the weather is bright and calm in these months and you can see high mountains, with mountains full of snow. Spring and May are the best months. Rhododendron is ideal for the spring season; all the rhododendrons turn into a wonderful garden and you can see them. Autumn is another strong season for Annapurna Base Camp Trek. The perfect months for trekking after monsoon in Nepal are September, October and November. During these months you have a beautiful view of the Himalayas and their people, because you can be part of Nepal's biggest festivals in the fall.
Last-minute ABC trek booking
It is best to book in advance but for those who cannot, for whatever reason, make a last minute reservation special arrangement for Himalayan Social Journey. In the case of last minute reservation, 100% tour payment will be approved within 24 hours. We try to operate a trek at any time but we are not liable for the delay in case of last-minute reservation, because of uncontrolled changes such as weather and the availability of accommodation.
Feedbacks
Throughout the years of business, we have always put the customers feedback as our inspiration towards making our company great travel partner. With many ups and downs, and good and not so good feedbacks we have reached where we are now. At the end of the trek, while you are with the crew during farewell dinner, we would appreciate if you give us your valuable feedback, account of good and bad experiences, recommendations and also your honest rating to our trip advisor page.
Essential Info
Expand all +
When is the best time to do Annapurna Base Camp Trek?
Best time to do Annapurna Base Camp trek is during spring (March-May) and Autumn (September-November). HSJ can however organize the trek at any time of the year with absolute saftey while still availing you to have memorable experience.
Show more...
A broad glacial lake located 40 km north of Pokhara is a sanctuary at Annapurna region. At an altitude of over 4000 feet, this oval shaped base camp is located. It is now part of Annapurna Conservation Area Project that protects this area from over tourism, population and other domestic exploitation.
Show more...
This package of Annapurna Base Camp is 16 Days long. The number of days can vary depending on the routes and transportation modes, offers and packages you choose. You can also choose from our 7 Days Annapurna Base Camp Trek program here, if you have short time in Nepal but still want to do this trek.
Show more...
It is considered to be one of easy trekking trails of Nepal. While it is also most popular, it is also one of the easiest trekking destination. With little to no trekking experience, people have been able to successfully complete this trek. However we grade it as strenous trekking experience as it consists of dramatic ascends and descends through steep stone stairs. Decent physical fitness and prior trekking experience can be an asset while no technical skills are necessary.
Show more...
While it is possible to do Annapurna Base Camp Trek independantly, the need of guide is misunderstood often. Guide is more than just someone that helps you with navigation, guide with knowledge of locality, way of life and also being responsible to attend to your other needs like finding you comfortable accommodation. Having a porter will help you carry your gears and belongings and you can travel at your pace while enjoying your trek. A guide can arrange for permits and TIMS for you and dealing with all other technical aspects of trekking.
Show more...
Annapurna Base Camp is easy and safe trek that people can do this trek independently. Indeed, it is secure and not risky trek. While there is always the possibility of avalanche because it is in mountainous areas, this is usually not dangerous. It's not a complex walk, the pitch is not rough, no tough moves, no sharp hits. That said, accidents can occur on any walk, so caution is of course required. A responsive acclimatization is important.
Show more...
You will have working network connectivity in most parts of the trails. However at the higher altitude, the network may become sluggish and unreliable. The stops at the tea houses will have working connection and most of them would have wifi connectivity too. You may have to pay some extra charge for wifi connection and electricity at the higher altitude.
Show more...
Global passengers will be protected by insurance when treking in Nepal. Although Nepal is normally very secure, trekking at high altitudes is physically difficult and often risky. Altitude sickness is common during hiking tours in Nepal, particularly among foreign hikers who may not have taken the right time to acclimatize. Such rescue and related emergency procedures are costly and passengers are forced to pay for these services out of their pockets, unless they are covered by insurance plans.
Show more...
The break during the trek depends upon the travelers and guide. Needless to say frequent breaks are needed while ascending. Only one break is taken for the lunch. Usually travelers carry their dry snacks which they can eat while on the trek and in between the breaks. There will be break to refill the water on the way.
Show more...
Yes, Himalayan Social Journey is flexible travel partner. It is possible to organize the private trip or private group trip to Annapurna Base Camp. The minimum people for the group is 2 however supplementary charge will be applicable for the solo traveler wanting to do private trip.
Show more...
Supplementary charge will be applicable for the solo traveler wanting to do private trip. You will also have the option to share the room with another solo traveler depending on your and their consent and interest. Even if you pay supplementary charge for the single room, it is possible that during peak seasons you will end up sharing rooms due to lack of availability of the room.
Show more...
In the average, you will be walking for 5-6 hours each day during the Annapurna Base Camp Trek.
Show more...
Insurance of the guide and porter is covered by the company. All our guides and porters are properly insured.
Show more...
Yes, children are allowed to do the trek, however it is safe to not bring children under the age of 12 to do the trek as they may find it difficult and not able to walk. This could affect your trekking experience as well.
Show more...
No, there is no age limit to do the trek. If the person is healthy and physically fit, they can do the trek. We have had elderly people over 75 d0 this trek with us and hence we can vouch that older people can do this trek as long as they do not have significant health issues.
Show more...
You will have teahouse or guest house accomodation while on the trek. Tea houses can be multi-story concrete buildings with private rooms in lower elevations. The higher you step up, the more simple the accommodation is. Accommodation will involve a single dorm space in the base camp. Guide will arrange for the adequate, clean and hygeinic place for you to spend overnight and you will eat at the same place you will stay in. Most of the places shall have attached bathroom and hotshower however over the higher altitude, it is liekly that you may have to pay extra sum for the same.
Show more...
Liquid uses are about 3-5 liters a day (13-21 cups). Several findings suggest that drinking carbohydrate and electrolytes (such as sports drinks) in a liquid is safer than moisturizing water at altitude alone. There is also a study done on the effect of tea in reducing the fatique and mood boosting. Results have been positive. This being said apart from water, you can drink green tea, masala tea, ginger tea and garlic soup.
Show more...
The Tap water supplied along the trails are considered safe for drinking and local people drink it without treating, however for the foreigners, it is best that the tap water be only drunk after purification. There are two good options for having proper drinking water during the trek. You can bring water purification tablets or fill your bottle for a nominal fee from the recognized and regulated "pure water" stations along the trek. As the last alternative, you can also purchase bottled water at the lodges but this is not recommended.
It is very important that you drink at least 3 litres of pure water daily during the trek.
Show more...
You may have to apply and obtain necessary TIMS and Permits yourself if you are trekking solo or independently. If you are hiring trekking agency or guide, this will be taken care for you.
Show more...
No, the company does not provide trekking poles, you will have to manage it on your own or our guide can help you buy it when you are in Nepal. The pair of trekking poles cost from $10-$15.
Show more...
Yes, we do provide sleeping bags. The sleeping bags we provide are of good quality. They help you sustain the colder climate in Nepali mountains up to -25 degree Celsius of temperature. However if you need the one of your own, you can buy one here. Your guide shall assist you to get it here. Keep the track of the weather forecast of the area and pack your clothes accordingly. This would help you be prepared for the type of weather Nepali Mountains are accustomed to.
Show more...
Important Information
Expand all +
There are three ways to get a visa for Nepal
Visa on arrival: You can get a visa on arrival at the Tribhuvan International Airport in Kathmandu or other designated entry points. The visa fee is USD 30 for 15 days, USD 50 for 30 days, or USD 125 for 90 days.
Online application: You can apply for a visa online through the Nepal Immigration website. https://nepaliport.immigration.gov.np .The visa fee is the same as for visa on arrival.
Nepalese Embassy or Consulate: You can also apply for a visa at a Nepalese Embassy or Consulate in your home country. The visa fee may be different, so check with the embassy or consulate.
Visa requirements
Passport valid for at least six months from your planned entry date into Nepal.
Visa application form.
Passport-sized photo (Bring 4 )
Gratis Visa (Visa for Free)
Gratis Visa is issued free of cost in case of following categories of Visa applicants:
Children below 10 years except US citizens
Up to 30 days for SAARC Citizen - Bangladesh , Bhutan, India , Maldives , Pakistan , Sri-Lanka (except Afghanistan) visiting Nepal for the first time in a given visa Year. Afghan citizen are eligible for Gratis Visa on Arrival only upon the recommendation of Department of Immigration. If you are an Afghan citizen, you can request concerned institution inviting you to Nepal for necessary paperwork with Department of Immigration to get you Gratis Visa 'On Arrival'.
Non Residential Nepalese(NRN) card holder ( issued by MoFA /Nepalese diplomatic missions abroad)
Chinese Nationals for 150 days
Nationals of following countries are requested to acquire Visa prior their arrival from their nearby Diplomatic missions (Embassies/consulates) of Nepal Government.
NigeriaGhana
Zimbabwe
Swaziland
Cameroon
Somalia
Liberia
Ethiopia
Iraq
Palestine
Afghanistan
Syria
Refugees with travel document
If your passport is not valid for at least six months, you will need to renew your passport before you travel to Nepal. You can renew your passport at your local passport office. The process of renewing your passport can take several weeks, so it is important to start the process early.
Show more...
By air:
Nepal has Three international airports: Kathmandu, Bhairawa, and Pokhara. Currently, Pokhara airport does not handle international flights. However, there are a few flights to Bhairawa from few countries. The main international airport in Nepal is Tribhuvan International Airport (TIA), located in Kathmandu. You can search TIA airport to book your International flight.
By land: There are multiple land entry points along the borders of Nepal, India, and China. These entry points include Kakarvitta, Birgunj, Bhairahawa, Nepalganj, Dhangadhi, Mahendranagar, and Kerung(china boarder)
Show more...
If you've booked a multiday tour or trekking package with Himalayan Social Journey, we'll pick you up from the airport. Upon arriving at Tribhuvan International Airport in Kathmandu, our representative will be there to greet you with a sign displaying your name and our company's name. We'll then take you to your pre-booked hotel.
To make the pick-up process smooth, kindly share your flight details, including flight number and arrival time. If there are any changes to your arrival plans, please inform us as soon as possible so we can arrange your pick-up accordingly. Travel with us for a hassle-free experience!
Show more...
Please keep this thing in your mind that there are some airport touts and scam artists who take advantage of tourists. They might offer to carry your luggage and they want a large amount of money. Sometimes they intimidate our drivers and even take away their signs. Anyway...if you want someone to help you with your luggage you can give them NOT MORE THAN 1 - 2 DOLLARS. This is a small hassle that tourists sometimes face upon arrival at the airport. Do not stress about this but just be aware not to give more than a few dollars for their luggage handling if you choose to take someone's services. Nepalese in general are very kind and hospitable people.
Show more...
The official currency of Nepal is the Nepalese rupee (NPR). Major foreign currencies such as USD, AUD, and EURO are accepted for VISA.
There are plenty of ATMs in these major cities, so you can easily withdraw cash from your foreign currency bank account. Credit cards are also accepted in some shops and restaurants, but they are not as widely accepted as cash.
On the trek, you will only need to use Nepali rupees. You can exchange your foreign currency for Nepali rupees at your hotel, money exchanges, or the airport. Himalayan Social Journey representatives will also be happy to help you exchange money.
Show more...
If you have booked a trekking or multi-day tour with Himalayan Social Journey, the orientation meeting usually happens at your Kathmandu hotel around 4 or 5 pm. Our team will provide you with the specific details upon your arrival.
Show more...
If you're arriving early or leaving late, please ensure to arrange extra hotel accommodations by contacting [email protected]. Let us know if you'll be extending your stay in Nepal, and we'll book your additional nights. Also, kindly share your flight details with us to facilitate a smooth pick-up and drop process.
Show more...
When you book a trip with us, the standard accommodation arrangement is on a twin-sharing basis. This means two people will be staying in each room throughout the trip. However, if you prefer to have a room to yourself or if you're traveling alone, you can choose the "single supplement" option. By selecting this option, you'll have a private room during the trip, but please note that there will be an additional cost for the single room arrangement according to tour / trek.
Show more...
For each tour date, there will be several separate groups, each with a maximum of 14 people and their own experienced English-speaking guide. During the trek, there will be a suitable number of porters available to carry your luggage. Additionally, if you prefer to do a private tour or trek with your own group, that is also possible.
Show more...
Nepal has five main seasons: summer, monsoon, spring, autumn, and winter. Each season offers unique experiences and weather conditions.
Winter (Late Dec - Feb): Cold temperatures, great for festival tours and special highlights.
Spring (Mar - May): Magical rhododendron blooms, ideal for trekking and peak climbing.
Monsoon (Jun - Aug): Low season with rain, but perfect for nature lovers and discounts on hotels.
Autumn (Sep - Nov): Peak season, clear weather, and popular trekking regions fill up fast.
You can check the live weather condition via this website https://www.accuweather.com
Show more...
The hotel in Kathmandu where you'll stay during the trip offers complimentary storage services. You can leave your luggage and extra clothing that you won't need for the trekking / tour. Rest assured, you can collect them once the trek and tour are over.
Show more...
Don't forget to bring both TWO and THREE-pin travel adapters! If you don't have them, you can purchase them at supermarkets or electronic shops in Kathmandu. Our guide will be there to assist you if needed. You can get information about plug and voltage in below link.
Show more...
Most places in Nepal are covered by mobile network providers, especially Ncell and Nepal Telecom. You can use data services for communication. You can buy a SIM card at the airport counter. There are also free and paid Wi-Fi services in most tea houses in Nepal during trek.
Here are some tips for staying connected while you are in Nepal:
Buy a SIM card as soon as you arrive in Nepal. This will give you access to data services and allow you to make calls and send text messages.
Check the coverage map of your mobile network provider before you travel. This will help you to know where you can expect to have good reception.
If you are planning on visiting remote areas and need to be in connected on Internet , you may want to consider renting a satellite phone. This will give you access to communication even in areas with no mobile network coverage.
There are many free and paid Wi-Fi hotspots in Nepal. You can find these at hotels, tea houses, restaurants, cafes, and even some temples.
Show more...
If you would like to book extra activities such as Paragliding, Bungy jump, Mountain flight, Heli Tour , Bhaktapur Sightseeing many more programs. You can find updated price and program detail in this link: https://hsj.com.np/tourtype/daytours. You can book by contacting us at [email protected] For longer excursions such as Bhutan, Tibet, India, and any other treks also, we can help but please contact us immediately at [email protected]
Show more...
If you have purchased a voucher from any deal company, please come in contact with us with the voucher code (redemption code) so that the voucher can be redeemed on time. Since we need time to purchase your domestic air ticket and make other arrangements, kindly confirm your spot with your suitable date at-least 2 months prior to the commencement of the tour. Your booking on a particular tour date is subject to availability of spots. You can redeem you voucher through this link too : https://hsj.com.np/voucher-redemption
Show more...
A typical suggestion for tipping is to allocate around USD 50-60 for the guide and porter if you're happy with their service. However, the amount you decide to tip is entirely up to you, and you can give whatever you feel is appropriate based on the excellent service they provided during your tour / trek
Show more...
Packing List for Tour:
Pack appropriate clothing for the weather conditions during your visit. Include comfortable walking shoes, a hat, sunglasses, sunscreen, and insect repellent. Don't forget essential travel documents, a camera, and any necessary medications.
Packing List for Trekking
Hiking
Trekking Poles - 1
Daypack - 1
Backpack - 1
Packcover
Water Reservoir - 1
Sleeping
Sleeping bag - HSJ will provide
sleeping bag liner
Clothes
Underwear - 3
Socks - 3
Bra - 3
base Layers pant - 1
Trekking Tshirt - 3
Trekking Pants - 2
Rain Pants - 1
Hiking Shoes/ Boots - 1
Gloves - 1
Hat - 1
Down Jacket - 1
Wind Breaker - 1
Sandles -1
Miscellaneous
Sunglasses - 1
Books or E-reader (optional)
Hygene/Saftey
Microfiber towel - 1
Toothbrush - 1
Toothpaste - 1
First aid kit - 1
Medicine kit -1
sunscreen -1
sewing kit -1
Soap/shampoo - 1
Comb or brush - 1
Period supplies - 1
Toilet paper - 1
sanitising gel - 1
Electronices
Camera
Phone
Extranel Hardrive (optional )
Head touch
Power bank for charging Phone
Show more...
If you cancel the trip for any reason, the 20% deposit amount will not be refunded. If you have paid the full trip amount and need to cancel, you will receive your money back, but a cancellation charge of 20% will still apply.
For voucher holders who purchased vouchers from deal companies, we must adhere to their cancellation policy. However, under both circumstances, we are flexible and can reschedule your trip for a later date. To cancel any trip, please make sure to provide written notification of your cancellation.
Show more...
Sometimes travellers are unable to finish the scheduled trek/tour due to the various reasons or they ended up not completing the trek/tour for health or personal reasons. In this case please realize that we cannot offer you any refunds for unused days on the tour. You have to understand that our costs are the same as we have an obligation to pay our guides , porters, drivers for the time they have committed.
Show more...
Our commitment is to offer you an unforgettable journey with the best services. We take our responsibilities seriously and conduct all programs in Nepal according to the rules and regulations of Nepal Goverement. If needed, we can provide alternative itineraries for a delightful holiday experience. Feel free to reach out to us if you have any questions or concerns. We're here to help!
Show more...