Annapurna Circuit Trek
Best Season
Feb, Mar, April, May, June, Sep, Oct, Nov and Dec.
Activity Per Day
5-6hrs Walking
Transportation
Tourist Bus, Private Car Or Plane Flight (optional)
Overview
Annapurna Circuit Trekking is popular as one of the adventurous trekking trails in Nepal. Also being a classical trek in Nepal, it bridges two distinct regions, Annapurna and Mustang and offers holistic insights of both regions.This is an ideal trek who love thrills of adventure along with vegetated landscaped to the arid kingdom of Manang and Mustang. One of the world's highest passes, Thorang La Pass (5416m) offers us real ecstasy of the adventurous trek. Stepping into awe-inspiring landscapes, cascading waterfalls, ethnic settlements and most important, dry and rugged landscapes in the lap of Himalayas are strikingly amazing to experience during this trial.
Facts About Annapurna Circuit
Location | Central Nepal
Trek length | Generally 16-20 days- This Trek with Himalayan Social Journey is planned for 16 Days.
Distance | this varies depending on route and whether you take optional side treks, but generally between 170km - 230km
Height of Annapurna 1 Main (the highest mountain in the Annapurna Massif) | 8091m
Highest point of the trek | Thorong La Pass - 5416m (17,769ft)
Highlights of Annapurna Circuit Trek
Breathtaking view of Annapurna Range
Crossing the high pass Throng La ( 5416m)
Explore the different Nepalese culture
Visit religiously important Hindu Temple Muktinath
Tibetan Plateau
Guided tour of UNESCO listed world heritage sites of Kathmandu Valley
Lush jungles and terraced fields on the way
Journey Route to Annapurna Circuit Trek
Annapurna Circuit trekking commences from Besisahar. The trail then ascends along Kaligandaki Valley. We will also experience the deepest gorge, Kaligandaki Gorge. Gradually, the trail takes you to Thorang La Pass which offers you astounding views of mountain giants including Dhaulagiri and Annapurna massif. Then, the trails pass via arid valleys Manang and Mustang. Tatopani is one of the striking highlights of this trekking where we can dip our body into a natural hot spring. The experience will be, of course pleasing.
Muktinath is a prominent site to visit on this trek. It is a popular Hindu pilgrimage site. 108 water spouts and a natural flame which never goes out are prime attractions of Muktinath. The trek ends with our flight to Pokhara from Jomsom followed by a drive or flight to Kathmandu.
Outline Itinerary ( 16 Days )
1

Arrival Day

Your arrival to Tribhuwan International Airport and transfer to hotel. At evening welcome dinner. Overnight at Himalayan Suite Hotel. (D)

Accommodation: Himalayan Suite Hotel
Meal: Dinner
Activities: Welcome dinner and Orientation

2

Full Day Sightseeing tour of Kathmandu Valley

Full day sightseeing tour of Kathmandu valley (Pashupatinath Temple, Boudhanath, Swoyambhu, and Patan Durbar square). Overnight at Himalayan Suite Hotel. (B)

Accommodation: Himalayan Suite Hotel
Meal: Breakfast
Activities: Sightseeing Tour of Kathmandu

3

Drive to Bhulbhule

After warm breakfast, we will head towards Bhulbhule. The drive is about 7 -8 hours and is full of the beautiful scenery of mountains, rivers and lush jungles. After reaching, Bhulbule, you will continue your journey to Nadi. Overnight at Guest House (B)

Accommodation: Guest House
Meal: Breakfast
Activities: Drive 7-8hrs

4

Trek to Jagat

Today, after enjoying the warm breakfast, we head towards Jagat. We pass through paddy and muddy fields witnessing the green hills, snowcapped mountains and beautiful waterfalls on the way. Overnight at Guesthouse. (B)

Accommodation: Guest House
Meal: Breakfast
Activities: Trek 5 Hrs
Altitude: 1300m

5

Jagat to Dharapani (1995m)

Today, we will follow the trail to Dharapani. You will descend down through steep cliffs. Most of the trail follows through the banks of Kali Gandaki River. After a few hours of walking, you will reach plain land known as Tal where you can enjoy majestic waterfalls and eventually reach the small village of Karte beyond Tal. We will cross a suspension bridge and climb the short distance to the stone Mani which is an entrance to Dharapani (1960m). Overnight at Dharapani. (B)

Accommodation: Guest House
Meal: Breakfast
Activities: Trek 5 Hrs
Altitude: 1860m

6

Dharapani to Chame (2670m)

Leaving Dharapani, behind we head towards, Chame headquarter of Manag. Before reaching Chame, you will pass through Danaque and ascend a steep path up to Timang which lies at the bottom of Lamjung Himal. Overnight at Chame. (B)

Accommodation: Guest House
Meal: Breakfast
Activities: Trek 6 Hrs
Altitude: 2610m

7

Chame to Pisang

Today, after a warm breakfast, we will head towards Pisang. We pass through a fir and pine forest, climb a high and rocky area. We will follow a trail to steep trail to Bhratang. After walking for a few hours, we will come up to a beautiful valley with a great view of Annapurna II as well as Pisang Peak. Overnight at Pisang. (B)

Accommodation: Guest House
Meal: Breakfast
Activities: Trek 6 Hrs
Altitude: 3115m

8

Pisang to Manang (3540m)

Again today we will be climbing a steep ridge to Manang valley. From the ridge, you will get to see a wonderful Manag Valley and Tilicho lake. We will descend down to Manag's airstrip at Hungde, you come across a surface area from where you can get a breathtaking view of Annapurna III, and from the wide plains of Sabje Khola, you will get a beautiful view of Annapurna IV. Overnight at Manang. (B)

Accommodation: Guest House
Meal: Breakfast
Activities: Trek 6 Hrs
Altitude: 3540m

9

Acclimatization Day in Manang

Acclimatization day. Today we spend a day acclimatizing in Manang. The whole day we spend by doing some fine day walks and overviewing the magnificent views around the village. And the daytime is best to gain altitude. Overnight at Guest House.(B)

Accommodation: Guest House
Meal: Breakfast
Activities: Acclimatize
Altitude: 3540m

10

Manang to Ledar (4200m)

Today, we will ascend a steep trail through Tenki Manang and leave Marshyandi valley. We will cross along the Jarsang River eventually reach Yak kharkha which is pasture land for grazing Yaks and then reach Ledar. Overnight at Ledar (B)

Accommodation: Guest House
Meal: Breakfast
Activities: 4-5hrs trekking
Altitude: 4200m

11

Ledar to High camp

Today, we will leave behind Ledar and head towards High Camp. The trail is rough as we will be crossing through the narrow path over Kali Gandaki River. The trail is tough way straight up and down in few places. Overnight at High Camp. (B)

Accommodation: Guest House
Meal: Breakfast
Activities: Trek
Altitude: 3580m

12

High Camp to Muktinath (3760m) via Throng La pass, (5416m)

Today, is a little tough day, as we will be crossing Thorang La Pass. We will follow the trail to Muktinath. Overnight at Muktinath. (B)

Accommodation: Guest House
Meal: Breakfast
Activities:Trek 6-7hrs
Altitude: 5416m

13

Muktinath to Jomsom(2720m)

Today, we will visit the Muktinath for few hours and continue our trek to Jomsom. Overnight at Jomsom (B)

Accommodation: Guest House
Meal: Breakfast
Activities: Trek to Jomsom
Altitude: 3760m

14

Jomsom to Pokhara (820m) by flight and sightseeing tour in Pokhara

We will take an early flight to Pokhara from Jomsom. Get freshened up in Pokhara and visit the Pokhara city or helicopter tour in Annapurna Basecamp. Helicopter tour is an optional. Overnight at Hotel Dandelion or Hotel Lake Star in Pokhara. (B)

Accommodation: Hotel Dandelion/ Hotel Lake Star
Meal: Breakfast
Activities: Fly to Pokhara
Altitude: 820m

15

After a warm breakfast, drive to Kathmandu by tourist bus. The drive is about 6-7 hours. Or you may take flight from Pokhara to Kathmandu. Overnight at Himalayan Suite Hotel (B)

We will take an early drive to Kathmandu by tourist bus or flight (flight is an optional). Overnight at Himalayan Suite Hotel (B.D)

Accommodation: Himalayan Suite Hotel
Meal: Breakfast
Activities: Drive/Fly from Pokhara to Kathmandu



16

Departure Day

After an early breakfast, our representative will drive you to the airport for your flight to your country Or you may join your next trip. (B)

Meal: Breakfast
Include
Airport pick up and drop
Transportation by bus from Kathmandu-Beshishar- Bhulbhule and Pokhara- Kathmandu by tourist bus
Three-star category hotel in Kathmandu (Himalayan Suite Hotel) and Pokhara (Hotel Dandelion or Hotel Lake Star) in twin sharing bed and breakfast basis
Accommodation in lodges with breakfast during the trekking
Meals, accommodation, insurance and other expenses of trekking crew
Guided sightseeing tour in Kathmandu and Pokhara
TIMS and necessary permit for trekking
Necessary equipment (sleeping bag and duffle bag if necessary) during the trek
Welcome dinner on Day One
Flight fare (Jomsom- Pokhara)
All government taxes and office expenses
Exclude
Lunch and dinner during the trip (Meal cost about 4$ - 7$ dollar per item depending on the place where you eat)
City sightseeing entry fees in Kathmandu (NRs 200+ 400+ 1000+1000)
Flight ticket PKR-KTM (US$ 110 PP)
Personal expenses
Route Map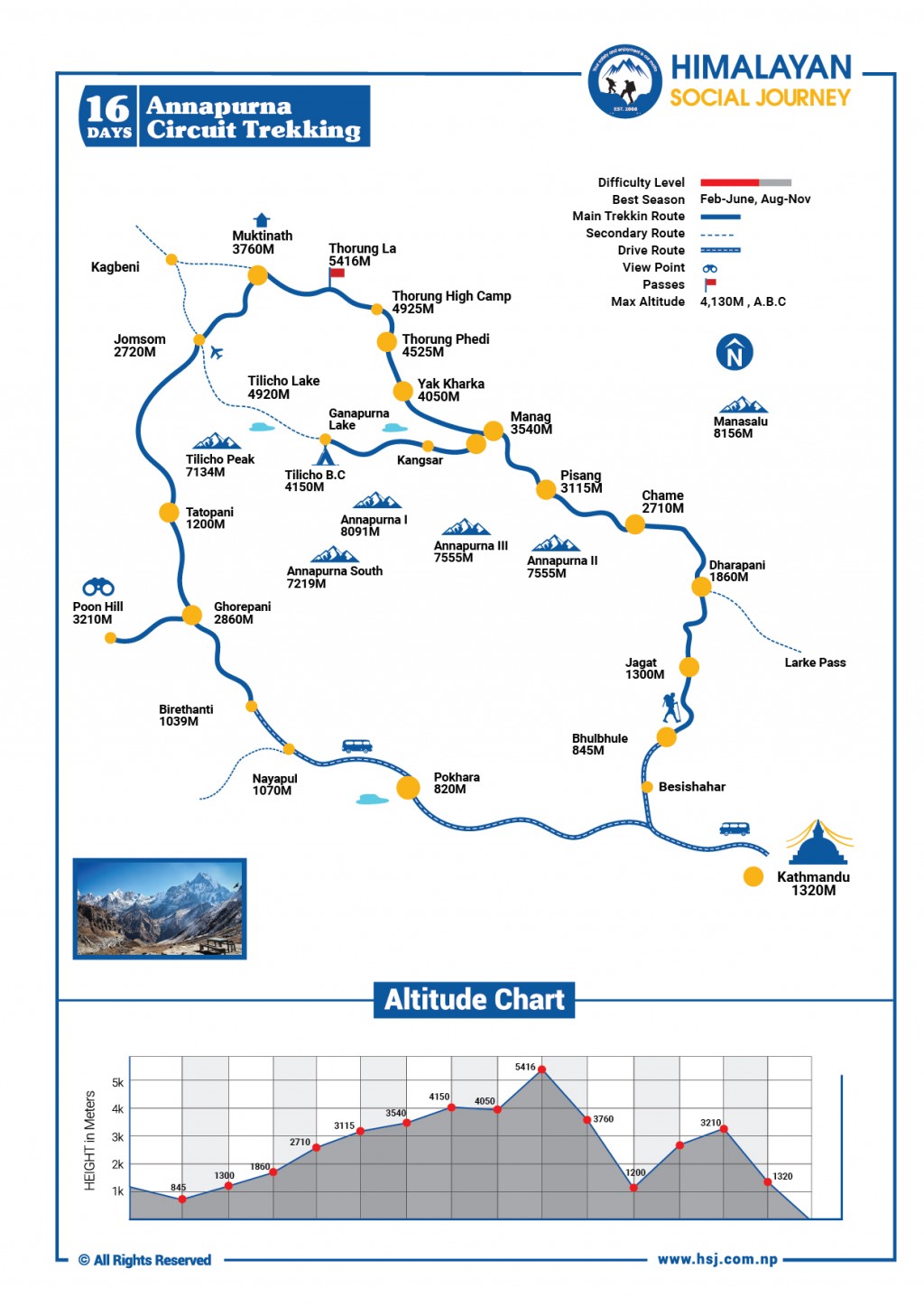 Departures Dates
| Trip Dates | Trip Costs | Actions |
| --- | --- | --- |
| 09 Apr, 2023 - 25 Apr, 2023 | $999 | Book Now |
| 09 May, 2023 - 25 May, 2023 | $999 | Book Now |
| 09 Jun, 2023 - 25 Jun, 2023 | $999 | Book Now |
| 09 Jul, 2023 - 25 Jul, 2023 | $999 | Book Now |
| 09 Aug, 2023 - 25 Aug, 2023 | $999 | Book Now |
| 09 Sep, 2023 - 25 Sep, 2023 | $999 | Book Now |
| 09 Oct, 2023 - 25 Oct, 2023 | $999 | Book Now |
| 09 Nov, 2023 - 25 Nov, 2023 | $999 | Book Now |
| 09 Dec, 2023 - 25 Dec, 2023 | $999 | Book Now |
Best time to trek to Annapurna Circuit
Trekking to the circuit of Annapurna is possible at any time of year. The best time for Annapurna Circuit trekking is during autumn (September, October and November). The time between mid-September and mid-November is the perfect time to go. Spring is the second best time after autumn. Spring is a season of colours. During these times, the weather and temperature conditions in the Annapurna region will remain perfectly stable.
Trekking Difficulty: Moderate
You need to have a minimal level of fitness to complete your trek. A tough trek requires an average of 6-8 hours of walking per day. In addition, you will have an altitude of about 600 m and a distance of 15-20 km.
As the Annapurna Circuit Trek is a high altitude trek, proper acclimatization and daily hydration is important. Altitude sickness is a significant threat, because even the most seasoned hikers fall victim to this disease.
The fitness program will consist of aerobic events such as running, swimming, cycling, etc. Trekkers should also eat a balanced and nutritious diet with high levels of carbohydrate and protein intake.
Accommodations And Meals In The Annapurna Circuit Trek
The Annapurna Circuit Trek is a teahouse trek like most of Nepal's treks. In general, tea houses provide a single room with twin beds. In the common room, you can charge your phones at a certain discount. Hot showers usually cost about USD 1 in teahouses. WiFi is available at a lower elevation, but you don't expect these facilities as you move up the trails.
In addition, the meals provided in the teahouses are simple and you'll get the Nepalese "Dal Bhat" meal served in most teahouses. In addition, you can also enjoy a limited variety of World cuisine including pizza , pasta, burgers, etc. You need to book these reservations early, particularly in the offseason, in order to be free from any problems.
Drinking water during the trek
Planning to have at least two liters of water when trekking every day is a smart way to start. Filling up water is quick. Taps in, out or in guesthouses mean that there are plenty of places to fill your bottles and/or your water bladders.This could be where you stay, a lunch stop, or a shared public tap used by locals. Use an efficient sterilization method to make sure your water is safe and not contaminated in anyway.Bottled water is available to buy throughout the trek, but we would advise against this for a number of reasons.You do not need them if you use sterilization method. Environment concerns are there and also buying water is expensive up in the mountains.
Connecting with your loved ones back at home while on trek
Free WiFi and charge is generally available (with some exceptions) you can find free WiFi and charge, most places charge a modest fee (e.g. Rs100-400) to use WiFi or charge; WiFi is available at Thorung Phedi and High Camp for Rs200. WiFi can be unreliable, sluggish or unusable. Be prepared to be out of touch with the world for up to a week at high altitudes.
To improve your connectivity, carry your phone to the Nepal SIM, you'll get more than you'd think (GPRS/EDGE speed).
Village electricity could be perfect during your stay. Villages above 4000 m tend to be the latter. Tea houses can have the potential to charge you either from solar sources or from a battery bank.but it is most wise to either have your own or not depend on electronic devices.
Obtaining Trekking Permits
You will need to arrange both the Trekking Information Management System (TIMS) permit and the Annapurna National Park Permit (sometimes also known as the Annapurna Conservation Area Permit). HSJ will arrange for your trekking permits.
As of 2019, the permits will refund a minimum of USD $50: the APC Permit is USD $30 / NPR 3,000 per person, while the TIMS Permit is USD $20 / NPR 2,000 per person.
These will need to be checked at different checkpoints along the trek.
Make sure you also bring a minimum of 4 passport photos for your trekking permit!
List of Equipments you will need for trek
Clothing
· Trekking boots
· Short-sleeved Trekking shirts
· Trekking pants and jackets
· Thermals underwear
· Long-sleeved Trekking shirts
· Insulating down jackets
· Woolen cap
· Trekking Gloves
· Raincoats
First Aid
· Diamox tablets
· Sanitary pads / Tampons
· Anti-nausea Medicines
· Band-aids
· Mosquito and insect repellents
Toiletries
· Soap
· Toilet Paper
· Shampoo
· Sunscreen
· Moisturizer
· Hand sanitizer
Accessories
· Sunglasses
· Sleeping bag
· Cameras
· Batteries
· Water Bottle
· Solar Chargers
· Hot water Thermos
Important Documents
· Passport
· Travel Permits
Ensuring your safety
We suggest taking out an insurance plan for your individual accountability, accidents and illnesses during the service.
Regarding the type of activity, you may be asked to show a certificate of insurance for help and support, sanitation and search. This service is private and not free in Nepal, the helicopter will not take off until it is convinced to pay for the insurance.
Carrying Extra money
It's difficult to give an exact amount of money that you should bring. Costs will vary according to how much you want to spend for shopping and where and what meals (lunch & dinner) you want to eat. Trekkers find that around $20 (for lunch & dinner) a day is reasonable for the trekking days. You would also have to pay for hot showers, Wi-Fi and charging.

As for the tips, A general rule of thumb for tipping is USD 25 for the guide per traveller and USD 25 for porter between two travellers if you are fully satisfied with their service. So we suggest you allocate a minimum of USD 50 for Tipping. This is just a guideline and you may tip whatever / how much you think is appropriate for the services rendered which made your trek a memorable one
Luggage per one person
For the trek, we'll have one porter for two people as per group size. The porter will carry 12-15 kg per person luggage during the trek. You need to carry your daypack to keep your personal belongings such as wallet, camera, water bottle, dry snack, headlight, gadgets etc.
Single Supplementary
There will be two people accommodated in each room for the duration of the tour. If you prefer private accommodation, you'll find the option for "single supplement" of USD 250. Important: Please note that during the trek there are some lodges which won't have sufficient rooms to provide private accommodation. So, even if you purchase single supplement you will end up sharing a room for some days of the trek.
Travel and Transportation Modes
By Bus: Touring to and from city destinations is done on a private vehicle such as a car, jeep or microbus. Luxury tourist buses, which are only hired by the company for the most part, make the long distance travel. You will may have to take a public bus on some trip, but you do not need to worry about your protection or comfort because you ride with our guides and support staff in a group.
By air: Transportation by plane is available to fly from Pokhara to Kathmandu at the end of the trek. Please check includes and excludes option for your transportation options included and excluded from the price.
This Tour with HSJ
Guides and Porters
Our local Nepali team is one of the most experienced, hospitable and respected trekking outfits in Nepal. The team is fully licensed and affiliated with the Trekking Agency's Association of Nepal (TAAN), Nepal Mountaineering Association, Nepal Tourism Board, Govt. of Nepal, Sustainable Tourism Network, Himalayan Rescue Association and Kathmandu Environmental Educational Project. You will be provided with the professional and an experienced English speaking trekking guide with the good knowledge of the place and the trek. The trekking crew is skilled with the experience of over 10 years, well-trained, friendly guide and, courteous and helpful porters, assured of a wonderfully memorable experience.
For the trek, we'll have one porter for two people as per group size. The porter will carry 12-15 kg per person luggage during the trek. You need to carry your day pack to keep your personal belongings such as wallet, camera, water bottle, dry snack, headlight, gadgets, etc. The safety and concerns of our porters is our collective responsibility. We take our responsibilities towards them and their safety concerns strictly. On your part, please carry only things that are of absolute necessities.
Other Programs and services we offer with this trip
• Welcome and Farewell dinner
• Yoga Classes
• Spa services
How do we make sure you get the best experience of this trek?
We are your completely flexible travel partner. Want to follow different route? We have you covered. Have extra time in Nepal? Excellent! We have more add-on tours like Chitwan Jungle Safari, Cable Car ride to Chandragiri hills, Cooking and Yoga classes in Kathmandu and so on. Would like to customize the trip? Well, why not? Give us your ideas and we will prepare complete itinerary for you. Do you want to use different standard of accommodations than provided in the itineraries? Of course! You absolutely can. From your arrival until you departure, your wishes are our command. Feel free to make the request.
Last minute booking
It is best to book in advance but for those who cannot, for whatever reason, make a last minute reservation special arrangement for Himalayan Social Journey. In the case of last minute reservation, 100% tour payment will be approved within 24 hours. We try to operate a trek at any time but we are not liable for the delay in case of last-minute reservation, because of uncontrolled changes such as weather and the availability of accommodation.
Feedbacks
Throughout the years of business, we have always put the customers feedback as our inspiration towards making our company great travel partner. With many ups and downs, and good and not so good feedbacks we have reached where we are now. At the end of the trek, while you are with the crew during farewell dinner, we would appreciate if you give us your valuable feedback, account of good and bad experiences, recommendations and also your honest rating to our trip advisor page.
Important Information
FAQ's