Transportation
Best Season
Overview
Annapurna Circuit Trekking is popular as one of the adventurous trekking trails in Nepal. Also being a classical trek in Nepal, it bridges two distinct regions, Annapurna and Mustang and offers holistic insights of both regions.This is an ideal trek who love thrills of adventure along with vegetated landscaped to the arid kingdom of Manang and Mustang. One of the world's highest passes, Thorung La Pass (5416m) offers us real ecstasy of the adventurous trek. Stepping into awe-inspiring landscapes, cascading waterfalls, ethnic settlements and most important, dry and rugged landscapes in the lap of Himalayas are strikingly amazing to experience during this trial.
Facts About Annapurna Circuit
Location | Central Nepal
Trek length | Generally 14-16 days- This Trek with Himalayan Social Journey is planned for 14 Days.
Distance | this varies depending on route and whether you take optional side treks, but generally between 170km - 230km
Height of Annapurna 1 Main (the highest mountain in the Annapurna Massif) | 8091m
Highest point of the trek | Thorong La Pass - 5416m (17,769ft)
Highlights
Breathtaking view of Annapurna Range
Crossing the high pass Throng La ( 5416m)
Explore the different Nepalese culture
Visit religiously important Hindu Temple Muktinath
Tibetan Plateau
Guided tour of UNESCO listed world heritage sites of Kathmandu Valley
Lush jungles and terraced fields on the way
Journey Route to Annapurna Circuit Trek
Annapurna Circuit trekking commences from Besisahar. The trail then ascends along Kaligandaki Valley. We will also experience the deepest gorge, Kaligandaki Gorge. Gradually, the trail takes you to Thorang La Pass which offers you astounding views of mountain giants including Dhaulagiri and Annapurna massif. Then, the trails pass via arid valleys Manang and Mustang. Tatopani is one of the striking highlights of this trekking where we can dip our body into a natural hot spring. The experience will be, of course pleasing.
Muktinath is a prominent site to visit on this trek. It is a popular Hindu pilgrimage site. 108 water spouts and a natural flame which never goes out are prime attractions of Muktinath. The trek ends with our flight to Pokhara from Jomsom followed by a drive or flight to Kathmandu.
Show more...
Outline Itinerary ( 14 Days )
Expand all +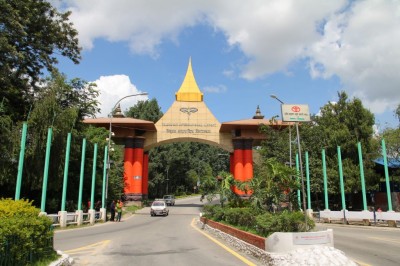 Your arrival to Tribhuwan International Airport and transfer to hotel. At evening welcome dinner.
Show more...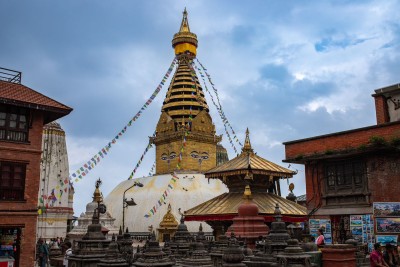 Full day sightseeing tour of Kathmandu valley (Pashupatinath Temple, Boudhanath, Swoyambhu, and Patan Durbar square).
Show more...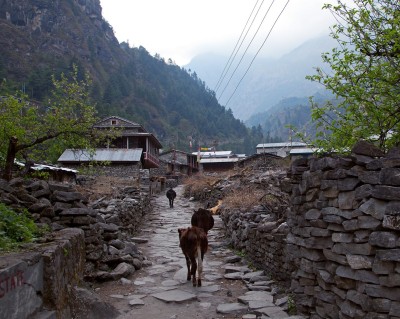 After warm breakfast, we will head towards Dharapani (1960 m). The drive is full of the beautiful scenery of mountains, rivers and lush jungles. We pass through paddy and muddy fields witnessing the green hills, snowcapped mountains and beautiful waterfalls on the way.
Show more...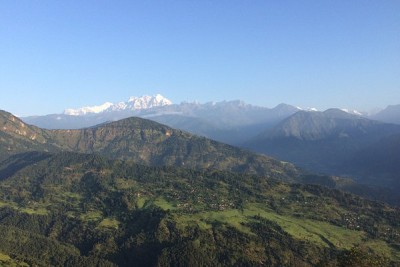 Leaving Dharapani, behind we head towards, Chame headquarter of Manag. Before reaching Chame, you will pass through Danaque and ascend a steep path up to Timang which lies at the bottom of Lamjung Himal.
Show more...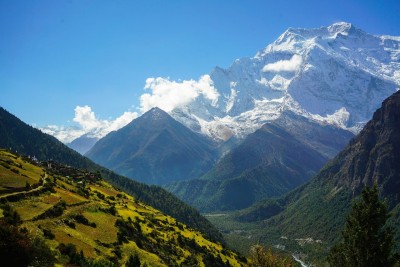 Today, after a warm breakfast, we will head towards Upper Pisang. We pass through a fir and pine forest, climb a high and rocky area. We will follow a trail to steep trail to Bhratang. After walking for a few hours, we will come up to a beautiful valley with a great view of Annapurna II as well as Pisang Peak.
Show more...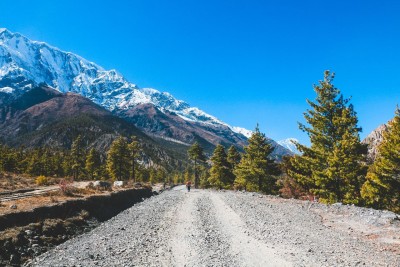 Again today we will be climbing a steep ridge to Manang valley through upper trail (Nawal Village). From the ridge, you will get to see a wonderful Manang Valley and Tilicho lake. We will descend down to Manang's airstrip at Hungde, you come across a surface area from where you can get a breathtaking view of Annapurna III, and from the wide plains of Sabje Khola, you will get a beautiful view of Annapurna IV.
Show more...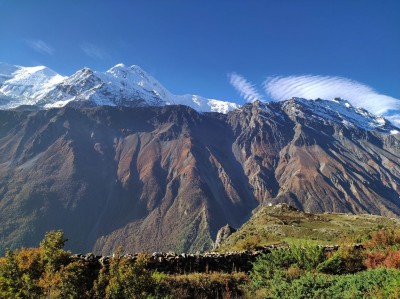 Acclimatization day. Today we spend a day acclimatizing in Manang. The whole day we spend by doing some fine day walks to Gangapurna Glacier or Annapurna III Base Camp or Monastery and overviewing the magnificent views around the village. And the daytime is best to gain altitude.
Show more...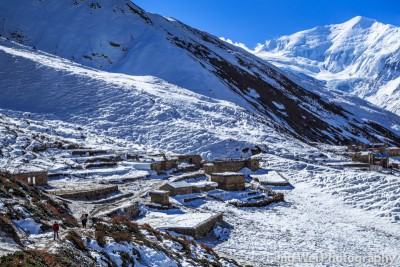 Today, we will ascend a steep trail through Tenki Manang and leave Marshyandi valley. We will cross along the Jarsang River eventually reach Yak kharkha which is pasture land for grazing Yaks and then reach Ledar.
Show more...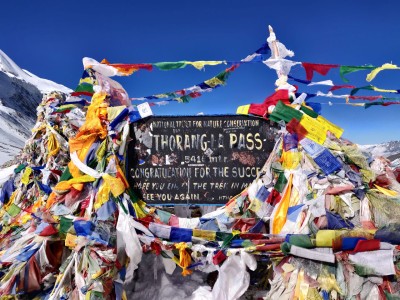 Today, we will leave behind Ledar and head towards High Camp. The trail is rough as we will be crossing through the narrow path over Kali Gandaki River. The trail is tough way straight up and down in few places.
Show more...
Max Altitude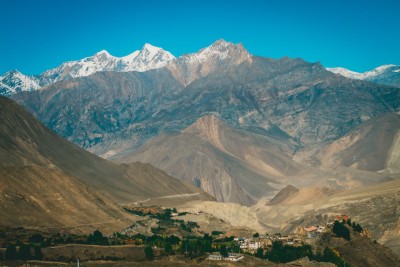 Today, is a little tough day, as we will be crossing Thorong La Pass. We will follow the trail to Muktinath.
Show more...
Max Altitude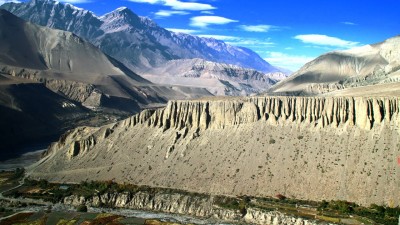 Today, we will visit the Muktinath for few hours and continue our trek to Jomsom.
Show more...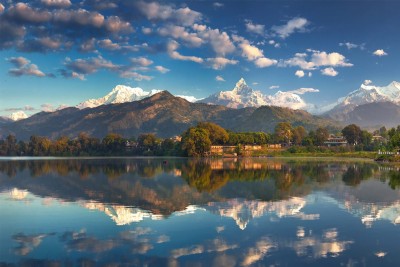 We will take an early flight to Pokhara from Jomsom. Get freshened up in Pokhara and visit the Pokhara city or helicopter tour in Annapurna Basecamp. Helicopter tour is an optional.
Show more...
Overnight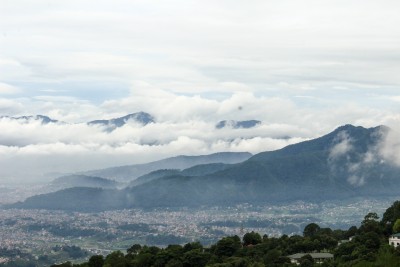 After breakfast, we will take an early drive to Kathmandu by tourist bus or flight (flight is an optional).

Show more...
Duration
Meal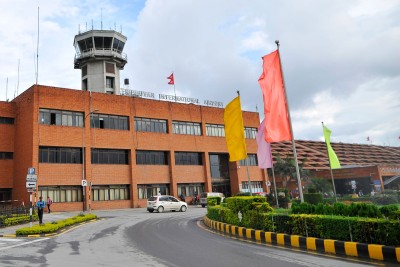 After an early breakfast, our representative will drive you to the airport for your flight to your country Or you may join your next trip.
Show more...
Include / Exclude
Airport pick up and drop

Transportation by bus from Kathmandu-Beshishar- Bhulbhule and Pokhara- Kathmandu by tourist bus

Three-star category hotel in Kathmandu (Himalayan Suite Hotel) and Pokhara (Hotel Dandelion or Hotel Lake Star) in twin sharing bed and breakfast basis

Accommodation in lodges with breakfast during the trekking

Meals, accommodation, insurance and other expenses of trekking crew

Guided sightseeing tour in Kathmandu and Pokhara

TIMS and necessary permit for trekking

Necessary equipment (sleeping bag and duffle bag if necessary) during the trek

Welcome dinner on Day One

Flight fare (Jomsom- Pokhara)

All government taxes and office expenses

Lunch and dinner during the trip (Meal cost about 4$ - 7$ dollar per item depending on the place where you eat)

City sightseeing entry fees in Kathmandu (NRs 200+ 400+ 1000+1000)

Flight ticket PKR-KTM (US$ 120 PP)

Personal expenses
Departures & Availability
Route Map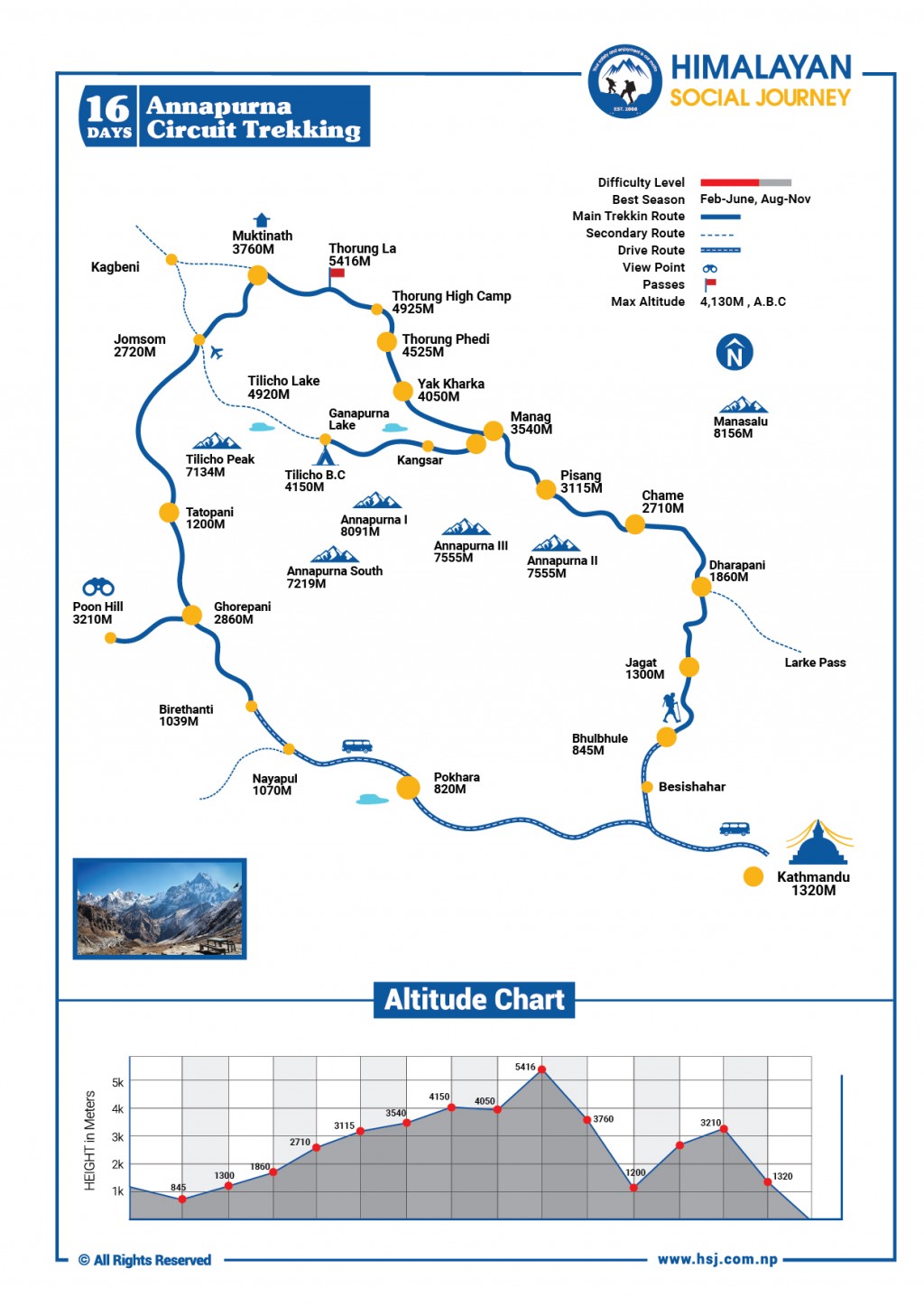 Additional Information
Best time to trek to Annapurna Circuit
Trekking to the circuit of Annapurna is possible at any time of year. The best time for Annapurna Circuit trekking is during autumn (September, October and November). The time between mid-September and mid-November is the perfect time to go. Spring is the second best time after autumn. Spring is a season of colours. During these times, the weather and temperature conditions in the Annapurna region will remain perfectly stable.
Trekking Difficulty: Moderate
You need to have a minimal level of fitness to complete your trek. A tough trek requires an average of 6-8 hours of walking per day. In addition, you will have an altitude of about 600 m and a distance of 15-20 km.
As the Annapurna Circuit Trek is a high altitude trek, proper acclimatization and daily hydration is important. Altitude sickness is a significant threat, because even the most seasoned hikers fall victim to this disease.
The fitness program will consist of aerobic events such as running, swimming, cycling, etc. Trekkers should also eat a balanced and nutritious diet with high levels of carbohydrate and protein intake.
Accommodations And Meals In The Annapurna Circuit Trek
The Annapurna Circuit Trek is a teahouse trek like most of Nepal's treks. In general, tea houses provide a single room with twin beds. In the common room, you can charge your phones at a certain discount. Hot showers usually cost about USD 1 in teahouses. WiFi is available at a lower elevation, but you don't expect these facilities as you move up the trails.
In addition, the meals provided in the teahouses are simple and you'll get the Nepalese "Dal Bhat" meal served in most teahouses. In addition, you can also enjoy a limited variety of World cuisine including pizza , pasta, burgers, etc. You need to book these reservations early, particularly in the offseason, in order to be free from any problems.
Drinking water during the trek
Planning to have at least two liters of water when trekking every day is a smart way to start. Filling up water is quick. Taps in, out or in guesthouses mean that there are plenty of places to fill your bottles and/or your water bladders.This could be where you stay, a lunch stop, or a shared public tap used by locals. Use an efficient sterilization method to make sure your water is safe and not contaminated in anyway.Bottled water is available to buy throughout the trek, but we would advise against this for a number of reasons.You do not need them if you use sterilization method. Environment concerns are there and also buying water is expensive up in the mountains.
Connecting with your loved ones back at home while on trek
Free WiFi and charge is generally available (with some exceptions) you can find free WiFi and charge, most places charge a modest fee (e.g. Rs100-400) to use WiFi or charge; WiFi is available at Thorung Phedi and High Camp for Rs200. WiFi can be unreliable, sluggish or unusable. Be prepared to be out of touch with the world for up to a week at high altitudes.
To improve your connectivity, carry your phone to the Nepal SIM, you'll get more than you'd think (GPRS/EDGE speed).
Village electricity could be perfect during your stay. Villages above 4000 m tend to be the latter. Tea houses can have the potential to charge you either from solar sources or from a battery bank.but it is most wise to either have your own or not depend on electronic devices.
Obtaining Trekking Permits
You will need to arrange both the Trekking Information Management System (TIMS) permit and the Annapurna National Park Permit (sometimes also known as the Annapurna Conservation Area Permit). HSJ will arrange for your trekking permits.
As of 2019, the permits will refund a minimum of USD $50: the APC Permit is USD $30 / NPR 3,000 per person, while the TIMS Permit is USD $20 / NPR 2,000 per person.
These will need to be checked at different checkpoints along the trek.
Make sure you also bring a minimum of 4 passport photos for your trekking permit!
List of Equipments you will need for trek
Clothing
· Trekking boots
· Short-sleeved Trekking shirts
· Trekking pants and jackets
· Thermals underwear
· Long-sleeved Trekking shirts
· Insulating down jackets
· Woolen cap
· Trekking Gloves
· Raincoats
First Aid
· Diamox tablets
· Sanitary pads / Tampons
· Anti-nausea Medicines
· Band-aids
· Mosquito and insect repellents
Toiletries
· Soap
· Toilet Paper
· Shampoo
· Sunscreen
· Moisturizer
· Hand sanitizer
Accessories
· Sunglasses
· Sleeping bag
· Cameras
· Batteries
· Water Bottle
· Solar Chargers
· Hot water Thermos
Important Documents
· Passport
· Travel Permits
Ensuring your safety
We suggest taking out an insurance plan for your individual accountability, accidents and illnesses during the service.
Regarding the type of activity, you may be asked to show a certificate of insurance for help and support, sanitation and search. This service is private and not free in Nepal, the helicopter will not take off until it is convinced to pay for the insurance.
Carrying Extra money
It's difficult to give an exact amount of money that you should bring. Costs will vary according to how much you want to spend for shopping and where and what meals (lunch & dinner) you want to eat. Trekkers find that around $20 (for lunch & dinner) a day is reasonable for the trekking days. You would also have to pay for hot showers, Wi-Fi and charging.

As for the tips, A general rule of thumb for tipping is USD 25 for the guide per traveller and USD 25 for porter between two travellers if you are fully satisfied with their service. So we suggest you allocate a minimum of USD 50 for Tipping. This is just a guideline and you may tip whatever / how much you think is appropriate for the services rendered which made your trek a memorable one
Luggage per one person
For the trek, we'll have one porter for two people as per group size. The porter will carry 12-15 kg per person luggage during the trek. You need to carry your daypack to keep your personal belongings such as wallet, camera, water bottle, dry snack, headlight, gadgets etc.
Single Supplementary
There will be two people accommodated in each room for the duration of the tour. If you prefer private accommodation, you'll find the option for "single supplement" of USD 250. Important: Please note that during the trek there are some lodges which won't have sufficient rooms to provide private accommodation. So, even if you purchase single supplement you will end up sharing a room for some days of the trek.
Travel and Transportation Modes
By Bus: Touring to and from city destinations is done on a private vehicle such as a car, jeep or microbus. Luxury tourist buses, which are only hired by the company for the most part, make the long distance travel. You will may have to take a public bus on some trip, but you do not need to worry about your protection or comfort because you ride with our guides and support staff in a group.
By air: Transportation by plane is available to fly from Pokhara to Kathmandu at the end of the trek. Please check includes and excludes option for your transportation options included and excluded from the price.
This Tour with HSJ
Guides and Porters
Our local Nepali team is one of the most experienced, hospitable and respected trekking outfits in Nepal. The team is fully licensed and affiliated with the Trekking Agency's Association of Nepal (TAAN), Nepal Mountaineering Association, Nepal Tourism Board, Govt. of Nepal, Sustainable Tourism Network, Himalayan Rescue Association and Kathmandu Environmental Educational Project. You will be provided with the professional and an experienced English speaking trekking guide with the good knowledge of the place and the trek. The trekking crew is skilled with the experience of over 10 years, well-trained, friendly guide and, courteous and helpful porters, assured of a wonderfully memorable experience.
For the trek, we'll have one porter for two people as per group size. The porter will carry 12-15 kg per person luggage during the trek. You need to carry your day pack to keep your personal belongings such as wallet, camera, water bottle, dry snack, headlight, gadgets, etc. The safety and concerns of our porters is our collective responsibility. We take our responsibilities towards them and their safety concerns strictly. On your part, please carry only things that are of absolute necessities.
Other Programs and services we offer with this trip
• Welcome and Farewell dinner
• Yoga Classes
• Spa services
How do we make sure you get the best experience of this trek?
We are your completely flexible travel partner. Want to follow different route? We have you covered. Have extra time in Nepal? Excellent! We have more add-on tours like Chitwan Jungle Safari, Cable Car ride to Chandragiri hills, Cooking and Yoga classes in Kathmandu and so on. Would like to customize the trip? Well, why not? Give us your ideas and we will prepare complete itinerary for you. Do you want to use different standard of accommodations than provided in the itineraries? Of course! You absolutely can. From your arrival until you departure, your wishes are our command. Feel free to make the request.
Last minute booking
It is best to book in advance but for those who cannot, for whatever reason, make a last minute reservation special arrangement for Himalayan Social Journey. In the case of last minute reservation, 100% tour payment will be approved within 24 hours. We try to operate a trek at any time but we are not liable for the delay in case of last-minute reservation, because of uncontrolled changes such as weather and the availability of accommodation.
Feedbacks
Throughout the years of business, we have always put the customers feedback as our inspiration towards making our company great travel partner. With many ups and downs, and good and not so good feedbacks we have reached where we are now. At the end of the trek, while you are with the crew during farewell dinner, we would appreciate if you give us your valuable feedback, account of good and bad experiences, recommendations and also your honest rating to our trip advisor page.
Essential Info
Expand all +
Best time to do Annapurna Circuit Trek is during spring (March-May) and Autumn (September-November). HSJ can however organize the trek at any time of the year with absolute saftey while still availing you to have memorable experience.
Show more...
This package of Annapurna circuit trek is 16 Days long. The number of days can vary depending on the routes and transportation modes, offers and packages you choose. We can also customize this trek for you to finish in lesser days if you are short in time.
Show more...
Altitude: 5416m This trek requires you to walk 5-6 hours per day with a light day pack. Walking in higher altitudes is more physically demanding than walking in lower altitudes, however, the pace of the trek will vary in compensation. If you are in excellent health with average physical fitness and have strong determination, you will complete a difficult trek successfully. Exercising, particularly jogging and climbing stairs regularly for some weeks prior to your arrival is recommended to enhance your strength and fitness. Past hiking experience would be an asset, but no technical skill is required. It is slightly challenging, uphill and downhill, walking close to mountain views and walking through the beautiful mountainous forests.
Show more...
While it is possible to do Annapurna Circuit Trek independently, the need of guide is misunderstood often. Guide is more than just someone that helps you with navigation, guide with knowledge of locality, way of life and also being responsible to attend to your other needs like finding you comfortable accommodation. Having a porter will help you carry your gears and belongings and you can travel at your pace while enjoying your trek. A guide can arrange for permits and TIMS for you and dealing with all other technical aspects of trekking.
Show more...
It is easy and safe trek that people can do this trek independently. Indeed, it is secure and not risky trek. While there is always the possibility of avalanche because it is in mountainous areas, this is usually not dangerous. It's not a complex walk, the pitch is not rough, no tough moves, no sharp hits. That said, accidents can occur on any walk, so caution is of course required. A responsive acclimatization is important.
Show more...
You will have working network connectivity in most parts of the trails. However at the higher altitude, the network may become sluggish and unreliable. The stops at the tea houses will have working connection and most of them would have Wi-Fi connectivity too. You may have to pay some extra charge for Wi-Fi connection and electricity at the higher altitude.
Show more...
Global passengers will be protected by insurance when treking in Nepal. Although Nepal is normally very secure, trekking at high altitudes is physically difficult and often risky. Altitude sickness is common during hiking tours in Nepal, particularly among foreign hikers who may not have taken the right time to acclimatize. Such rescue and related emergency procedures are costly and passengers are forced to pay for these services out of their pockets, unless they are covered by insurance plans.
Show more...
The break during the trek depends upon the travelers and guide. Needless to say frequent breaks are needed while ascending. Only one break is taken for the lunch. Usually travelers carry their dry snacks which they can eat while on the trek and in between the breaks. There will be break to refill the water on the way.
Show more...
Yes, Himalayan Social Journey is flexible travel partner. It is possible to organize the private trip or private group trip to Annapurna Base Camp. The minimum people for the group is 2 however supplementary charge will be applicable for the solo traveler wanting to do private trip.
Show more...
Supplementary charge will be applicable for the solo traveler wanting to do private trip. You will also have the option to share the room with another solo traveler depending on your and their consent and interest. Even if you pay supplementary charge for the single room, it is possible that during peak seasons you will end up sharing rooms due to lack of availability of the room.
Show more...
In the average, you will be walking for 5-6 hours each day during the Annapurna Circuit Trek.
Show more...
Insurance of the guide and porter is covered by the company. All our guides and porters are properly insured.
Show more...
Yes, children are allowed to do the trek, however it is safe to not bring children under the age of 15 to do the trek as they may find it difficult and not able to walk. This could affect your trekking experience as well. The altitude is also high as they may have risk of altitude sickness.
Show more...
No, there is no age limit to do the trek. If the person is healthy and physically fit, they can do the trek. We have had elderly people over 60 this trek with us and hence we can vouch that older people can do this trek as long as they do not have significant health issues.
Show more...
You will have teahouse or guest house accommodation while on the trek. Tea houses can be multi-story concrete buildings with private rooms in lower elevations. The higher you step up, the simpler the accommodation is. Accommodation will involve a single dorm space in the base camp. Guide will arrange for the adequate, clean and hygienic place for you to spend overnight and you will eat at the same place you will stay in. Most of the places shall have attached bathroom and hot shower however over the higher altitude, it is likely that you may have to pay extra sum for the same.
Show more...
Liquid need of body while trekking is about 3-5 liters a day (13-21 cups). Several findings suggest that drinking carbohydrate and electrolytes (such as sports drinks) in a liquid is safer than moisturizing water at altitude alone. There is also a study done on the effect of tea in reducing the fatigue and mood boosting. Results have been positive. This being said apart from water, you can drink green tea, masala tea, and ginger tea and garlic soup.
Show more...
The Tap water supplied along the trails are considered safe for drinking and local people drink it without treating, however for the foreigners, it is best that the tap water be only drunk after purification. There are two good options for having proper drinking water during the trek. You can bring water purification tablets or fill your bottle for a nominal fee from the recognized and regulated "pure water" stations along the trek. As the last alternative, you can also purchase bottled water at the lodges but this is not recommended. It is very important that you drink at least 3 litres of pure water daily during the trek.
Show more...
You may have to apply and obtain necessary TIMS and Permits yourself if you are trekking solo or independently. If you are hiring trekking agency or guide, this will be taken care for you.
Show more...
No, the company does not provide trekking poles, you will have to manage it on your own or our guide can help you buy it when you are in Nepal. The pair of trekking poles cost from $10-$15.
Show more...
Yes, we do provide sleeping bags. The sleeping bags we provide are of good quality. They help you sustain the colder climate in Nepali mountains up to -25 degree Celsius of temperature. However if you need the one of your own, you can buy one here. Your guide shall assist you to get it here. Keep the track of the weather forecast of the area and pack your clothes accordingly. This would help you be prepared for the type of weather Nepali Mountains are accustomed to.
Show more...
People generally describe it as - An unforgettable trek and experience to see mountain scenery, ever-changing landscapes, breathtaking picturesque nature and memories of mankind.
Show more...
With consideration to altitude and route even though Annapurna Base Camp is considered easy, people find both Annapurna Base Camp and Annapurna Circuit Trek, fairly same with consideration to the grade.
Show more...
On the lower regions of the Annapurna Circuit trek, the weather is generally warm. The days have an average temperature of 15 degrees Celsius. The nights are slightly colder at 7-8 degrees Celsius. The higher altitudes are colder.
Show more...
Important Information
Expand all +
There are three ways to get a visa for Nepal
Visa on arrival: You can get a visa on arrival at the Tribhuvan International Airport in Kathmandu or other designated entry points. The visa fee is USD 30 for 15 days, USD 50 for 30 days, or USD 125 for 90 days.
Online application: You can apply for a visa online through the Nepal Immigration website. https://nepaliport.immigration.gov.np .The visa fee is the same as for visa on arrival.
Nepalese Embassy or Consulate: You can also apply for a visa at a Nepalese Embassy or Consulate in your home country. The visa fee may be different, so check with the embassy or consulate.
Visa requirements
Passport valid for at least six months from your planned entry date into Nepal.
Visa application form.
Passport-sized photo (Bring 4 )
Gratis Visa (Visa for Free)
Gratis Visa is issued free of cost in case of following categories of Visa applicants:
Children below 10 years except US citizens
Up to 30 days for SAARC Citizen - Bangladesh , Bhutan, India , Maldives , Pakistan , Sri-Lanka (except Afghanistan) visiting Nepal for the first time in a given visa Year. Afghan citizen are eligible for Gratis Visa on Arrival only upon the recommendation of Department of Immigration. If you are an Afghan citizen, you can request concerned institution inviting you to Nepal for necessary paperwork with Department of Immigration to get you Gratis Visa 'On Arrival'.
Non Residential Nepalese(NRN) card holder ( issued by MoFA /Nepalese diplomatic missions abroad)
Chinese Nationals for 150 days
Nationals of following countries are requested to acquire Visa prior their arrival from their nearby Diplomatic missions (Embassies/consulates) of Nepal Government.
NigeriaGhana
Zimbabwe
Swaziland
Cameroon
Somalia
Liberia
Ethiopia
Iraq
Palestine
Afghanistan
Syria
Refugees with travel document
If your passport is not valid for at least six months, you will need to renew your passport before you travel to Nepal. You can renew your passport at your local passport office. The process of renewing your passport can take several weeks, so it is important to start the process early.
Show more...
By air:
Nepal has Three international airports: Kathmandu, Bhairawa, and Pokhara. Currently, Pokhara airport does not handle international flights. However, there are a few flights to Bhairawa from few countries. The main international airport in Nepal is Tribhuvan International Airport (TIA), located in Kathmandu. You can search TIA airport to book your International flight.
By land: There are multiple land entry points along the borders of Nepal, India, and China. These entry points include Kakarvitta, Birgunj, Bhairahawa, Nepalganj, Dhangadhi, Mahendranagar, and Kerung(china boarder)
Show more...
If you've booked a multiday tour or trekking package with Himalayan Social Journey, we'll pick you up from the airport. Upon arriving at Tribhuvan International Airport in Kathmandu, our representative will be there to greet you with a sign displaying your name and our company's name. We'll then take you to your pre-booked hotel.
To make the pick-up process smooth, kindly share your flight details, including flight number and arrival time. If there are any changes to your arrival plans, please inform us as soon as possible so we can arrange your pick-up accordingly. Travel with us for a hassle-free experience!
Show more...
Please keep this thing in your mind that there are some airport touts and scam artists who take advantage of tourists. They might offer to carry your luggage and they want a large amount of money. Sometimes they intimidate our drivers and even take away their signs. Anyway...if you want someone to help you with your luggage you can give them NOT MORE THAN 1 - 2 DOLLARS. This is a small hassle that tourists sometimes face upon arrival at the airport. Do not stress about this but just be aware not to give more than a few dollars for their luggage handling if you choose to take someone's services. Nepalese in general are very kind and hospitable people.
Show more...
The official currency of Nepal is the Nepalese rupee (NPR). Major foreign currencies such as USD, AUD, and EURO are accepted for VISA.
There are plenty of ATMs in these major cities, so you can easily withdraw cash from your foreign currency bank account. Credit cards are also accepted in some shops and restaurants, but they are not as widely accepted as cash.
On the trek, you will only need to use Nepali rupees. You can exchange your foreign currency for Nepali rupees at your hotel, money exchanges, or the airport. Himalayan Social Journey representatives will also be happy to help you exchange money.
Show more...
If you have booked a trekking or multi-day tour with Himalayan Social Journey, the orientation meeting usually happens at your Kathmandu hotel around 4 or 5 pm. Our team will provide you with the specific details upon your arrival.
Show more...
If you're arriving early or leaving late, please ensure to arrange extra hotel accommodations by contacting [email protected]. Let us know if you'll be extending your stay in Nepal, and we'll book your additional nights. Also, kindly share your flight details with us to facilitate a smooth pick-up and drop process.
Show more...
When you book a trip with us, the standard accommodation arrangement is on a twin-sharing basis. This means two people will be staying in each room throughout the trip. However, if you prefer to have a room to yourself or if you're traveling alone, you can choose the "single supplement" option. By selecting this option, you'll have a private room during the trip, but please note that there will be an additional cost for the single room arrangement according to tour / trek.
Show more...
For each tour date, there will be several separate groups, each with a maximum of 14 people and their own experienced English-speaking guide. During the trek, there will be a suitable number of porters available to carry your luggage. Additionally, if you prefer to do a private tour or trek with your own group, that is also possible.
Show more...
Nepal has five main seasons: summer, monsoon, spring, autumn, and winter. Each season offers unique experiences and weather conditions.
Winter (Late Dec - Feb): Cold temperatures, great for festival tours and special highlights.
Spring (Mar - May): Magical rhododendron blooms, ideal for trekking and peak climbing.
Monsoon (Jun - Aug): Low season with rain, but perfect for nature lovers and discounts on hotels.
Autumn (Sep - Nov): Peak season, clear weather, and popular trekking regions fill up fast.
You can check the live weather condition via this website https://www.accuweather.com
Show more...
The hotel in Kathmandu where you'll stay during the trip offers complimentary storage services. You can leave your luggage and extra clothing that you won't need for the trekking / tour. Rest assured, you can collect them once the trek and tour are over.
Show more...
Don't forget to bring both TWO and THREE-pin travel adapters! If you don't have them, you can purchase them at supermarkets or electronic shops in Kathmandu. Our guide will be there to assist you if needed. You can get information about plug and voltage in below link.
Show more...
Most places in Nepal are covered by mobile network providers, especially Ncell and Nepal Telecom. You can use data services for communication. You can buy a SIM card at the airport counter. There are also free and paid Wi-Fi services in most tea houses in Nepal during trek.
Here are some tips for staying connected while you are in Nepal:
Buy a SIM card as soon as you arrive in Nepal. This will give you access to data services and allow you to make calls and send text messages.
Check the coverage map of your mobile network provider before you travel. This will help you to know where you can expect to have good reception.
If you are planning on visiting remote areas and need to be in connected on Internet , you may want to consider renting a satellite phone. This will give you access to communication even in areas with no mobile network coverage.
There are many free and paid Wi-Fi hotspots in Nepal. You can find these at hotels, tea houses, restaurants, cafes, and even some temples.
Show more...
If you would like to book extra activities such as Paragliding, Bungy jump, Mountain flight, Heli Tour , Bhaktapur Sightseeing many more programs. You can find updated price and program detail in this link: https://hsj.com.np/tourtype/daytours. You can book by contacting us at [email protected] For longer excursions such as Bhutan, Tibet, India, and any other treks also, we can help but please contact us immediately at [email protected]
Show more...
If you have purchased a voucher from any deal company, please come in contact with us with the voucher code (redemption code) so that the voucher can be redeemed on time. Since we need time to purchase your domestic air ticket and make other arrangements, kindly confirm your spot with your suitable date at-least 2 months prior to the commencement of the tour. Your booking on a particular tour date is subject to availability of spots. You can redeem you voucher through this link too : https://hsj.com.np/voucher-redemption
Show more...
A typical suggestion for tipping is to allocate around USD 50-60 for the guide and porter if you're happy with their service. However, the amount you decide to tip is entirely up to you, and you can give whatever you feel is appropriate based on the excellent service they provided during your tour / trek
Show more...
Packing List for Tour:
Pack appropriate clothing for the weather conditions during your visit. Include comfortable walking shoes, a hat, sunglasses, sunscreen, and insect repellent. Don't forget essential travel documents, a camera, and any necessary medications.
Packing List for Trekking
Hiking
Trekking Poles - 1
Daypack - 1
Backpack - 1
Packcover
Water Reservoir - 1
Sleeping
Sleeping bag - HSJ will provide
sleeping bag liner
Clothes
Underwear - 3
Socks - 3
Bra - 3
base Layers pant - 1
Trekking Tshirt - 3
Trekking Pants - 2
Rain Pants - 1
Hiking Shoes/ Boots - 1
Gloves - 1
Hat - 1
Down Jacket - 1
Wind Breaker - 1
Sandles -1
Miscellaneous
Sunglasses - 1
Books or E-reader (optional)
Hygene/Saftey
Microfiber towel - 1
Toothbrush - 1
Toothpaste - 1
First aid kit - 1
Medicine kit -1
sunscreen -1
sewing kit -1
Soap/shampoo - 1
Comb or brush - 1
Period supplies - 1
Toilet paper - 1
sanitising gel - 1
Electronices
Camera
Phone
Extranel Hardrive (optional )
Head touch
Power bank for charging Phone
Show more...
If you cancel the trip for any reason, the 20% deposit amount will not be refunded. If you have paid the full trip amount and need to cancel, you will receive your money back, but a cancellation charge of 20% will still apply.
For voucher holders who purchased vouchers from deal companies, we must adhere to their cancellation policy. However, under both circumstances, we are flexible and can reschedule your trip for a later date. To cancel any trip, please make sure to provide written notification of your cancellation.
Show more...
Sometimes travellers are unable to finish the scheduled trek/tour due to the various reasons or they ended up not completing the trek/tour for health or personal reasons. In this case please realize that we cannot offer you any refunds for unused days on the tour. You have to understand that our costs are the same as we have an obligation to pay our guides , porters, drivers for the time they have committed.
Show more...
Our commitment is to offer you an unforgettable journey with the best services. We take our responsibilities seriously and conduct all programs in Nepal according to the rules and regulations of Nepal Goverement. If needed, we can provide alternative itineraries for a delightful holiday experience. Feel free to reach out to us if you have any questions or concerns. We're here to help!
Show more...