Hiking from Pokhara-Dhampus-Sarangkot
Transportation
Overview
Relax in the calm atmosphere of the lower area of Annapurna. Two popular mountain viewpoints pass through this mild trail: Dhampus and Sarangkot. Experience a less than three day hike, but find yourself still in the hills, overlooking the mountains of Annapurna, Dhaulagiri and Manaslu. You have a unique perspective on the massive Himalayan peaks at each of the various points of view.The Dhampus-Sarangkot Trek for three days allows you ample time to feel safe, free from the outside world's stress and anxiety. They tell nature is the best medicine–you're going to understand it's real! You'll feel rejuvenated during and after this walk.Take your photo gadgets, and create your entertainment for the people and places right in front of you. Feel cherished and submerged in the important history of the area.
Highlights
Gurung and mixed village community of Dhampus.
Cultures, Lifestyle, People, and Food.
Beautiful Landscapes and serene views of mountains.
View of amazing and majestic Himalayan ranges from Sarangkot.
Picturesque Sunrise and Sunset, greenery forest.
Learn the Gurung ethnic group's daily lifestyle.
Fact about Australian Camp
"Thulo Kharkah" is the real name of the Australian Base Camp. The villages below Dhampus and elsewhere used to be the seasonal breeding ground for buffalo and cow herders. Trekkers walked unknown until the early 1990s when the routes for the Annapurna Sanctuary Trek (Annapurna Basin) were already popular with Phedi – Dhampus-Pothana – Deurali, Landruk and Chhomrong and are only 15 minutes west of the town. It is said that people from Austria find it so beautiful in the late eighties that they used to come there to camp most days, because it is so quiet and uncluttered that the views of the mountains are interesting. Rather than calling it Autrian Camp people found it easy to call Australian Camp and then hence the name of this place became Australian camp.
Journey To Australian Base Camp Via Dhampus
After a winding trip to Pokhara, our route begins at Phedi. From Phedi village, almost 30 minutes' drive from the stunning lakeside town of Pokhara, the road to Dhampus village, one of Nepal's paradise, starts. From the vast area of Annapurna Mountain Range, you will have a trek with a beautiful view over the golden rice terraces. This 2-hour ascent to Dhampus proceeds through the wonderful forest of rhododendrons nesting different species of birds to Chandrakot Town, which is populated by the warm and welcoming Gurung men. At the height of 1592 m rises Sarangkot, this hill overlooks the valley and Lake Fewa north of the city. Our first Dhampus magic pause. A beautiful view of the mountains and a great display of the history of the hillside town, this little picturesque community. The next day's destination in Nepal will be Sarangkot, renowned for its spectacular view of the Himalayas, among which Dhaulagiri (8167 m) and Machhapuc.hhare(6997 m). There are a variety of nice points of view in and around Sarangkot. There's the spotting platform, but we're heading to some lesser known locations if we're packed. The views are most beautiful at sunrise and sunset. It is almost impossible to change the colors of the mountains, the kind of thing that makes unbelievers believers.
Show more...
Outline Itinerary ( 3 Days )
Expand all +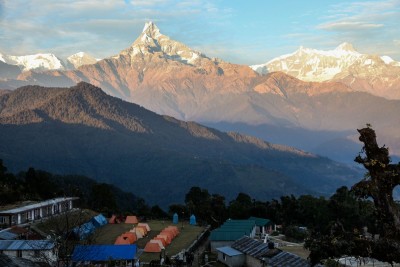 After breakfast, we travel to Phedi by private vehicles from your hotel in Pokhara at 07:30 am in the morning. The ride from Pokhara requires 30 minute. The point of departure for this trek is Phedi. From The Australian Camp Via Dhampus requires 5-6 hours of walk. Australian Camp is a most popular area, where you can see a clear day with a breathtaking view over the Annapurna ranges, Machhapuchhré, Manaslu and beautiful green hills.
Show more...
Max Altitude
Duration
Overnight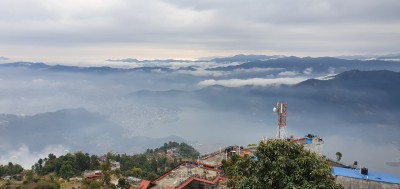 Australian camp to Sarangkot 5-6 hours walk. Sarangkot is a place from where you can see sunrise, sunset and the magnificent view of mountains.
Show more...
Overnight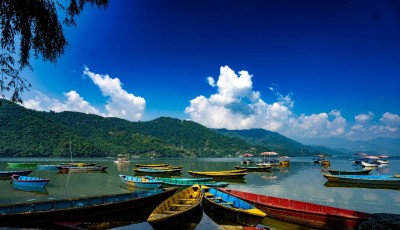 After early morning breakfast, trek from Sarangkot to Pokhara which is 2-3 Hours walk. Paragliding is optional(B)
Show more...
Include / Exclude
Hotel pick up and drop to-fro Pokhara

Accomodation in Guest house Dhampus and Sarangkot in twin sharing bed and breakfast basis.

Transportation by private vehicle ( Pokhara - Phedi)

Hiking with English speaking guide and porters if necessary

TIMS and necessary Permits and Govt. taxes

Your Lunch and Dinner in Pokhara

Personal expenses

Optional Paragliding (USD 100)

Tipping to guide, porter and driver as per your satisfaction
Departures & Availability
Essential Info
Expand all +
ACAP Permit applies to the Annapurna Protection Area Permit entry file. For trekking in the Annapurna Region, ACAP authorisation is required. You will need this permit for this trek. ACAP Permit cost NPR 3000 or US $ 30 per person.
Show more...
Trip Grade: Two. A moderate trek requires you to walk 5-6 hours per day with a light day pack. Walking in higher altitudes is more physically demanding than walking in lower altitudes, however the pace of the trek will vary in compensation. If you are in excellent health with average physical fitness and have strong determination, you will complete a moderate trek successfully. Exercising, particularly jogging and climbing stairs regularly for some weeks prior to your arrival is recommended to enhance your strength and fitness. Past hiking experience would be an asset, but no technical skill is required.
Show more...
Important Information
Expand all +
There are three ways to get a visa for Nepal
Visa on arrival: You can get a visa on arrival at the Tribhuvan International Airport in Kathmandu or other designated entry points. The visa fee is USD 30 for 15 days, USD 50 for 30 days, or USD 125 for 90 days.
Online application: You can apply for a visa online through the Nepal Immigration website. https://nepaliport.immigration.gov.np .The visa fee is the same as for visa on arrival.
Nepalese Embassy or Consulate: You can also apply for a visa at a Nepalese Embassy or Consulate in your home country. The visa fee may be different, so check with the embassy or consulate.
Visa requirements
Passport valid for at least six months from your planned entry date into Nepal.
Visa application form.
Passport-sized photo (Bring 4 )
Gratis Visa (Visa for Free)
Gratis Visa is issued free of cost in case of following categories of Visa applicants:
Children below 10 years except US citizens
Up to 30 days for SAARC Citizen - Bangladesh , Bhutan, India , Maldives , Pakistan , Sri-Lanka (except Afghanistan) visiting Nepal for the first time in a given visa Year. Afghan citizen are eligible for Gratis Visa on Arrival only upon the recommendation of Department of Immigration. If you are an Afghan citizen, you can request concerned institution inviting you to Nepal for necessary paperwork with Department of Immigration to get you Gratis Visa 'On Arrival'.
Non Residential Nepalese(NRN) card holder ( issued by MoFA /Nepalese diplomatic missions abroad)
Chinese Nationals for 150 days
Nationals of following countries are requested to acquire Visa prior their arrival from their nearby Diplomatic missions (Embassies/consulates) of Nepal Government.
NigeriaGhana
Zimbabwe
Swaziland
Cameroon
Somalia
Liberia
Ethiopia
Iraq
Palestine
Afghanistan
Syria
Refugees with travel document
If your passport is not valid for at least six months, you will need to renew your passport before you travel to Nepal. You can renew your passport at your local passport office. The process of renewing your passport can take several weeks, so it is important to start the process early.
Show more...
By air:
Nepal has Three international airports: Kathmandu, Bhairawa, and Pokhara. Currently, Pokhara airport does not handle international flights. However, there are a few flights to Bhairawa from few countries. The main international airport in Nepal is Tribhuvan International Airport (TIA), located in Kathmandu. You can search TIA airport to book your International flight.
By land: There are multiple land entry points along the borders of Nepal, India, and China. These entry points include Kakarvitta, Birgunj, Bhairahawa, Nepalganj, Dhangadhi, Mahendranagar, and Kerung(china boarder)
Show more...
If you've booked a multiday tour or trekking package with Himalayan Social Journey, we'll pick you up from the airport. Upon arriving at Tribhuvan International Airport in Kathmandu, our representative will be there to greet you with a sign displaying your name and our company's name. We'll then take you to your pre-booked hotel.
To make the pick-up process smooth, kindly share your flight details, including flight number and arrival time. If there are any changes to your arrival plans, please inform us as soon as possible so we can arrange your pick-up accordingly. Travel with us for a hassle-free experience!
Show more...
Please keep this thing in your mind that there are some airport touts and scam artists who take advantage of tourists. They might offer to carry your luggage and they want a large amount of money. Sometimes they intimidate our drivers and even take away their signs. Anyway...if you want someone to help you with your luggage you can give them NOT MORE THAN 1 - 2 DOLLARS. This is a small hassle that tourists sometimes face upon arrival at the airport. Do not stress about this but just be aware not to give more than a few dollars for their luggage handling if you choose to take someone's services. Nepalese in general are very kind and hospitable people.
Show more...
The official currency of Nepal is the Nepalese rupee (NPR). Major foreign currencies such as USD, AUD, and EURO are accepted for VISA.
There are plenty of ATMs in these major cities, so you can easily withdraw cash from your foreign currency bank account. Credit cards are also accepted in some shops and restaurants, but they are not as widely accepted as cash.
On the trek, you will only need to use Nepali rupees. You can exchange your foreign currency for Nepali rupees at your hotel, money exchanges, or the airport. Himalayan Social Journey representatives will also be happy to help you exchange money.
Show more...
If you have booked a trekking or multi-day tour with Himalayan Social Journey, the orientation meeting usually happens at your Kathmandu hotel around 4 or 5 pm. Our team will provide you with the specific details upon your arrival.
Show more...
If you're arriving early or leaving late, please ensure to arrange extra hotel accommodations by contacting [email protected]. Let us know if you'll be extending your stay in Nepal, and we'll book your additional nights. Also, kindly share your flight details with us to facilitate a smooth pick-up and drop process.
Show more...
When you book a trip with us, the standard accommodation arrangement is on a twin-sharing basis. This means two people will be staying in each room throughout the trip. However, if you prefer to have a room to yourself or if you're traveling alone, you can choose the "single supplement" option. By selecting this option, you'll have a private room during the trip, but please note that there will be an additional cost for the single room arrangement according to tour / trek.
Show more...
For each tour date, there will be several separate groups, each with a maximum of 14 people and their own experienced English-speaking guide. During the trek, there will be a suitable number of porters available to carry your luggage. Additionally, if you prefer to do a private tour or trek with your own group, that is also possible.
Show more...
Nepal has five main seasons: summer, monsoon, spring, autumn, and winter. Each season offers unique experiences and weather conditions.
Winter (Late Dec - Feb): Cold temperatures, great for festival tours and special highlights.
Spring (Mar - May): Magical rhododendron blooms, ideal for trekking and peak climbing.
Monsoon (Jun - Aug): Low season with rain, but perfect for nature lovers and discounts on hotels.
Autumn (Sep - Nov): Peak season, clear weather, and popular trekking regions fill up fast.
You can check the live weather condition via this website https://www.accuweather.com
Show more...
The hotel in Kathmandu where you'll stay during the trip offers complimentary storage services. You can leave your luggage and extra clothing that you won't need for the trekking / tour. Rest assured, you can collect them once the trek and tour are over.
Show more...
Don't forget to bring both TWO and THREE-pin travel adapters! If you don't have them, you can purchase them at supermarkets or electronic shops in Kathmandu. Our guide will be there to assist you if needed. You can get information about plug and voltage in below link.
Show more...
Most places in Nepal are covered by mobile network providers, especially Ncell and Nepal Telecom. You can use data services for communication. You can buy a SIM card at the airport counter. There are also free and paid Wi-Fi services in most tea houses in Nepal during trek.
Here are some tips for staying connected while you are in Nepal:
Buy a SIM card as soon as you arrive in Nepal. This will give you access to data services and allow you to make calls and send text messages.
Check the coverage map of your mobile network provider before you travel. This will help you to know where you can expect to have good reception.
If you are planning on visiting remote areas and need to be in connected on Internet , you may want to consider renting a satellite phone. This will give you access to communication even in areas with no mobile network coverage.
There are many free and paid Wi-Fi hotspots in Nepal. You can find these at hotels, tea houses, restaurants, cafes, and even some temples.
Show more...
If you would like to book extra activities such as Paragliding, Bungy jump, Mountain flight, Heli Tour , Bhaktapur Sightseeing many more programs. You can find updated price and program detail in this link: https://hsj.com.np/tourtype/daytours. You can book by contacting us at [email protected] For longer excursions such as Bhutan, Tibet, India, and any other treks also, we can help but please contact us immediately at [email protected]
Show more...
If you have purchased a voucher from any deal company, please come in contact with us with the voucher code (redemption code) so that the voucher can be redeemed on time. Since we need time to purchase your domestic air ticket and make other arrangements, kindly confirm your spot with your suitable date at-least 2 months prior to the commencement of the tour. Your booking on a particular tour date is subject to availability of spots. You can redeem you voucher through this link too : https://hsj.com.np/voucher-redemption
Show more...
A typical suggestion for tipping is to allocate around USD 50-60 for the guide and porter if you're happy with their service. However, the amount you decide to tip is entirely up to you, and you can give whatever you feel is appropriate based on the excellent service they provided during your tour / trek
Show more...
Packing List for Tour:
Pack appropriate clothing for the weather conditions during your visit. Include comfortable walking shoes, a hat, sunglasses, sunscreen, and insect repellent. Don't forget essential travel documents, a camera, and any necessary medications.
Packing List for Trekking
Hiking
Trekking Poles - 1
Daypack - 1
Backpack - 1
Packcover
Water Reservoir - 1
Sleeping
Sleeping bag - HSJ will provide
sleeping bag liner
Clothes
Underwear - 3
Socks - 3
Bra - 3
base Layers pant - 1
Trekking Tshirt - 3
Trekking Pants - 2
Rain Pants - 1
Hiking Shoes/ Boots - 1
Gloves - 1
Hat - 1
Down Jacket - 1
Wind Breaker - 1
Sandles -1
Miscellaneous
Sunglasses - 1
Books or E-reader (optional)
Hygene/Saftey
Microfiber towel - 1
Toothbrush - 1
Toothpaste - 1
First aid kit - 1
Medicine kit -1
sunscreen -1
sewing kit -1
Soap/shampoo - 1
Comb or brush - 1
Period supplies - 1
Toilet paper - 1
sanitising gel - 1
Electronices
Camera
Phone
Extranel Hardrive (optional )
Head touch
Power bank for charging Phone
Show more...
If you cancel the trip for any reason, the 20% deposit amount will not be refunded. If you have paid the full trip amount and need to cancel, you will receive your money back, but a cancellation charge of 20% will still apply.
For voucher holders who purchased vouchers from deal companies, we must adhere to their cancellation policy. However, under both circumstances, we are flexible and can reschedule your trip for a later date. To cancel any trip, please make sure to provide written notification of your cancellation.
Show more...
Sometimes travellers are unable to finish the scheduled trek/tour due to the various reasons or they ended up not completing the trek/tour for health or personal reasons. In this case please realize that we cannot offer you any refunds for unused days on the tour. You have to understand that our costs are the same as we have an obligation to pay our guides , porters, drivers for the time they have committed.
Show more...
Our commitment is to offer you an unforgettable journey with the best services. We take our responsibilities seriously and conduct all programs in Nepal according to the rules and regulations of Nepal Goverement. If needed, we can provide alternative itineraries for a delightful holiday experience. Feel free to reach out to us if you have any questions or concerns. We're here to help!
Show more...