Transportation
Best Season
The Manaslu Base Camp Circuit Trek
The Manaslu circuit trek stands as an unparalleled adventure amidst the awe-inspiring landscapes of Nepal. This trek takes you through the pristine beauty of the Manaslu Conservation Area, offering a breathtaking glimpse of the world's eighth-highest mountain, Manaslu. With its 13-day itinerary, the Manaslu Circuit Trek commences at Maccha Khola, leads you through awe-inspiring wonders, and concludes at Beshi Sahar. Moreover, for the avid adventurers, the trek can be extended to 22 days by adding a side trekking to the enchanting Tsum Valley.
Highlights of Manasalu Base Camp Circuit Trek :
Stunning mountain vistas, including Mt. Manaslu, the world's eighth highest peak.
Challenging yet rewarding Larkya La Pass crossing with breathtaking panoramas.
Immersion in diverse cultures of Gurungs, Tamangs, and Tibetans in remote villages.
Abundant flora and fauna in the protected Manaslu Conservation Area.
Tranquil and less crowded trails for a peaceful trekking experience.
Authentic teahouse stays for interaction with locals and genuine Himalayan hospitality.
Stunning views world-renowned peaks like Manaslu, Himlung, and Annapurna II.
Manaslu Circuit Trek: A Mesmerizing Journey
As you embark on the Manaslu Circuit Trek, you'll traverse diverse landscapes, starting from the lush and steamy lowlands adorned with rice and millet terraces. The journey takes you alongside the majestic Budi Gandaki river with its mesmerizing turquoise waters and cascading waterfalls. The suspension bridges that span the route are awe-inspiring marvels, boasting both length and height. However, it's essential to remain cautious as the monsoon season may wash away minor bridges, requiring trekkers to navigate semi-submerged rocks.
An Exhilarating Experience
Initially opened to a limited number of 400 trekkers in 1992, the Manaslu Circuit Trek retains its sense of exploration and adventure even today. Every step on this trail feels like a pioneering expedition, reminiscent of trekking experiences from the 1980s. The trek promises a visual feast right from the beginning till the end, but it demands trekkers to be in excellent physical condition to fully savor its beauty.
Conquering the Larkya La Pass
As you progress northward, the journey leads you to the awe-inspiring Larkya La Pass, situated near the border of Tibet. At a staggering altitude of 5,167 meters/16,952 feet, the pass presents a formidable challenge. However, the breath-taking vistas of Manaslu that unfold before your eyes make the effort entirely worthwhile. The Larkya La Pass is often snow-covered and icy, necessitating the use of micro crampons during the descent. To avoid harsh winds that arrive around mid-morning, trekkers typically commence their ascent as early as 3 am.
Unveiling the Postcard-Worthy Panorama
While looking back from the Larkya La Pass, you are treated to a clear view of the route you have conquered so far. However, the most awe-inspiring view awaits after you depart from the pass and traverse a corridor towards the west. The vistas that unfold during this phase are unparalleled, leaving trekkers captivated by the natural splendor surrounding them.
The Manaslu Circuit Trek is undoubtedly one of the best treks in Nepal, offering an unforgettable journey through the heart of the Himalayas. This adventure, while challenging, rewards trekkers with stunning landscapes, cultural encounters, and the sheer joy of conquering nature's wonders. As you embark on this once-in-a-lifetime experience, ensure you are adequately prepared both physically and mentally, ready to immerse yourself in the magnificence of the Manaslu region.
Remember, this is not just a trek; it is a transformative odyssey that will leave an indelible mark on your soul, forever inspiring your love for nature and adventure.
Show more...
Outline Itinerary ( 15 Days )
Expand all +
Arrive in Kathmandu at any time. Upon your arrival, representative will be picked up from airport then you will be transferred to a hotel for check in. Welcome dinner at hotel in the evening.
Show more...
Overnight
After breakfast, our guide will take you to different attractions of Kathmandu Valley. Today, you will visit, Swoyambhunath, Boudhanath, Pashupatinath and Patan Durbar Square. Overnight at Himalayan Suite Hotel. (B)
Show more...
Overnight
Today, you'll start your journey towards Machhakhola, a small village situated in the Gorkha District of Nepal.The drive from Kathmandu to Machhakhola is quite long, taking around 7 hours to cover the distance of approximately 200 kilometers.
Despite the dusty and bumpy road, you'll be rewarded with breathtaking landscape views from your window seat during the journey. Along the way, there are numerous rest stops where you can take short breaks and enjoy meals. Your day's adventure will conclude with a comfortable overnight stay at one of the welcoming teahouses in Maccha Khola.
Show more...
The next day, start the trek along the twisting Budi Gandaki river, spotting monkeys and langurs in the forest trail. Explore Gurung villages like Lower Khorlabeshi, where shepherds wear traditional Bokkhu capes. Reach Tatopani for warm showers to relax. Cross a new suspension bridge to Doban, avoiding a difficult 3-hour climb. Traverse a long cantilever bridge to Jagat, a charming Gurung village with flagstone paths. Verify your trekking permits at the check post, as you enter the restricted region.
Show more...
After breakfast in Jagat village, the trek will take you through diverse landscapes, including dense sub-tropical forests, small rivers, and charming rustic villages.
Begin by ascending over a rocky ridge to Salleri, followed by a descent to Sirdibas. As you continue, the valley widens, and you'll encounter the Ghatta Khola river. Walking upstream, you'll come across a long suspension bridge in Philim, a large Gurung village. Heading north just above the lowest house in the village, the trail remains fairly level, guiding you through millet fields to Ekle Bhatti.
Next, the route enters a steep and uninhabited gorge. Descend to the grassy slopes, cross the Budhi Gandaki river, and continue along the west bank before crossing to the east side and back to the west side again. The trail widens as you proceed through the valley, passing through bamboo forests until you reach the Deng Khola river. After crossing the river, you'll arrive at the quaint village of Deng.
Show more...
Today, we leave Deng and cross Budhi Gandaki and ascend our way to Rana. The trail passes through mani walls and towards to Ghap. You will traverse through stunning gorge, valley, villages and finally reach Namrung.
Show more...
Today, we leave Deng and cross Budhi Gandaki and ascend our way to Rana. The trail passes Namrung village is a good viewpoint for Siring and Ganesh Himal and from the village one can also see Mt. Himal Chuli in the south. We climb steadily and pass through forests and reach Lihi, a fine village with many chortens and barley terraces. The trail drops and crosses the side valley of Simnang Himal with Ganesh Himal always close by. We further pass through Sho and then finally reach Lho Village.
Show more...
Today, you will leave Lho village and make the journey towards, Sama Gaun. The trail is beautiful with forest, deep valleys and magnificent view of Manaslu and shimmering large glaciers
Show more...
Hike to Manaslu Base Camp, which is situated north of Sama Gong. Follow the trail past Birendra Tal and turn left onto the base camp track. The climb may be a bit challenging due to the altitude, so remember to stay hydrated and take it slow. As you make your way north of Manaslu glacier, you'll reach the base camp at 4,400m / 14,435, and then return.
Show more...
Today, we descend to the Budhi Gandaki River, that has turned north and follow it to a bridge over a side stream. The trail to the left leads to the Manaslu Base camp. The Larkya la Trail passes several mani walls as the valley begins to widen. It is an easy trail on a shelf above the river passing the juniper and birch forests of Kermo Kharka. We drop off the shelf, cross the Budhi Gandaki on a wooden bridge and climb steeply onto a promontory between two forks of the river. From a stone arch we can view a large white kani gate. Finally passing through the kani we find Samdo.
Show more...
Today, you will walk down the edge, cross the wooden bridge over Budi Gandaki and start walking upwards. Upon crossing two streams and witnessing the Larkya Glacier we go around the valley of the Salka Khola and climb up again to the stone guest house (4450 m), which is not a lodge but a kind of shelter called Dharmshala, also known as Larke Phedi. The short walk today also leaves plenty of time for acclimatization and relaxing in the afternoon.
Show more...
This is a special day as you will walk to the trail's highest point, as you ascend to the trail's highest point, the Larkya La Pass (5,160m / 16,929 ft). Although challenging in adverse weather and snow, it is feasible with an early start around 4 am. Walking steadily is the key to successfully crossing the pass before afternoon. The reward awaits at the top with stunning views of Himlung (7,126m / 23,379 ft) near Tibet, Kang Guru (6,981m / 22,903 ft), and Annapurna II (7,937m / 26,040 ft) in the Annapurna Range.
Take in the beauty of the pass before descending for about 3 hours towards Bimthang, where you will spend the night. On your way down, marvel at the majestic icefalls and surrounding mountains, including Pongkar Tal nestled between the Pongkar and Salpu Danda Glaciers.
Show more...
On the final day of your Manaslu trek, you'll be enchanted by the lush forests abundant with diverse flora and fauna, including vibrant rhododendron bushes.
As you descend, you'll cross the Dudh Khola and make your way to Karche for a delightful lunch. Be prepared to witness signs of a glacial flood, with tree trunks scattered and riverbanks altered, making the trail rough. The route leads to Gurung Goa Village, the first village since Samdo.
Passing through picturesque agricultural fields and charming oak and rhododendron copses, the valley becomes even more inviting. Stay on the north (true right) bank until you reach Tilije. From there, continue your leisurely stroll towards Dharapani, cherishing the last moments of your memorable Manaslu trek.
Show more...
After your trek, you'll board a convenient jeep ride from Dharapani to Beshi Sahar. From Beshi Sahar, you'll embark on a comfortable journey back to Kathmandu, which takes around 6 to 7 hours. Once in Kathmandu, you can unwind and relax spa and massage at Himalayan Suite Hotel.
Show more...
Overnight
We will arrange your transfer to the Kathmandu airport for your return flight to your home country or to start your next adventure.
Show more...
Include / Exclude
Airport pick up and drop

Transportation by bus (Kathmandu-Machhakhola, Dharapani - Kathmandu)

Three star category hotel in Kathmandu (Himalayan Suite Hotel) in twin sharing bed with breakfast

All meals, accommodation, insurance and other expenses of trekking crew

Accommodation in lodge with breakfast during the trek

TIMS and Permits (ACAP + MCAP), Special permit

Guided sightseeing tour in Kathmandu by private vehicle

Equipment (sleeping bag and duffle bag) for the trek

Welcome dinner

30 minutes massage after the trek in Himalayan Suite spa

Lunch and dinner during the trip (each meal item costs USD $4-$7) it depends on meals items and place you choose to eat.

Personal equipment and clothing

City sightseeing monuments entry fees ( NPR 400+250+1000 +1000)

Personal expenses and your travel insurance
Departures & Availability
Additional Information
Lodging and food during the Manaslu trek
Accommodation is in guesthouses (often called teahouses) along the way. Rooms have two single beds and usually a small window.Toilet facilities are most often shared rather than en-suite bathrooms on the Manaslu Trek. They can be inside the main house or in the outhouse. It may be a western style toilet or a squat. Things tend to become more basic at higher altitudes.There's also a dining room where food is prepared, so it's a perfect spot to get to know your fellow trekkers. The higher you go, usually around dinner time there will be a fire in the dining room, although this is by no means guaranteed.
During the lodge trek, we will enjoy authentic Nepalese food (Dal bhat, vegetables, curry ...) rice, lentil, as well as more-foreign cuisine. You can select from the lodge menu if you want, and at a time when it's difficult to pick, our guide can help you choose and taste the local cuisine. Breakfast and dinner are served from the teahouse or from the lodge menu where we spend the night. Lunch and Dinner are not included in the price. If you want to include the lunch and dinner you would have to tick the box at the top right side of the booking menu.
Electricity and Charging your devices while on Manaslu Trek
Owing to the small hydropower project, 220 volts of electrical power is available in many villages. Light and power sockets are also available for charging batteries on a payable basis. Villages without electricity normally use a solar energy for charging lights and batteries.
Obtaining trekking permits
You would require permits for this trek, which are Restricted Area permit (RAP), ACAP (Annapurna Conservation Area Project), and MCAP (Manaslu Conservation Area Project).
HSJ shall take care of the permits for you.
Insuring your safety
We suggest taking out an insurance plan for your individual accountability, accidents and illnesses during the service.
Regarding the type of activity, you may be asked to show a certificate of insurance for help and support, sanitation and search. This service is private and not free in Nepal, the helicopter will not take off until it is convinced to pay for the insurance.
Carrying Extra money
It's difficult to give an exact amount of money that you should bring. Costs will vary according to how much you want to spend for shopping and where and what meals (lunch & dinner) you want to eat. Trekkers find that around $20 (for lunch & dinner) a day is reasonable for the trekking days.
As for the tips, A general rule of thumb for tipping is USD 25 for the guide per traveller and USD 25 for porter between two travellers if you are fully satisfied with their service. So we suggest you allocate a minimum of USD 50 for Tipping. This is just a guideline and you may tip whatever / how much you think is appropriate for the services rendered which made your trek a memorable one.
Staying connected to world outside during the trek
There is expanding the telecommunication services at most of the villages, except Deng and Ghap. However, you can find a satellite or cellular-based phone which able to connect with the world on the payable basis. Internet services are also available in Philim, Namrung, Lho, and Sama Gaon.
Single Supplement for Solo Traveler
There will be two people accommodated in each room for the duration of the tour. If you prefer private accommodation, you'll find the option for "single supplement" of USD 250. Important: Please note that during the trek there are some lodges which won't have sufficient rooms to provide private accommodation. So, even if you purchase single supplement you will end up sharing a room for some days of the trek.
Transportation for Manasalu Trek
To kickstart your remarkable journey, you'll travel approximately 160 km (99 miles) from Kathmandu to Maccha Khola, passing through SotiKhola en route. Depending on your preferred mode of transportation, you have two options:
Private Jeep Ride: Enjoy the comfort and convenience of a private Jeep, which will take you on an adventurous 7-hour drive. This option allows you to relish the breathtaking landscapes of Nepal while cruising on well-paved roads. Cost will be USD 50 Per person
Local Bus Adventure: If you prefer a more immersive experience, opt for the local bus. While the journey may take slightly longer (around 8 to 9 hours), it's a fantastic way to connect with fellow travelers and locals. The local bus route will also treat you to some off-road excitement, adding an extra dose of thrill to your first day of trekking.
Manasalu Trek with Himalayan Social Journey
Guides and Porters
Our local Nepali team is one of the most experienced, hospitable and respected trekking outfits in Nepal. The team is fully licensed and affiliated with the Trekking Agency's Association of Nepal (TAAN), Nepal Mountaineering Association, Nepal Tourism Board, Govt. of Nepal, Sustainable Tourism Network, Himalayan Rescue Association and Kathmandu Environmental Educational Project. You will be provided with the professional and an experienced English speaking trekking guide with the good knowledge of the place and the trek. The trekking crew is skilled with the experience of over 10 years, well-trained, friendly guide and, courteous and helpful porters, assured of a wonderfully memorable experience.
For the trek, we'll have one porter for two people as per group size. The porter will carry 12-15 kg per person luggage during the trek. You need to carry your day pack to keep your personal belongings such as wallet, camera, water bottle, dry snack, headlight, gadgets, etc. The safety and concerns of our porters is our collective responsibility. We take our responsibilities towards them and their safety concerns strictly. On your part, please carry only things that are of absolute necessities.
Other Programs and complimentary services with this trip
• Welcome and Farewell dinner
• Spa services
Last minute booking
It is best to book in advance but for those who cannot, for whatever reason, make a last minute reservation special arrangement for Himalayan Social Journey. In the case of last minute reservation, 100% tour payment will be approved within 48 hours. We try to operate a trek at any time but we are not liable for the delay in case of last-minute reservation, because of uncontrolled changes such as weather and the availability of accommodation.
Essential Info
Expand all +
The optimal seasons for the Manaslu trek are spring (March-May) and autumn (September-November). However, HSJ is capable of arranging the trek safely and ensuring a memorable experience throughout the year.
Show more...
The Manaslu trek is classified as a strenuous trekking experience due to its challenging ascents and descents, often involving steep stone stairs. Having good physical fitness and previous trekking experience can be beneficial, although no technical skills are required.
Show more...
According to the regulations set by the Government of Nepal, it is mandatory to trek with a guide. The rule states that a minimum of two trekkers and a guide must be present for any trek in the Manaslu region.
Show more...
You will have working network connectivity in most parts of the trails. However at the higher altitude, the network may become sluggish and unreliable. The stops at the tea houses will have working connection and most of them would have Wi-Fi connectivity too. You may have to pay some extra charge for Wi-Fi connection and electricity at the higher altitude.
Show more...
Global passengers will be protected by insurance when treking in Nepal. Although Nepal is normally very secure, trekking at high altitudes is physically difficult and often risky. Altitude sickness is common during hiking tours in Nepal, particularly among foreign hikers who may not have taken the right time to acclimatize. Such rescue and related emergency procedures are costly and passengers are forced to pay for these services out of their pockets, unless they are covered by insurance plans.
Show more...
Yes, Himalayan Social Journey is flexible travel partner. It is possible to organize the private trip or private group trip to Manaslu. The minimum people for the group is 2 however supplementary charge will be applicable for the solo traveler wanting to do private trip.
Show more...
Supplementary charge will be applicable for the solo traveler wanting to do private trip. You will also have the option to share the room with another solo traveler depending on your and their consent and interest. Even if you pay supplementary charge for the single room, it is possible that during peak seasons you will end up sharing rooms due to lack of availability of the room.
Show more...
Yes, children are allowed to do the trek, however it is safe to not bring children under the age of 12 to do the trek as they may find it difficult and not able to walk. This could affect your trekking experience as well.
Show more...
No, there is no age limit to do the trek. If the person is healthy and physically fit, they can do the trek.
Show more...
You will have teahouse or guest house accommodation while on the trek. Tea houses can be multi-story concrete buildings with private rooms in lower elevations. The higher you step up, the simpler the accommodation is. Accommodation will involve a single dorm space in the base camp. Guide will arrange for the adequate, clean and hygienic place for you to spend overnight and you will eat at the same place you will stay in. Most of the places shall have attached bathroom and hot shower however over the higher altitude, it is likely that you may have to pay extra sum for the same.
Show more...
The Tap water supplied along the trails are considered safe for drinking and local people drink it without treating, however for the foreigners, it is best that the tap water be only drunk after purification. There are two good options for having proper drinking water during the trek. You can bring water purification tablets or fill your bottle for a nominal fee from the recognized and regulated "pure water" stations along the trek. As the last alternative, you can also purchase bottled water at the lodges but this is not recommended. It is very important that you drink at least 3 liters of pure water daily during the trek.
Show more...
Certainly! For the Manaslu region, permits are essential. You will require a special restricted area permit for Manaslu and a Conservation Area Permit covering both Manaslu and Annapurna regions, as the trail passes through the Annapurna Region as well.
Show more...
The optimal approach for this trek is a 13-day itinerary starting and ending in Kathmandu. While it is possible to complete it in 10 or 12 days, rushing through may lead to missing out on the full experience and could be more physically demanding.
Show more...
The trek begins with a subtropical climate, and the overall temperatures throughout the year range from 10 to 25 degrees Celsius. However, as you ascend to the higher parts of the trek, particularly in winter, the temperature can drop significantly, reaching -20 degrees Celsius or even lower.
Show more...
List of Equipment you will need for Manasalu trek
Clothing
Trekking boots
Short-sleeved Trekking shirts
Trekking pants and jackets
Thermals underwear
Long-sleeved
Trekking shirts
Insulating down jackets
Woolen cap
Trekking Gloves
Raincoats
First Aid
Diamox tablets
Sanitary pads / Tampons
Anti-nausea Medicines
Band-aids
Mosquito and insect repellents
Toiletries
Soap
Toilet Paper
Shampoo
Sunscreen
Moisturizer
Hand sanitizer
Accessories
Sunglasses
Sleeping bag
Cameras
Batteries
Water Bottle
Solar Chargers
Hot water Thermos
Important Documents
Show more...
Important Information
Expand all +
There are three ways to get a visa for Nepal
Visa on arrival: You can get a visa on arrival at the Tribhuvan International Airport in Kathmandu or other designated entry points. The visa fee is USD 30 for 15 days, USD 50 for 30 days, or USD 125 for 90 days.
Online application: You can apply for a visa online through the Nepal Immigration website. https://nepaliport.immigration.gov.np .The visa fee is the same as for visa on arrival.
Nepalese Embassy or Consulate: You can also apply for a visa at a Nepalese Embassy or Consulate in your home country. The visa fee may be different, so check with the embassy or consulate.
Visa requirements
Passport valid for at least six months from your planned entry date into Nepal.
Visa application form.
Passport-sized photo (Bring 4 )
Gratis Visa (Visa for Free)
Gratis Visa is issued free of cost in case of following categories of Visa applicants:
Children below 10 years except US citizens
Up to 30 days for SAARC Citizen - Bangladesh , Bhutan, India , Maldives , Pakistan , Sri-Lanka (except Afghanistan) visiting Nepal for the first time in a given visa Year. Afghan citizen are eligible for Gratis Visa on Arrival only upon the recommendation of Department of Immigration. If you are an Afghan citizen, you can request concerned institution inviting you to Nepal for necessary paperwork with Department of Immigration to get you Gratis Visa 'On Arrival'.
Non Residential Nepalese(NRN) card holder ( issued by MoFA /Nepalese diplomatic missions abroad)
Chinese Nationals for 150 days
Nationals of following countries are requested to acquire Visa prior their arrival from their nearby Diplomatic missions (Embassies/consulates) of Nepal Government.
NigeriaGhana
Zimbabwe
Swaziland
Cameroon
Somalia
Liberia
Ethiopia
Iraq
Palestine
Afghanistan
Syria
Refugees with travel document
If your passport is not valid for at least six months, you will need to renew your passport before you travel to Nepal. You can renew your passport at your local passport office. The process of renewing your passport can take several weeks, so it is important to start the process early.
Show more...
By air:
Nepal has Three international airports: Kathmandu, Bhairawa, and Pokhara. Currently, Pokhara airport does not handle international flights. However, there are a few flights to Bhairawa from few countries. The main international airport in Nepal is Tribhuvan International Airport (TIA), located in Kathmandu. You can search TIA airport to book your International flight.
By land: There are multiple land entry points along the borders of Nepal, India, and China. These entry points include Kakarvitta, Birgunj, Bhairahawa, Nepalganj, Dhangadhi, Mahendranagar, and Kerung(china boarder)
Show more...
If you've booked a multiday tour or trekking package with Himalayan Social Journey, we'll pick you up from the airport. Upon arriving at Tribhuvan International Airport in Kathmandu, our representative will be there to greet you with a sign displaying your name and our company's name. We'll then take you to your pre-booked hotel.
To make the pick-up process smooth, kindly share your flight details, including flight number and arrival time. If there are any changes to your arrival plans, please inform us as soon as possible so we can arrange your pick-up accordingly. Travel with us for a hassle-free experience!
Show more...
Please keep this thing in your mind that there are some airport touts and scam artists who take advantage of tourists. They might offer to carry your luggage and they want a large amount of money. Sometimes they intimidate our drivers and even take away their signs. Anyway...if you want someone to help you with your luggage you can give them NOT MORE THAN 1 - 2 DOLLARS. This is a small hassle that tourists sometimes face upon arrival at the airport. Do not stress about this but just be aware not to give more than a few dollars for their luggage handling if you choose to take someone's services. Nepalese in general are very kind and hospitable people.
Show more...
The official currency of Nepal is the Nepalese rupee (NPR). Major foreign currencies such as USD, AUD, and EURO are accepted for VISA.
There are plenty of ATMs in these major cities, so you can easily withdraw cash from your foreign currency bank account. Credit cards are also accepted in some shops and restaurants, but they are not as widely accepted as cash.
On the trek, you will only need to use Nepali rupees. You can exchange your foreign currency for Nepali rupees at your hotel, money exchanges, or the airport. Himalayan Social Journey representatives will also be happy to help you exchange money.
Show more...
If you have booked a trekking or multi-day tour with Himalayan Social Journey, the orientation meeting usually happens at your Kathmandu hotel around 4 or 5 pm. Our team will provide you with the specific details upon your arrival.
Show more...
If you're arriving early or leaving late, please ensure to arrange extra hotel accommodations by contacting [email protected]. Let us know if you'll be extending your stay in Nepal, and we'll book your additional nights. Also, kindly share your flight details with us to facilitate a smooth pick-up and drop process.
Show more...
When you book a trip with us, the standard accommodation arrangement is on a twin-sharing basis. This means two people will be staying in each room throughout the trip. However, if you prefer to have a room to yourself or if you're traveling alone, you can choose the "single supplement" option. By selecting this option, you'll have a private room during the trip, but please note that there will be an additional cost for the single room arrangement according to tour / trek.
Show more...
For each tour date, there will be several separate groups, each with a maximum of 14 people and their own experienced English-speaking guide. During the trek, there will be a suitable number of porters available to carry your luggage. Additionally, if you prefer to do a private tour or trek with your own group, that is also possible.
Show more...
Nepal has five main seasons: summer, monsoon, spring, autumn, and winter. Each season offers unique experiences and weather conditions.
Winter (Late Dec - Feb): Cold temperatures, great for festival tours and special highlights.
Spring (Mar - May): Magical rhododendron blooms, ideal for trekking and peak climbing.
Monsoon (Jun - Aug): Low season with rain, but perfect for nature lovers and discounts on hotels.
Autumn (Sep - Nov): Peak season, clear weather, and popular trekking regions fill up fast.
You can check the live weather condition via this website https://www.accuweather.com
Show more...
The hotel in Kathmandu where you'll stay during the trip offers complimentary storage services. You can leave your luggage and extra clothing that you won't need for the trekking / tour. Rest assured, you can collect them once the trek and tour are over.
Show more...
Don't forget to bring both TWO and THREE-pin travel adapters! If you don't have them, you can purchase them at supermarkets or electronic shops in Kathmandu. Our guide will be there to assist you if needed. You can get information about plug and voltage in below link.
Show more...
Most places in Nepal are covered by mobile network providers, especially Ncell and Nepal Telecom. You can use data services for communication. You can buy a SIM card at the airport counter. There are also free and paid Wi-Fi services in most tea houses in Nepal during trek.
Here are some tips for staying connected while you are in Nepal:
Buy a SIM card as soon as you arrive in Nepal. This will give you access to data services and allow you to make calls and send text messages.
Check the coverage map of your mobile network provider before you travel. This will help you to know where you can expect to have good reception.
If you are planning on visiting remote areas and need to be in connected on Internet , you may want to consider renting a satellite phone. This will give you access to communication even in areas with no mobile network coverage.
There are many free and paid Wi-Fi hotspots in Nepal. You can find these at hotels, tea houses, restaurants, cafes, and even some temples.
Show more...
If you would like to book extra activities such as Paragliding, Bungy jump, Mountain flight, Heli Tour , Bhaktapur Sightseeing many more programs. You can find updated price and program detail in this link: https://hsj.com.np/tourtype/daytours. You can book by contacting us at [email protected] For longer excursions such as Bhutan, Tibet, India, and any other treks also, we can help but please contact us immediately at [email protected]
Show more...
If you have purchased a voucher from any deal company, please come in contact with us with the voucher code (redemption code) so that the voucher can be redeemed on time. Since we need time to purchase your domestic air ticket and make other arrangements, kindly confirm your spot with your suitable date at-least 2 months prior to the commencement of the tour. Your booking on a particular tour date is subject to availability of spots. You can redeem you voucher through this link too : https://hsj.com.np/voucher-redemption
Show more...
A typical suggestion for tipping is to allocate around USD 50-60 for the guide and porter if you're happy with their service. However, the amount you decide to tip is entirely up to you, and you can give whatever you feel is appropriate based on the excellent service they provided during your tour / trek
Show more...
Packing List for Tour:
Pack appropriate clothing for the weather conditions during your visit. Include comfortable walking shoes, a hat, sunglasses, sunscreen, and insect repellent. Don't forget essential travel documents, a camera, and any necessary medications.
Packing List for Trekking
Hiking
Trekking Poles - 1
Daypack - 1
Backpack - 1
Packcover
Water Reservoir - 1
Sleeping
Sleeping bag - HSJ will provide
sleeping bag liner
Clothes
Underwear - 3
Socks - 3
Bra - 3
base Layers pant - 1
Trekking Tshirt - 3
Trekking Pants - 2
Rain Pants - 1
Hiking Shoes/ Boots - 1
Gloves - 1
Hat - 1
Down Jacket - 1
Wind Breaker - 1
Sandles -1
Miscellaneous
Sunglasses - 1
Books or E-reader (optional)
Hygene/Saftey
Microfiber towel - 1
Toothbrush - 1
Toothpaste - 1
First aid kit - 1
Medicine kit -1
sunscreen -1
sewing kit -1
Soap/shampoo - 1
Comb or brush - 1
Period supplies - 1
Toilet paper - 1
sanitising gel - 1
Electronices
Camera
Phone
Extranel Hardrive (optional )
Head touch
Power bank for charging Phone
Show more...
If you cancel the trip for any reason, the 20% deposit amount will not be refunded. If you have paid the full trip amount and need to cancel, you will receive your money back, but a cancellation charge of 20% will still apply.
For voucher holders who purchased vouchers from deal companies, we must adhere to their cancellation policy. However, under both circumstances, we are flexible and can reschedule your trip for a later date. To cancel any trip, please make sure to provide written notification of your cancellation.
Show more...
Sometimes travellers are unable to finish the scheduled trek/tour due to the various reasons or they ended up not completing the trek/tour for health or personal reasons. In this case please realize that we cannot offer you any refunds for unused days on the tour. You have to understand that our costs are the same as we have an obligation to pay our guides , porters, drivers for the time they have committed.
Show more...
Our commitment is to offer you an unforgettable journey with the best services. We take our responsibilities seriously and conduct all programs in Nepal according to the rules and regulations of Nepal Goverement. If needed, we can provide alternative itineraries for a delightful holiday experience. Feel free to reach out to us if you have any questions or concerns. We're here to help!
Show more...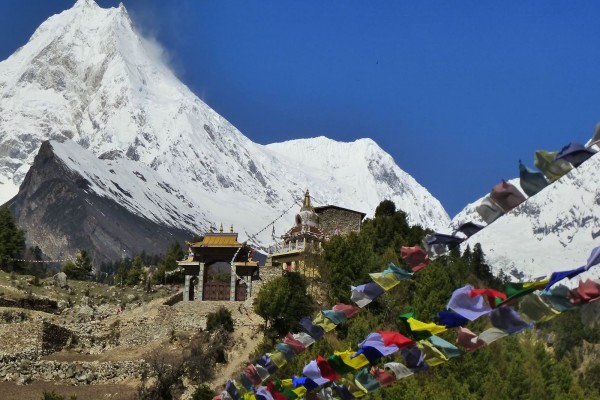 from
$ 1200.00
*Price varies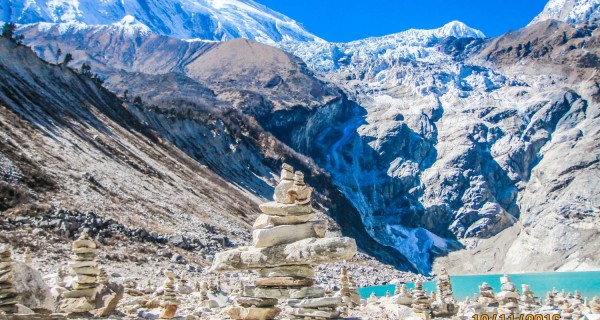 from
$ 1220.00
*Price varies