We climbed our last mile of the route on a long, dehydrated day as our eyes caught the sight of some powdery snow plunging down the rocky abyss. None of us had witnessed something as surreal as that before. It was an avalanche on the other side of the mountains.
We were, of course, hiking through the safe trails. White peaks of the Himalayas were lit golden with early daylight. We enter our way through the slippery passage and gasp in awe at our end destination.
We stopped to catch our breath. Pupils dilated as we lay our eyes on the magical land out of the storybooks. That had got to be the most beautiful place under the sun I've ever been to in my entire life.
There was no single living being except us to the last of our sight. We felt like explorers who had just discovered a new land.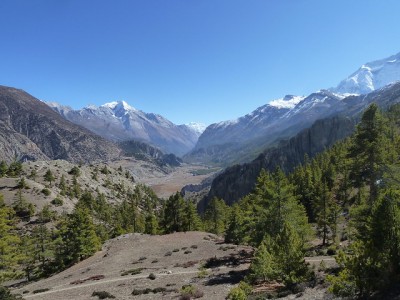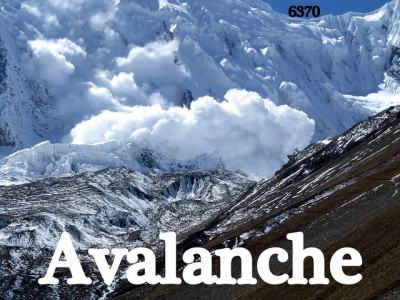 Our climb ends, but it gives a different kind of bliss in our lives: the feeling that only explorers live and those who immerse themselves in nature. We jump with happiness seeing the blue-white half-frozen lake, the ocean blue sky, and the brownish-gray desert-dry valley spread in every direction around us, looking like a lake on Mars.
There's a sweet little story about the colorful windcatchers there, the prayer flags. It's believed that the wind passing through them carries good vibes and happiness with it around the world.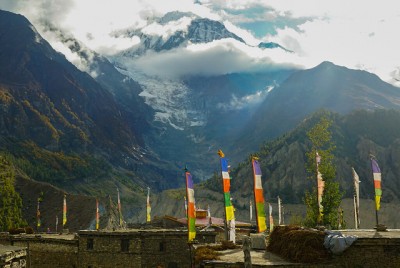 It was hard not to feel a minor altitude sickness at 4919 meters above sea level. Felt like I had a hangover from last night. But, at the same time, it was exhilarating to be touching the water of the highest altitude lake in the world- which I crossed off my bucket list.
Looking down the valley, we could see a scalloped heart-shaped lake which got us confused as 'Tilicho' for a while on our way up.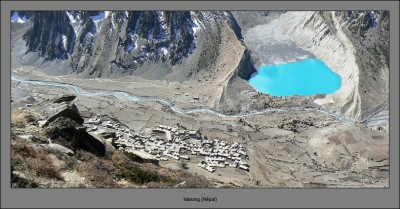 It took an effort to see anything, given the gusts of wind and dusty sand blowing with it. Suddenly I realized that I had lost the hat I was wearing. A cheerful man offered us his water bottle as we ran out of ours. He looked very fit in his youth, blonde-haired, blue-eyed, and was wearing a fur cap he said the locals gifted him.
He was a bag packer from western Europe on a solo trip. He said it was his second time in Nepal, and our country is a paradise for trekkers. We assisted him in cleaning up a little bit of litter that some inconsiderate people had left there after their visit.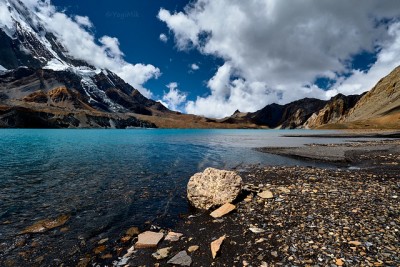 Time passes in the blink of an eye when you are beyond the mountains. The sun's slanting rays had started giving an orange tint to the sky. I saw some hazy shadows cast on the ground.
Dorje, our super helpful guide, called for going downhill now. "After 4 p.m., we'll lose the thin ones in our group to the strong wind." He joked, causing me to choke on my water.
We walked downhill, tiptoeing as the blisters in the feet ached a lot. It caused us to wonder how the locals managed to do that daily without seemingly any pain. Perhaps, they have mastered adaptation. Thank god we packed very light; otherwise, imagine how the porters would strain!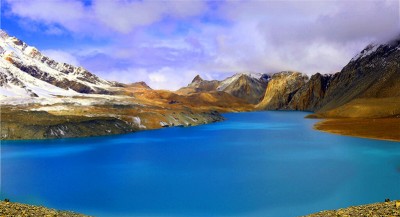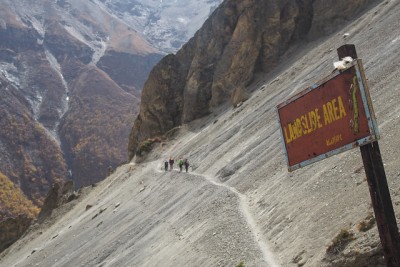 We were focused on the narrow pass more than we ever did on our university exams. The adrenaline rush was real with one of the most extreme trails. One slight slip of foot could lead to grave danger. Imagine a narrow road spread to adjust your two feet with deep gorges cutting through high cliffs.
Only those who have been there will know that every step is worth it. The landslide area was the hardest to traverse through. Most of us managed to cross it safely while one of our mates hurt his head. We did his first aid, which could get him through tomorrow before reaching the hospital.
The guide told us there wasn't any hospital in the entire valley. One would have to go down below "Khaangsaar" village to get to a barely equipped health post. (And that's why we recommend getting insured for a helicopter rescue in case of an unfortunate emergency).
It's such a pity that some people have to live deprived of health prerequisites.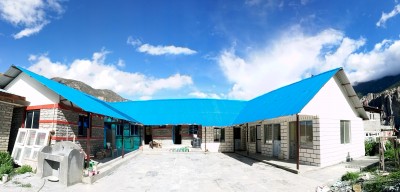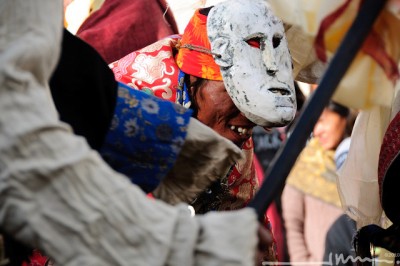 In the village of upper Manang, the local tradition, language, lifestyle and clothing all seemed to have taken influence from the Tibetans. Baku, docha, and heavy woolen-fur caps were their staples. Dried winter-dulled faces were still glowing with their smiles.
We chatted with an older woman working on the potato farm. She expressed her excitement as we mentioned we were coming from Kathmandu, the capital city of Nepal. To her, it was like another country.
It was alarming that she hadn't ever been to the capital despite her desire. Maybe she had never seen the world outside of hers.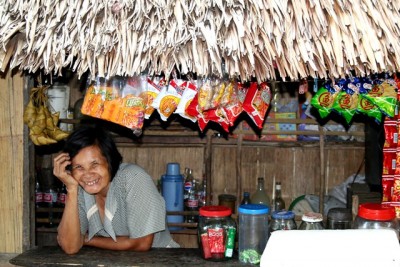 Villages like Karnali and Manang depict another part of the world. A world where facilities like good roads, water supply, good internet, varieties of food, and tall buildings were equivalent to fictional things.
Before the trip, I used to think of these destinations areas we see in the travel channels, vlogs, as we see in the profile of famous photographers. But the reality is different. Being there and experiencing living there even for a short time made me see things just how they are.
That's why travelers see for themselves what different nooks of the world have to offer.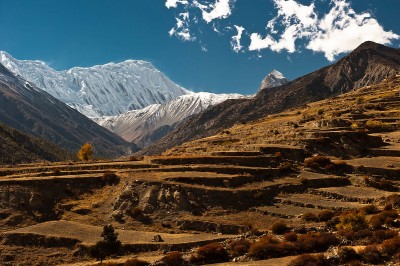 I was suddenly teleported back to the earlier times of simplicity. When houses were made of stones, food ingredients were not available to buy. Life was self-sustained, and we still can see a portrayal of that time in the valley of upper Manang.
Luckily after the road construction linking upper Manang and the increasing number of travelers, we now have options of hotels and lodges ensuring a comfortable stay. I loved the hospitality because we were not treated as guests but as family members. The hotel owners dined together; we drank and laughed at their stories by the fireplace in the blood-freezing cold.
That trip made me grasp a different perspective of life. How one can live happily in serenity with what they have, giving up on materialistic desires.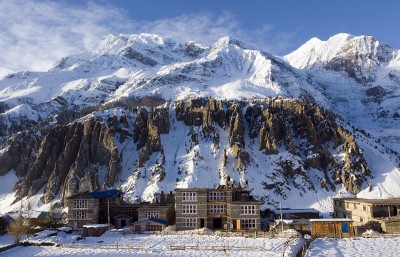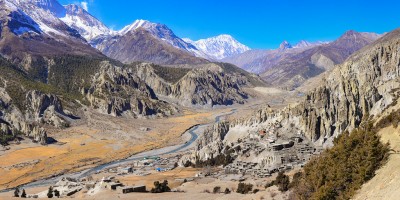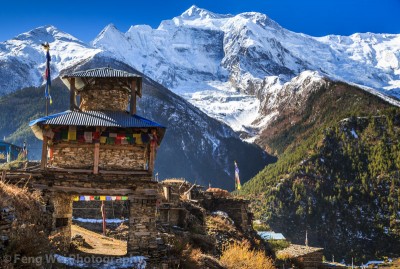 Major highlights of the trip were:
▪ Magnificent views of the Annapurna range
▪ Incredible views of Tilicho lake (world's highest altitude lake)
▪ Old Buddhist monastery in Braga and the prayer wheels
▪ Jaw dropping beauty of the glaciers, gorges, lakes and waterfalls
▪ Breathtakingly serene Pisang valley
▪ Realizing how privileged we are than some people in the world and we ought to use that to better the lives of others

Manang is a land of famed trekking trails in the foothills of the Himalayas. A valley of unique festivals, hidden caves, rippling waterfalls bubbling over rocks and branches, and most humble residents.
It's one of the very few places where we can find different landscapes of dry, dreary land and ample greenery on opposite sides of the valley. The mountains have always fascinated me. It seemed almost impossible for me to trek to such high altitudes and witness those majestic views.
But after this trip, I've realized we can get anywhere once we set our heart and mind to something. The beautiful landscapes, the villages, the alpine forests, subtropical areas, smiling locals, and the magical journey shall forever live in my memories.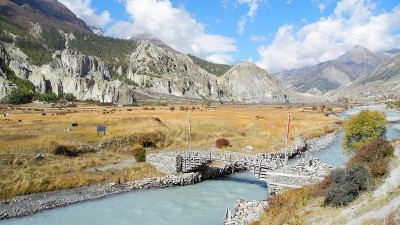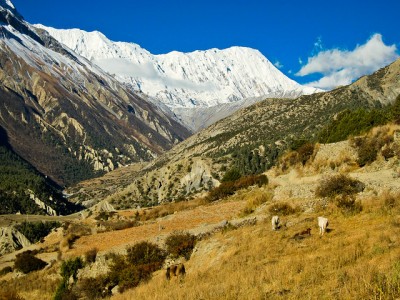 "What a life, what a beautiful, beautiful ride"(Scarlet Pleasure, 2020) played in my mind as we rode a horse on our way down the valley.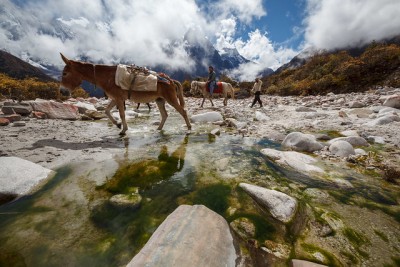 Picture Credit: Jamie McGuinness