When is the best time to visit Nepal?
Why not make minor adjustments and insert "Best time to visit Nepal during Festivals"? Then, you will have more opportunities to experience and discover if you plan your festival vacation carefully. However, booking your vacation for Nepal's major festival events is more worthwhile.
Nepal is known for its festivals and being the home of Mt. Everest, the highest mountain in the world, and beautiful landscapes like the Terai plains, Annapurna Base Camp, and the terrifying region of Kumari, the only living goddess in the world.
No matter when you visit, you will surely take part in at least one of Nepal's entertaining festivals. A chariot parade, a chariot tug-of-war, folk songs, ethnic music, a festival of color, lights, and other events are among them. It shouldn't come as a surprise that Nepal has more than 100 distinct castes and ethnic groups, each of which has its unique culture. The Newari people live in Kathmandu, the nation's capital, with diverse cultures, cuisine, and customs. You can see a lot during your brief visit, including Nepal's culture, people, way of life, nature, and geography.
Let's get to the point and tell you what we want to do. Once you know Nepal's festivals, you can begin making travel plans and looking for us to organize your trips on the Himalayan Social Journey.
List of Nepal's Upcoming and Important Festivals
Multiculturalism is present in Nepal. While certain holidays are recognized nationwide, others are only commemorated by particular ethnic communities. Therefore, the customs and festivities might also differ from one community to the next. The chance to sample traditional Nepalese cuisine at festivals is excellent. Don't let this opportunity pass since some of these delights are only created sometimes. Here are some of the following festivals that start in September:
1. Indra Jatra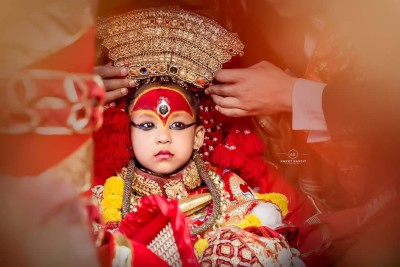 One of the Kathmandu Valley's most well-known and cherished festivals of the Newari ethnic group is the eight-day Indra Jatra celebration, which takes place in September. This festival is named for Lord Indra, revered by Buddhists and Hindus as the God of Rain and the King of Heaven.
Solar Calendar: August to September
Lunar Calendar of Nepal: Bhadra
A pine wood pole is erected at Basantapur Square in front of the former Hanuman Dhoka Palace. For the pole-raising ceremony, hundreds of people assemble in Basantapur Square. Then, in a procession through Kathmandu's main thoroughfares, Kumari, the Living Goddess, rides in her chariot. Lakhani, where loud drums accompany nightly rampages by masked performers.
The Nepalese encourage you to participate in Indra Jatra to ask Lord Indra and Dagini for a good harvest and honor those who passed away the year before. The Kenya Festival has two parts, Indra Jatra and Kumari Jatra, also known as Indra Jatra. The flagpole ceremony, blood sacrifices, displays of Bhairava's masks, and other festivities are a part of the Indra Jatra festivals. During Kumari Jatra, the living goddess is transported through Kathmandu's streets in a chariot.
2. Dashain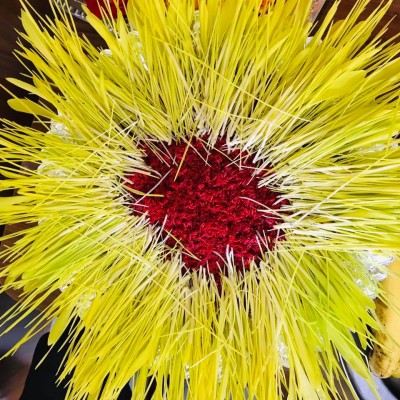 Dashain, also known as Bijaya Dashami, is a 15-day festival that is the longest and most auspicious in Nepal. More than Nepal, Bhutan, Myanmar, and a few locations in Northern India also celebrate Dashain, the most important and awaited holiday. It takes place in the month of Ashwin/Ashoj (late September and early October).
Solar Calendar: September to October
Lunar Calendar of Nepal: Ashoj
It lasts for 15 days and is conducted to celebrate the victory of the goddess Durga over evil. A huge number of animals are sacrificed. People who live far away from home would come home for a family gathering. Beautiful kites will fly in the sky.
Throughout Dashain, all offices for administration, education, and other private businesses are closed. Dashain is celebrated in September or October, starting on the Sukla paksha, the first lunar fortnight of Ashwin, and ending on Purnima, the day of the full moon. The first, seventh, eighth, ninth, and tenth days of Dashain are the most important ones, even though the festival lasts for 15 days.
3. Tihar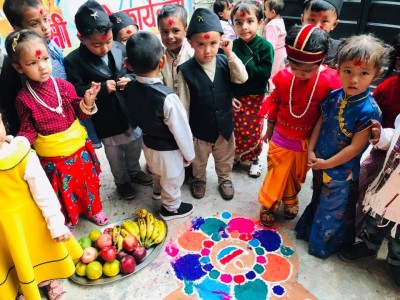 Tihar is praised as the second most important celebration in Nepal. The event has candles, lamps, vibrant Rangolis, and floral decorations. In preparation for this holiday, people clean and adorn their homes. Crows, dogs, cows, bullocks, and other animals are worshipped during this festival. Lakshmi, the goddess of prosperity and riches, is invited on the fourth day when all the homes are cleansed and beautifully lit with candles. It is also known as the Festival of Lights for this reason.
Solar Calendar: October to November
Lunar Calendar of Nepal: Kartik
In contrast to Dashain, Tihar is a brief holiday lasting only five days. In contrast to Dashain, which is celebrated by receiving tika and jamara from elders, Tihar is praised for decluttering the home and receiving Saptarangi (7-colored) tika from siblings. The festival of Tihar is observed fifteen days after Dashain.
Kaag Tihar, Kukur Tihar, Laxmi Puja, Gobardhan Puja, and Bhai Tika are the five days that makeup Tihar. Tihar is also known as Yama Panchak since it is a multi-day festival celebration. It deserves praise for the late pre-winter. People play games, dance, and adorn their homes with lights before decorating them with colorful tika and makhamali mala. Kaag Tihar marks the beginning of Tihar in the Trayodashi of the Kartik Krishna Paksha and Bhai Tika in the Dwitiya of the Kartik Sukla Paksha. It occurs between late October and early November and lasts for five days. It is well recognized for its bright, bright lights.
4. Lhosar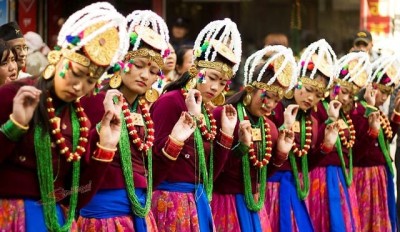 Lhosar is sometimes referred to as the Tibetan New Year. The name for the new year in Tibet is Losar or Lhosar. Lo and sar both imply a certain year or age. In Nepal, Tibet, and Bhutan, Losar is a holiday. Only one particular set of Himalayan people, including the Sherpa, Tamang, Gurung, Yolmo, Bhutia, Monpa, and Sherdukpen, praise Losar. However, Tibetan Buddhists from all over the world applaud it. Sherpa people observe it in Bodhnath Stupa, Swayambhunath, the Tibetan community in Jawlakhel, and the Solu Khumbu region.
Solar Calendar: January to February
Lunar Calendar of Nepal: Magh
Every group of Tibetans takes pleasure in the joyful atmosphere at this time. As they meet, greet, and exchange gifts, people. Finding a Tibetan monastery in Kathmandu and asking how they will host Losar is the best way to experience Losar in Nepal. Some will receive management, and some won't. It costs nothing to participate.
5. Maha Shivaratri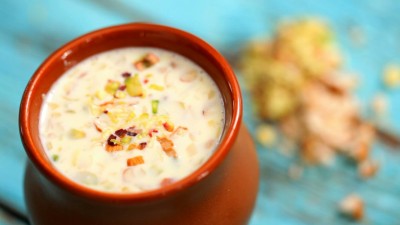 In many Hindu communities, "Shiva's Night," which coincides with the new moon of Phaagun, is celebrated with bonfires and evening vigils. Still, Pashupatinath is where the biggest gathering of pilgrims and sadhus from throughout the subcontinent takes place. The night known as Shivaratri is devoted to the worship of Lord Shiva. It occurs in Nepal's Falgun month (in the middle of February-March). At Pashupati, a sizable gathering of Hindu devotees from all over the world is anticipated. Sadhus frequently travel great distances to Nepal for this occasion, many of whom are present in Pashupatinath a few days before or after Shivaratri.
Solar Calendar: February to March
Lunar Calendar of Nepal: Falgun
Seeing those Sadhus on this day in the Pashupatinath temple is particularly intriguing because most are only partially clothed. Although it is illegal to use marijuana and pot in Nepal, it is publicly offered to Shiva and his followers during Shivaratri. Shivaratri is a Hindu festival that honors the holy power known as Shambhu, Bhole, Mahadev, Shanker, Kailash, Pashupatinath, etc.
You'll notice that many provident priests have gathered here from all parts of India and Nepal. The Pashupatinath complex is rife with sincere worship and odd yogic performances. Children hold pieces of thread across the road to block onlookers while they collect money for firewood. According to Nepalis, Shiva normally encourages the Indian sadhus to return home by sending a final round of cold weather after the event.
6. Holi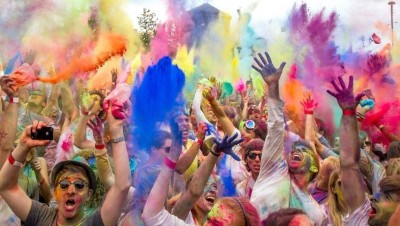 The celebration of color, known as Holi, is observed throughout Nepal. People splash colored and plain water on each other's bodies to celebrate. Holi is a celebration of color, camaraderie, and love. This event is regarded as the start of summer.
Solar Calendar: February to March
Lunar Calendar of Nepal: Falgun
Holi takes place in Falgun month. The springtime water celebration known as Holi is celebrated for nearly a week in Nepal and honors a myth in which the god Krishna slew the demoniac Holika when he was a youngster. Anyone is a fair target for colored powder and water balloons during this time. On Phaagun Purnima, the day of the full moon in Phaagun, it culminates in a widespread free-for-all.
Holi typically occurs in the Terai region (Chitwan) two days after the traditional Holiday. Bhaktapur Durbar Square or Kathmandu Durbar Square is the greatest location to celebrate Holi with live music and concerts.
7. Chaite Dashain
The "small Dasain," celebrated on the eighth day following the new moon, is named after the fall festival of the same name. The bloodiest action occurs in goddess temples like the one in Gorkha and in the Kot courtyard, which is close to Kathmandu's Durbar Square when the army's senior brass attends to see several cows and goats beheaded.
8. Ram Navami
The ninth day following the full moon is recognized as Lord Ram's birthday at all temples, honoring Vishnu as the protagonist of the Ramayana, one of the great Hindu epics. The largest and most vibrant celebrations are held in Janakpur, where many pilgrims visit the Ram temple.
9. Seto Macchindranth Jatra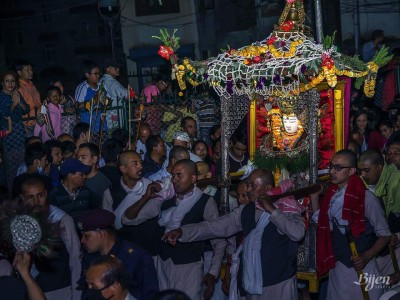 Machhendranath Jatra Seto A ponderous wooden chariot holding the white mask of the god Machhendranath is carried through the winding streets of the old city for four days beginning on Chait Dasain in Kathmandu's response to Patan's Machhendranath Rath Jatra.
Conclusion
Lastly, we wholeheartedly urge you to travel to Nepal to make your holidays unforgettable by picking the most suitable holiday season following your preferences for activities and locations. Make sure you are well-prepared when deciding when to travel. You will have a wonderful adventure experience when you visit Nepal because it is an incredible country that leaves clues along every path. Enjoy Your Stay in Nepal!